Max Blog
Displaying blogs about Max. View all blogs

What do you do in your off-time when you aren't writing books?
James
I think about high schools. My daughter needs one in two years (I KNOW) and obviously the wrong choice will ruin her life forever. I mean, as a parent, you feel like every decision you make might ruin your kid's life, right from the moment you get them, but this is a big one.
So I've been researching schools, and visiting schools, and emailing school teachers asking if I can come and speak to their classes, so I can figure out how good they are. If they say no, I know they have high standards. AHAHAHAHA. No, not really. It's actually the opposite: If they say no, they suddenly seem terrible, like when you like someone and discover they don't like you back. So all I'm really doing is making myself super biased.
Another problem is that when I visit a private school, I get a super-slick professional presentation, because that school is a business with an incentive to attract new customers. Whereas there's a state high school near me that's in such demand, they won't even meet prospective parents. They had an Open Day but it felt grudging. So the private school comes off better, but they're the only one selling.
Plus private schools are expensive. But then if you won't bankrupt yourself for your kid's education, what are you doing? But maybe that's self-defeating because you wind up stressed and limited and that's not good for anyone, either.
Then there's the single-sex vs co-educational thing. I'm totally sold on the academic benefits of girls-only schooling, but I wonder about the social side, because there was a girls' school across the road from my high school, and those girls were crazy. But then they were also Catholic. So that could have been it.
Today I visited a school where all the students seemed happy. That was pretty great. Maybe that's it.
P.S. Aside from this I also:
write things that aren't books, like TV pilots that will never get made

do NationStates

I had the pleasure of reading "Machine Man" for college and right now we have to write an argumentative essay on whatever we want. Do you mind sharing your thoughts on Technology and how it affects Relationships and Face-to-Face communication?
Marc
I'm not sure this is a good question for someone who never goes anywhere. My face-to-face communications today have been:
I bought a quiche and a cookie from some people in a cafe

I accidentally scared a girl while running

My cat was like, "I'm going upstairs," and I was like, "Oh no, you're not," then she ran upstairs.
Also family. I do talk to my family.
But yes, it is a complex and fascinating question. For example, I convinced my wife-to-be to move across the country for me by writing her letters. She was two thousand miles away at the time. So in the absence of technology, I wouldn't have been able to communicate with her at all.
But if there had been more technology, like Skype, that would have been bad for me, too. I was very fortunate to be wooing her at a time of prohibitively expensive long-distance phone calls. Because I'm really playing to my strengths with the written word. I come off relatively well there. If I'd had to carry on actual conversations, I don't think things would have gone so well. She had seen me attempt conversation shortly before she moved away and clearly it wasn't very compelling. It was the absence of affordable communications technology that caused her to forget that and come back.
(Obviously once she got here, she remembered. But by then she'd already uprooted her life. So she was stuck.)
I believe that comprehensively answers your question. Good luck with your essay.

wear is ur hair
Anonymous
Good question, Anonymous. Good question. When I was 23, a hairdresser said, "If we cut it shorter, it'll cover the thinning area," and I said, "WHAAAAAAAAAT thinning area," and he was embarrassed. I never thought about it before, but that must be a tricky part of the job: telling men they're balding.
Anyway, it was a shock to me, because I had thick, luscious curls. They are possibly more luscious in retrospect than they were in reality. I now imagine women weeping as I swept past. But yep, 23 and they started to go. So I started cutting my hair short and then shaving it. Occasionally I encounter someone who thinks men shave their head just for the look of it, not because they have to, and this makes me laugh until I start crying. No. That does not happen.
The best thing about having no hair is how awesome it is at venting excess heat when exercising. I don't know how you hairful people work out, I really don't. It also saves a lot of time that I would otherwise spend worrying about how my hair looks. And I can pass for a criminal just by not shaving for two days. The worst part is having no hair.

Heyo! What does it feel like to have a Wikipedia page?
Code name: Esteban
It's pretty great. The best thing is the mailing list they put you on, which lets you contact anyone else who also has a Wikipedia page. You also get a GMail plugin that highlights whether people emailing you have a Wikipedia page or not, so if they don't, you just ignore them. Every six months, you're invited to a secret meeting to vote on the world agenda, like whether we're going to be pushing tax cuts or Trump for President or what.
The only problem is that everyone is terrified of being thrown out, so Wikipedia editors wield enormous power. They're not allowed to have pages themselves, of course (WP:NOTE), but they're effectively puppetmasters, so you hear terrible stories about them keeping B-list celebrities as virtual sex slaves and things like that. If you cross a Wikipedia editor, your bank accounts are frozen, your wife is gone, and your ass is out on the street faster than you can say "NPOV."
You're not allowed to modify your own Wikipedia page (WP:CONFLICT, WP:ORIGINAL), so if you make waves, the editors begin to seed your profile with false information, as a warning. If your profile has your birthday wrong, it means you've begun to make enemies. If it says you were once convicted of shoplifting, your life is in danger. If it discusses gay rumors, you've become a pawn in a bitter intra-wiki factional war. But I've already said too much.

Maaaaaaaaaaaaaax! Why is The Squiggle hidden away as some kind of secret page/club instead of being linked from the front? Are you ashamed of your love of AFL? Your love of Richmond (it's ok, there's dozens of you. Dozens!)? Talk about the footy some time, educate the Americans.
Bob
I have actually blogged about Australian Rules Football once before. I shouldn't have, because no-one cares, but I did. If you're not familiar with AFL, here is a summary:
What I love about sport is how pointless it is. There is literally no reason to care who wins anything. But if you do care, it's full of drama and stories. Sport for me is pure entertainment because I can stop thinking about it any time with no consequences.
Anyway, because I find this kind of thing fun, about 15 years ago I wrote a computer program to predict which team would win football games. Then I forgot about it until a few years ago when I rediscovered it on my hard drive and noticed it had performed bizarrely well in the meantime. So I made it into a chart and posted it on a football forum. I called it the "squiggle" because it has squiggly lines.
Now my website traffic looks like this: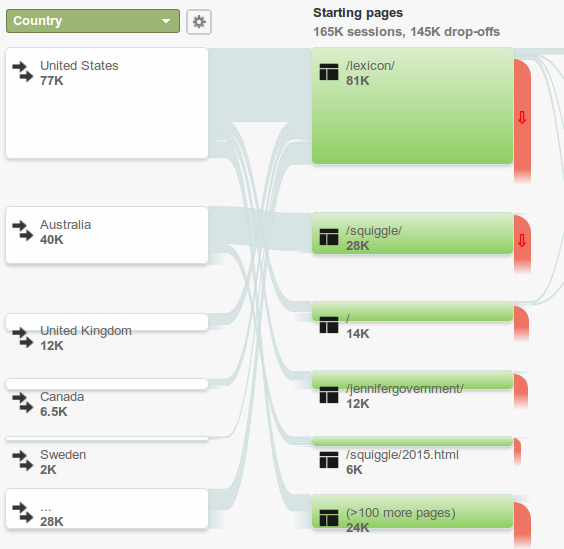 That's most of the world visiting my site because of Lexicon, while Australians don't give a stuff about my novels and head straight for the football chart.
Here is a pretty version:
But the one here on my site auto-updates, so you can check it during games and see how well your team is squiggling. This is addictive because if your team is doing well, what you most want to see is animated graphical evidence.
The Richmond Tigers are headed for finals for the third year in a row, which is awesome, because we were terrible for about twenty-nine years there. Our supporters are like those people who were kidnapped as children and kept in a basement and now we're stumbling around trying to function in adult society. We don't know how to act. It's pretty great.

Is VR going to live up to the hype this time?
guin
Not for me. I can't change direction without feeling motion sick, so Virtual Reality headsets are super-charged vomit inducement machines.
Also, I know it's just for games, but someone with one of those things strapped to their head looks like the ultimate psychically defenseless human being to me, because they can only perceive what a computer decides. I mean, I'm sure it's fine. But if I could put you in one of those and control what you saw and heard, I bet I could convince you to do anything at all and make you think it was your choice.