I don't want to brag, but I coach a kids' sports team. I can't post a picture, because, I have learned, when you coach a kids' sports team, not all the parents want you posting pictures of their children on the internet. This is just one of the many insights I have gained, as coach of a kids' sports team.
The kids are all girls aged under 11, and the sport is netball. You might not have heard of netball, if you live in one of those non-netball-playing nations, such as all of them except for a handful of ex-British colonies. It's like basketball, except instead of dribbling the ball, as soon as you catch it, you have to come to a dead stop and try not to blow out your kneecap.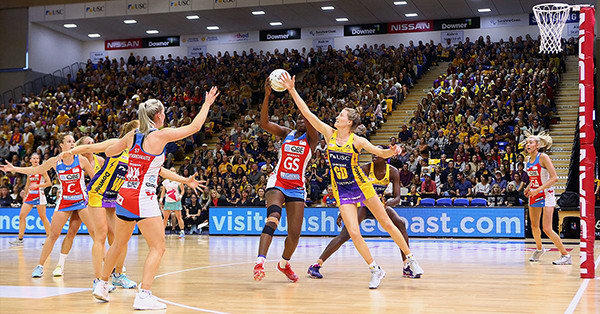 Imagine my netball team like this, but with players a quarter of the size, and some looking in the wrong direction.
Also the players are restricted to particular zones. This makes netball very tactical. One thing that makes it less tactical is when the players are under 11 years old. But it's super-engrossing to a person like me, who loves closed systems where you set up a bunch of agents with instructions and let them loose and see what happens. It's like writing novels, and programming, but with real little humans.
Another similarity I noticed between writing and coaching a kids' sports team is that delusion is helpful. It's best to be heavily deluded while writing, to avoid the awareness that your first draft is garbage. You need to think it's fantastic right up until it's time to rewrite it, so that you actually get there. Coaching kids' sports is the same: There's really no place for objectivity. I'm not there to tell a ten-year-old what her weaknesses are; I'm there to make her feel good about the time she made a smart pass, so she'll want to do it again. In both cases, there is a lot of wilful blindness to incompetence while seizing on hints of gold.
It's way more fun than I expected when I answered the netball club's call for volunteer coaches, no experience, expertise, or prior knowledge necessary. One thing I love about sport is how it creates a tension-soaked contest that is 100% artificial, with no real-life consequences. You can watch a game of something and get happy or sad and then go right back to whatever you were doing. This works even with kids' sports, apparently, because I care a lot about what happens on the court each Saturday morning, and it also doesn't matter at all.
I value things like this, because I have a habit of turning my hobbies into jobs, and then a thing I was doing just for fun becomes work. Not real work. Not the kind most people do, with bosses. But it's fun and invigorating to do something new that doesn't overlap with anything else.
Having said that, I did build a website to generate netball rosters, since it gets complicated when you have eight or nine players and seven positions and four quarters and at the last minute Stephanie can't play Wing Attack because she hurt her foot chasing a butterfly. It runs a mutating genetic algorithm to sift through tens of thousands of combinations and find the most efficient one. It's free and public, so you can use it for your kids' sports team, too.