I'm a little nervous about this, but here is the nerdiest thing I have ever done. You realize that bar is already pretty high. I have programmed web games. I have considered domain name availability before naming my offspring. But this is the first time I have publicly released a version control system history of a book.
I just lost you. I realize that. Unless you are some kind of freako super-geek, in which case, welcome to the tiny minority of the human race that may appreciate this. The rest of you: a revision control system is usually used for writing software, and tracking the changes you make. I used one of these for the Machine Man serial, since I was uploading a page per day, and it needed to be processed for sending out to people's email inboxes and cell phones, and I lost you again, didn't I? Okay.
The point is I have the entire edit history of Machine Man all the way back from notes. And you can browse to any particular page and see how it evolved from something to nothing.
Here is an example, using Version 1 of Page 18: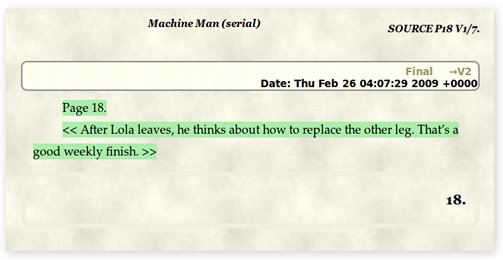 It's just a note to myself about what this page might be about. By clicking the "→V2", you move ahead to Version 2 of that page: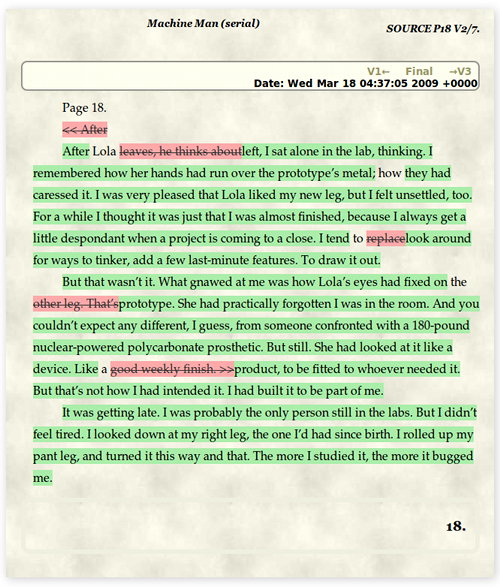 New words are green, deleted words are red. This page is hard to read because the software is making bad guesses about how the different versions fit together. In actuality, I simply deleted my note and wrote a first version.
Then I corrected a spelling mistake: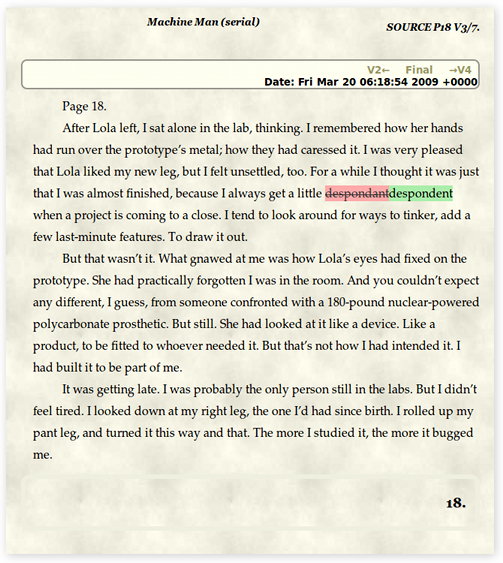 And continued tweaking in versions 4 through 9.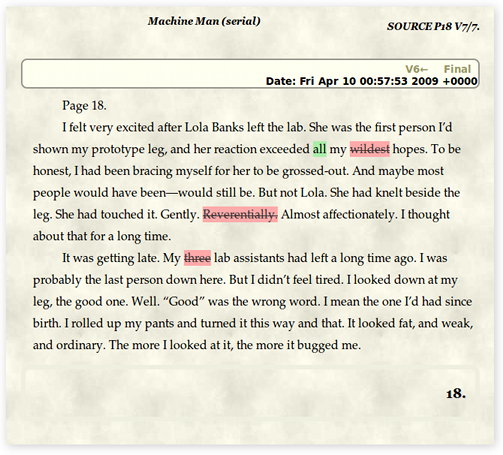 The final version is here. And if you have the book, you can follow along at home to the version that wound up in the novel: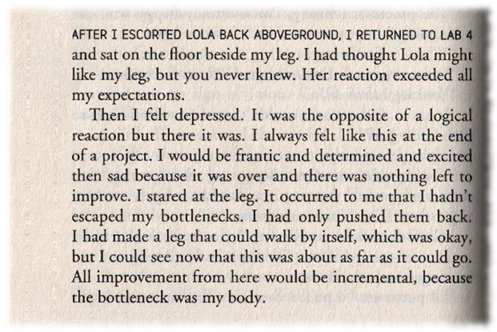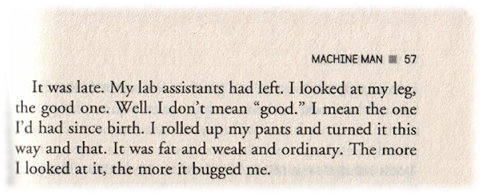 I'm not sure what use this is to anybody, other than for exposing my writerly fumblings in an even more humiliating manner than I've already done. But it was POSSIBLE, so I have DONE IT.
To access the Source version of a page in the Machine Man serial, click the tiny, near-invisible nut on the top-right of any serial page. Or append "&v=1" to the URL, if you're that nerdy. Which, if you've read this far, you surely are.