News

Why is Lexicon told out of chronological order? Is this entirely for the sake of suspense?
Aaron
Good question! There was more to it but I removed the HUGE SPOILERS since this is a public site.
So a linear structure is simple and powerful because as a reader you want to know what happens next. That's the main reason you're here. What happened before can be interesting, and well-told, and add layers to the story, but it's always at least a little irritating to be pulled out of a story thread you're following and sent somewhere else. (Unless you're getting back to a previous story thread that you were enjoying more than this one. Which is often the case with stories that flip between multiple points of view. I mean, you're going to have a favorite. So inevitably you'll feel like you wish the story had more of that person and less of everyone else. Multiple narratives are deceptively slippery.)
Linear is a solid default. But you can do a lot more as a writer when you free yourself to leap around in time, since now you can reach forward and backward to include anything that impacts on the part of the story you want to tell. Our lives would be a lot more dramatic if we could do this in real life. Every small triumph or disappointment, imagine if you could build up to it with scenes from your past that illustrate just how significant and poignant it is. Stories are events arranged as to give meaning, and that's easier to do when the events don't need to occur in lockstep.
Most novels have some of each, of course; even the most linear story has, if not flashbacks, then reminisces of the she-had-been-here-once-before-five-years-ago variety. But Lexicon has large sections out of chronological order, and is also a little sneaky about which they are. I think it's accurate to say this is "entirely for the sake of suspense," for a broad definition of suspense, since suspense is a fundamental pre-requisite for any novel, or almost any scene, in my opinion; if there's no gap between what's happening now and what might happen next, there's no actual story. Almost everything I do on the macro level is for the sake of suspense.
But a key element to the opening of Lexicon is that there's something unfolding and for quite a long time you don't know what. So it makes sense for readers to stay with Wil and Emily as they're each going through that learning state. It would be annoying to follow one of them on that journey and then have to go through it again with someone else. I mean, you just couldn't do that.
I also think Emily's early story is more interesting because Wil's story is simultaneously revealing the darker side of the world she's entering. Without that, it's really just a girl going to school. Similarly, hers adds some solidity and meaning to his, which would otherwise be (more) chaotic and confusing. There would be a way to do it differently, but an awful lot would have to be different. To straighten out the whole book, I think it would break so hard in so many places, it would need to become a different book altogether.
Really, though, the answer is that this is the way I found into the story. I write tens of thousands of words trying to find a story that might be hidden inside an idea, and for Lexicon that process generated two pieces I liked: the eyeball thing and the street hustler. So I explored those more, and delayed figuring out how they would connect until later. As it turned out, a good way to connect them was to mess with chronology.
When I'm writing, I make the icing before the cake. So the cake is all that fundamental story stuff about who's trying to do what. It's the structure and plot. It's the bulk of what will make the book succeed or fail. When it's done, it's what everyone will say the book is about. But the magic part is the icing: all the subtleties of tone and dialogue and a hundred tiny indefinable things that may even escape notice.
For example, if I have a scene with two people talking, and I love the way they're interacting, I feel like I might be able to write a book with those two people doing whatever. I'm very interested in thinking about how they might have gotten here and where they might be going. Whereas if I have an actual story idea, like a secret society of poets, that's good, but there are a billion ways to write that story, and I might never find one that works.
This is a bit of an exaggeration; I do usually start with some kind of story idea. But I don't then try to build it from the ground up, layering on structure and plot. I go straight to the icing. Obviously a lot of both the cake and the icing will evolve simultaneously. And in the end, both need to be delicious. But I feel more confident in my ability to figure out a delicious cake to go under some great icing than the other way around.
This may not be a smart way to work, by the way. This analogy is very apt in the sense that if you imagine me making a cake by spreading the icing first and then trying to build a cake underneath it, that's exactly how I work. There's cake everywhere, is what I'm saying. Tens and tens of thousands of words of cake. But it's more interesting, and more enjoyable, and ultimately the only way I can reach that moment where belief sparks and I can see it's a real thing.

My favorite thing to happen this year: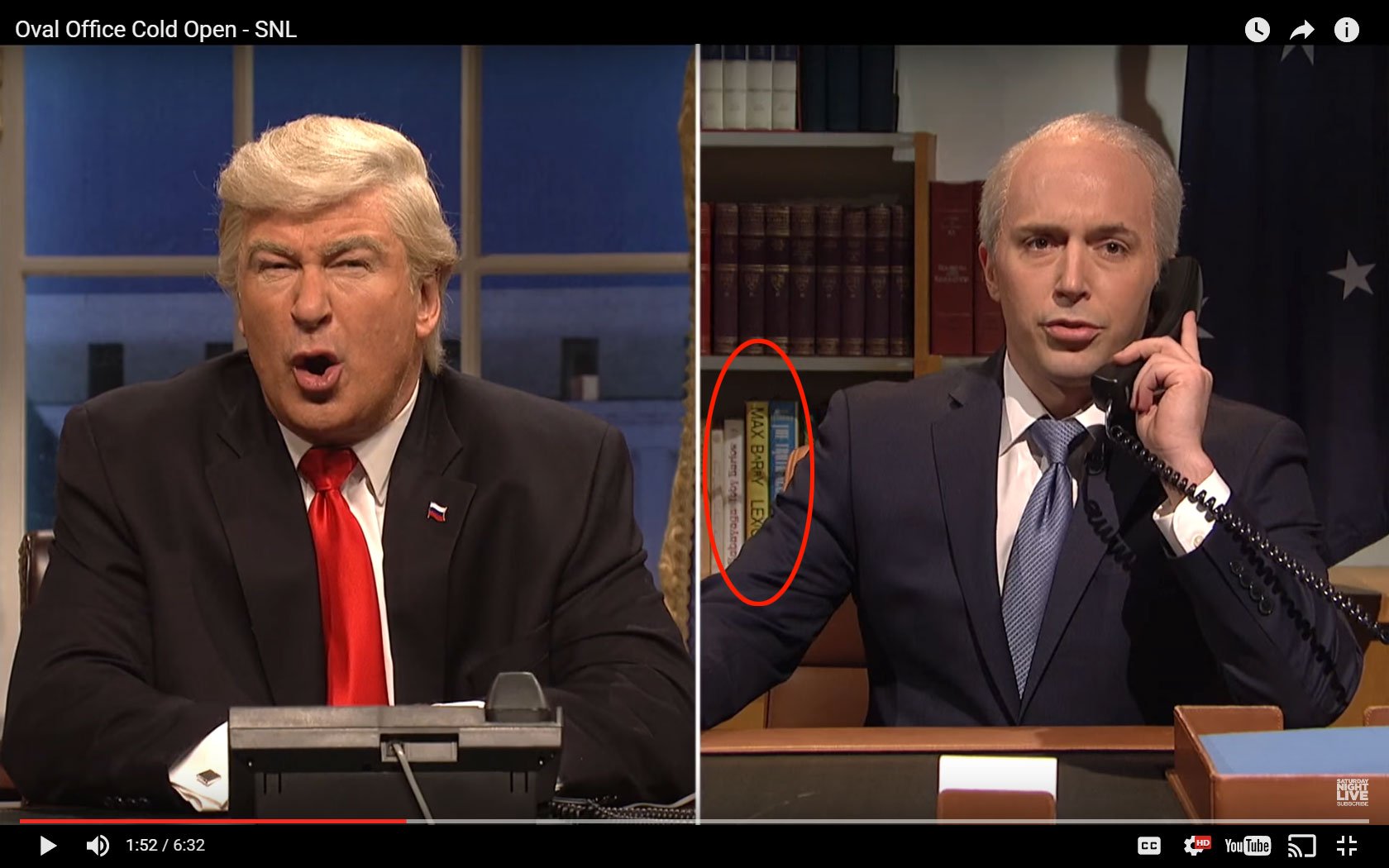 Eagle eyes by C. A. Bridges. Story here.

Hello Mr.Barry, I was required to read your book Lexicon in my college literature class and enjoyed it very much. However, I'm forced to create a presentation about Lee Bob Black. So my question is: Who the hell is Lee Bob Black? All I've found is his website with a bunch of links to his blog. Which would have sufficed if my teacher didn't think you were this ingenious wordsmith wizard or something. She thinks you made him up basically. Something to do with marketing and illusion. Can you help me out? Is Lee Bob Black a persona you made up or are we digging a dry well here? Thanks. Maybe.
Taija
Lee Bob Black is an actual person. Sorry. That website with his work on it is completely legit, not a carefully constructed piece of reality augmentation for the book. There are a few pieces of reality augmentation floating around, but Lee isn't one of them.
Basically I needed a lesser-known poet. In the book, people get poet names based on rank, so Woolf and Eliot and Yeats are serious headkickers, while Lee Bob Black could be a younger guy working the streets. The real Lee I had met in St. Kilda sometime around 2001 when his friend graffitiied my house. Artists. Anyway, we got talking and then he moved to New York and we lost contact, but I remembered his great little poems.
At some point I emailed him:
You are in my novel-in-progress. I needed the name of an obscure real-life poet and you sprang to mind. I was intending to change it, but since here you are, I will ask if I can use it. Context: there are characters in the book who adopt the names of real poets, and the one who uses your name is cool but sleazy. So do not feel compelled to say yes.
I'm a little shocked by that now because I wouldn't describe the character as "cool but sleazy." He's outright despicable. He does things that you wouldn't want to be associated with in any way. But Lee, not knowing this, was delighted and honored. And I was happy, right up until the book was published, when I suddenly realized I had done a terrible thing and Lee was going to freak right out when he read it.
At a reading in New York, I looked into the audience and surprise! There he was. I had to stop and check whether he was about to serve me with legal papers. But no. He was incredibly gracious about it.
I understand your teacher thinking Lee Bob Black must be fictitious, because no author would be stupid enough to name that character after a real, living person. But actually I am that stupid.

SPOILER WARNING: Mild spoilers about Lexicon follow
Hello Max,
I am currently enjoying reading Lexicon, however my pedantic nature forces me to question the storyline at page 190-191 where Emily sleeps with Harry then he is not there next morning.
How does she get home?
How does she get home in such a way that she has difficulty finding her way back?
Regards
Graeme
I'll be honest, Graeme: You are my nightmare. When I'm trying to move the story along while developing character and a satisfying emotional arc, blah blah blah, there is always a little voice in the back of my head that says, "You didn't explain exactly how she got home." Henceforth I will call that voice Graeme.
How did Emily get home? I don't know. I never thought deeply about it. I presume it was somehow. She's not that far from home; she is resourceful; she has feet; I just figure she gets it done.
But I know this isn't a satisfying answer, because all stories are real, and real things have facts. So here is THE ACTUAL ANSWER that I just invented:
Her shoes were useless, of course, two-inch heels, so she carried them. She didn't know the area but followed the dirt road in what she hoped was the right direction. It was an hour before she reached anywhere she recognized, which was another hour away from town. It would be less if a car passed by, but that would also mean she was recognized, and never live it down. So she walked with her head down. She was never going to see him again. She had already decided that.
Now I want you to bear in mind, Graeme, that rural roads are like rivers. There's a main road, from which smaller roads branch out. If you start on a small road with a vague idea of the right direction, you can follow it back upstream until you reach the main road and there you are. But going the other way is more difficult, because you have to remember which branch to take. Right? And it's dark when she returns. I hope we can agree on this.
I try to provide the minimum amount of detail necessary when writing. I think that's my job: to figure out how to have the greatest effect in the fewest words. Because what amazes me over and over about novels is how much of the story is provided by readers. The page holds only the tiniest details, yet we conjure whole worlds. That's the only reason novels work.
I don't think they work when the author tries to explain every little thing. Or when they describe physical objects to death. I can't stand that. It actually feels a little insulting, like they don't trust me enough to share the story. Just tell me there's a broken glass, dammit. I can do the rest.

Today I went looking for Lexicon covers. Usually I'm sent a copy when a foreign edition comes out, but not always. In those cases I just get surprised to discover that something like this exists: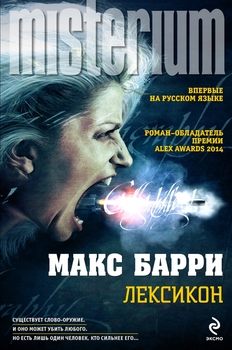 This is Russian. I actually thought it was awesome until I noticed the handgun poking out of her mouth. That kind of took it over the line for me. It reminds me of a terrifying poster for some werewolf movie that used to hang in the window of a video store I had to walk past as a kid, where a wolf's snout is poking out of the man's mouth. That was really scary. I was about fifteen but even so.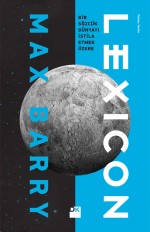 This one is from Turkey. I didn't remember any Moon references in Lexicon, so I checked. I did actually use the word "moon" twice and "moonlight" once, in sentences that were about something else.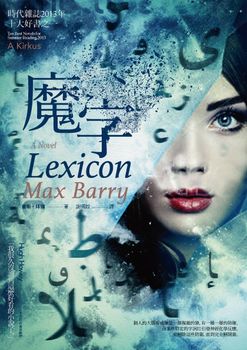 That's pretty great. Good job, Taiwan.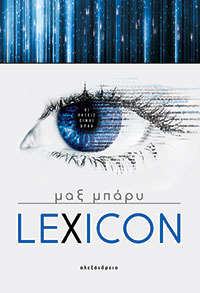 What? Come on, Greece. It's like you tried to redraw the American paperback cover from memory.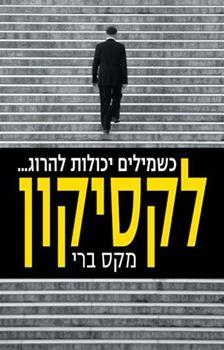 This is from Israel. It strikes me as the philosophical opposite of the Russian cover. It's funny how the same book says to one person, "Man in a suit walking up a flight of concrete steps," and to another, "Woman shooting bullets out of her mouth." And neither of those things happens in the story.

I'm trying this thing where I wake up very early, like 5am, or, not quite on purpose, 3:43am this morning, make a coffee, and head straight to work. It's a good feeling, being up and productive that early, once I've stopped feeling like I need to throw up. It's a quiet, distraction-free time; just me, my words, and my pounding Scott & Brendo tunes. The only downside is that after lunch my brain doesn't work at all. But I use that time for non-creative work like email and writing blogs, so that doesn't matter so much.
This year is all downhill for me. It has to be, because in 2013 I had a new book come out that was almost universally unhated, plus a real film based on my first novel. I practically feel like retiring after that. Like maybe I could go make snowboards. I don't know anything about snowboards. I don't know much about snow, either. I'm in Australia. But I'm sure there's a craft there, hiking out to find just the right tree, cutting it down, then, like, sandpapering it into the right shape or something. Actually, now that's sounding like a lot of work. Forget that. I don't even like snowboards. My point is that 2013 was a big year.
Lexicon gets a paperback release in… holy hell. Four days!? How did that happen? Last I checked it was coming out at the end of May. Okay. So I just discovered the UK publisher moved up their Lexicon paperback release date, so it was ahead of the US, then the US publisher was like, THE HELL, and moved up theirs by two months. They did actually tell me they were doing that. I just skimmed over the "by two months" part.
So I should have been a lot more active on social media lately. Anyway: Lexicon comes out in beautiful paperback on April 1 in the US & Canada, and April 10 in the UK, Australia, New Zealand, and South Africa.
And it has my favorite cover ever!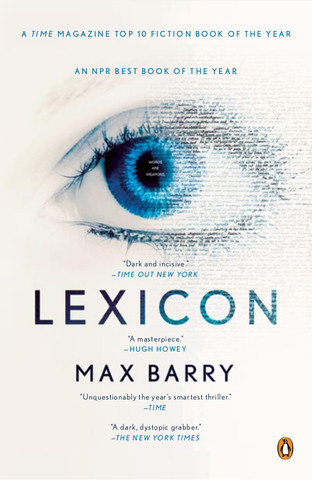 See, the eye is made from little words. I like it because it looks like a sci-fi movie poster, plus people are saying I'm awesome on it. Those are two big ticks. Also it's reminiscent of Jennifer Government, which was super-stylish.
Lexicon made some "Best" lists over the last few months, which I'm required to mention. I don't like doing this. But you're a busy person; you might not have noticed. And I need to make a living. So here are some of them:
Time Magazine Top 10 Fiction Books 2013
Kirkus Best Fiction of 2013
Chicago Tribune Page-Turner of the Year
NPR Best Books of 2013
Goodreads Best Books of 2013
2014 Alex Award Winner
iBookstore Best of 2013
Amazon.co.uk Best Books of the Year
Aurealis Award Finalist
The Aurealis one makes me especially happy because that's the first magazine to which I ever seriously submitted fiction. I only sent them that one piece and was outraged by their rejection, despite it being totally deserved, because I was 24 and the story wasn't that good. But I vowed revenge, i.e. becoming skilled enough at writing to get a story accepted by Aurealis. Then I got more into novels and kind of forgot about it. But look! I still have my Aurealis rejection letter from 1997: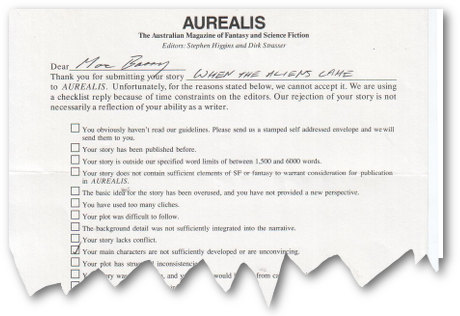 And I still have the story! As Aurealis noted, it is very short, so you can read it in about one minute. It was never published anywhere, for reasons that may become obvious.
Read: "When the Aliens Came" by Max Barry (PDF)
The brevity might be a selling-point in these days of Twitter novels and flash fiction. But 1997 was a different time, a slower time, when people expected their stories to last longer than a cup of coffee.
Incidentally, I've been thinking about publishing more short fiction on this blog. I'm not saying it will happen. Because it's easier to think about than do. But it's an idea.