If you do one thing each day that has a 99% survival rate, you'll likely be dead in under ten weeks. If boarding a plane had a 99% survival rate, a typical flight would end by carting off at least one passenger in a body bag, perhaps two or three. Ninety-nine sounds close enough to 100, but anything with a 99% survival rate is incomprehensibly dangerous.
Go sky-diving, and you're over two thousand times safer than if you were doing something with a 99% survival rate. Driving, the most dangerous everyday activity, requires you to clock up almost a million miles of travel before you're only 99% likely to survive. Even base jumping, perhaps the single most dangerous thing you can do without actively wanting to die, is twenty-five times safer than anything that carries a 99% survival rate.
Ninety-nine bananas is essentially one hundred bananas. Ninety-nine days is practically a hundred days. But 99% is often not even remotely close to 100%. It feels like similar numbers should lead to similar outcomes, but the difference in life expectancy between 99% and 100% survivable daily routines isn't one percent: It's ten weeks versus immortality.
It's simple enough to calculate the probability of more than one thing happening: You just multiply the individual probabilities together. The likelihood of surviving for three days, for example, while doing one thing per day with a 99% survival rate, is 0.99 x 0.99 x 0.99 = 0.9703, or 97.03%.
But we find this deeply counter-intuitive. We prefer to think in categories, where everything can be labeled: good or bad, safe or dangerous, likely or unlikely. If we have an appointment and need to catch both a train and a bus, each of which have a 70% chance of running on time, we tend to consider both events as likely, and therefore conclude that we'll make it. The actual likelihood that both services run on time is 0.70 x 0.70 = 0.49, or only 49%: We'll probably be late.
We also prioritize feelings over numbers. Here's a game: Pick a number between 1 and 100, and I'll try to guess it. If I'm wrong, I'll give you a million dollars. If I'm right, I'll shoot you dead. Would you like to play?*
Most people won't play this game, because the thought of being shot dead is too scary. It's shocking and visceral, so when you weigh up the decision, both potential outcomes balloon in your mind until they feel roughly equal, as if the odds were 50/50, rather than one being 99 times more likely than the other.
But put the same game in a mundane context — if instead of being shot, you get COVID, and instead of a million dollars, you just go to work as usual — and we tend to return to categorical thinking, where the dangerous-but-unlikely outcome is filed away as too improbable to be worth thinking about. As if close to 100% is close enough.
Between 99% and 100% lies infinity. It spans the distance between something that happens half a dozen times a year and something that hasn't happened once in the history of the universe. With each step we take beyond 99%, we cover less distance than before: 1-in-200 gets us to 99.50%, then 1-in-300 to 99.67%, then 1-in-400 only to 99.75%. We've quadrupled our steps, but only covered three-quarters of the remaining distance. We can keep forging ahead forever, to 1-in-a-thousand and 1-in-a-million and beyond, and still there will be an endless ocean between us and 100%.
You have to watch out for 99%. You have to respect the territory it conceals.

Sometimes I exaggerate a little because I want your attention and also to be funny. I just want to say: This is not one of those times.
Lunch is wrong. Lunch is one of the worst things there is. If I'm ranking bad things, I would go: cancer, lunch, heroin. Lunch is worse than heroin because the number of people who can't go twenty-four hours without heroin is relatively small.
I know how this sounds. I'm well aware of the futility of going up against Big Lunch. You people have spent your lives addicted to lunch. You need lunch, at this point. You can't imagine life without it, nor do you want to. Let me observe that these are things junkies say.
Here are the hidden dangers of lunch:
It costs money

It makes you tired while your body digests it
Maybe that seems fine to you. Money and tiredness: a small price to pay for lunch. That's only your financial position and your ability to function. Honestly. Listen to yourselves.
I first tried no lunch when my writing was going well and I didn't want to stop. I felt hungry and light-headed but also noticed that I got through the day without feeling like a useless sack of potatoes by 4pm. So I tried it more often. Sometimes I felt light-headed, and hallucinated a little, and became underweight, but none of these are problems for a writer. They help, if anything.
I know what you're thinking: "Max, it kind of sounds like you have an eating disorder." Well, let me tell you something. You might be right. I have actually started to doubt myself while writing this piece. Maybe it's not actually the world that's weird; maybe it's me.
No. I think it's you. Because I'm not slavish about no lunch. I actually eat lunch pretty often. Just not, you know, every single day. So I think that puts me morally in the right, because I can stop eating no lunch whenever I want. I'm not addicted to no lunch. I just use it strategically to get stuff done.
I won't eat bread, though. Bread is the worst. Eating bread for me is like injecting fatigue into my brain stem. I can run six miles and feel full of energy, but after half a sandwich, I need a nap. I'm not sure if it's the gluten or just that bread is packed full of evil. Either way, I'm not a fan.
I also listen to dangerously loud music because it helps me write, and I'd rather write well than hear everything at eighty. I'm not sure why I mentioned that. That's not related to anything.

A long time ago, before you were born, you could go to bookstores and hear authors speak. They would shuffle out to a podium and maybe read from their new book and answer questions about their process. It was a simpler time.
But now! It's online! All the time! Everything is online! Including me!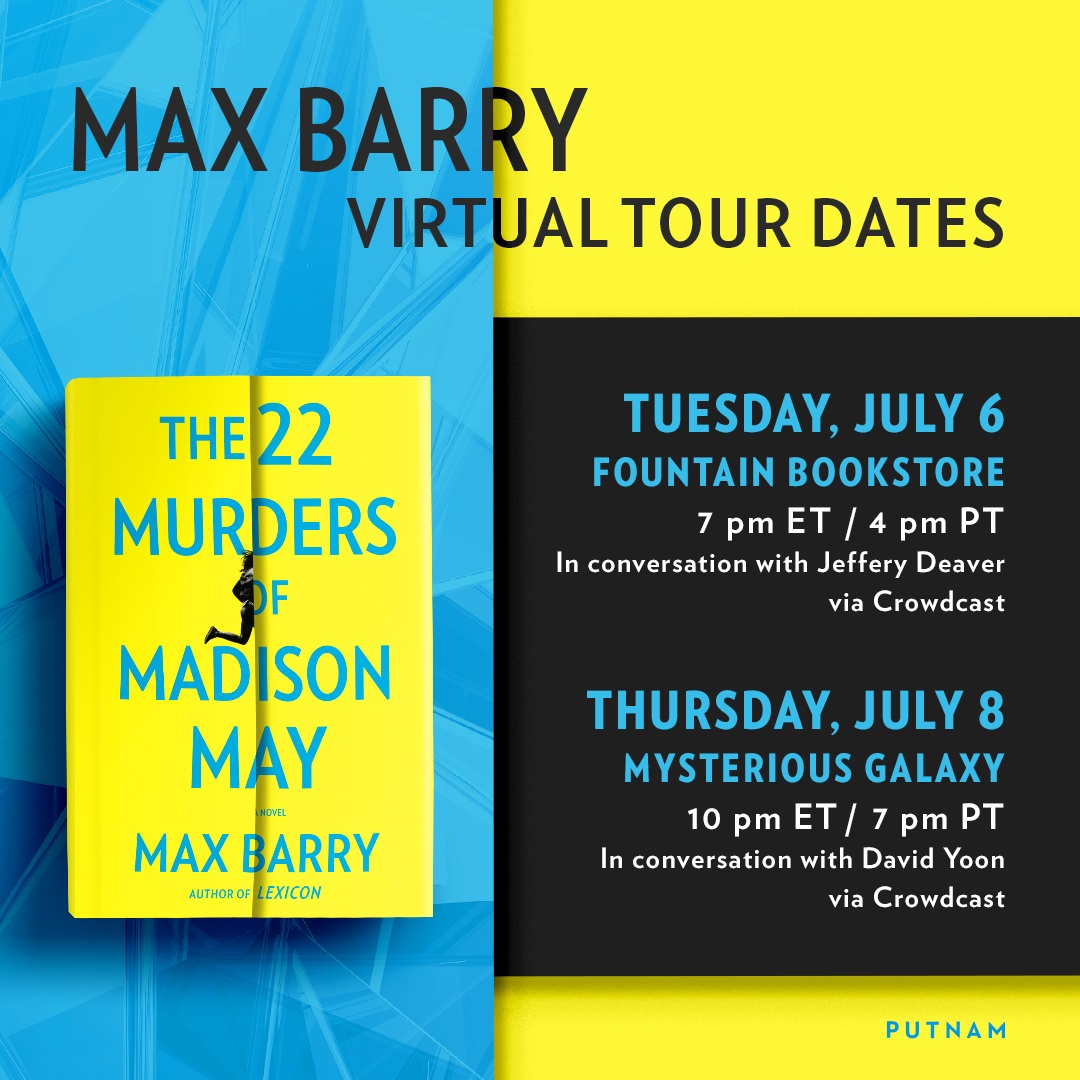 Check out who I'm in conversation with. That's right. First, Jeffery Deaver, then David Yoon. Those are some heavy hitters. I am getting totally respectable.
Here are some handy links to register & see the local time wherever you happen to be in the world. Because for me, it's the morning the next day. I will literally be dialing in from the future.
Tickets are going fast, so get in quick! I'm joking. There is no limit on tickets. It's an online event.
But you should register so they can send you info on how to join. Then you'll see me! Talking! Answering your questions! Like a real person! Enjoy it while it lasts, because after all this promotion hoopla I seriously need to get back to writing.
This is also the only way to get signed copies of The 22 Murders of Madison May, if you're interested in that. I signed bookplates and mailed them to these two stores and they will stick one in any book you order. Well not any book. Any book written by me. They look like this: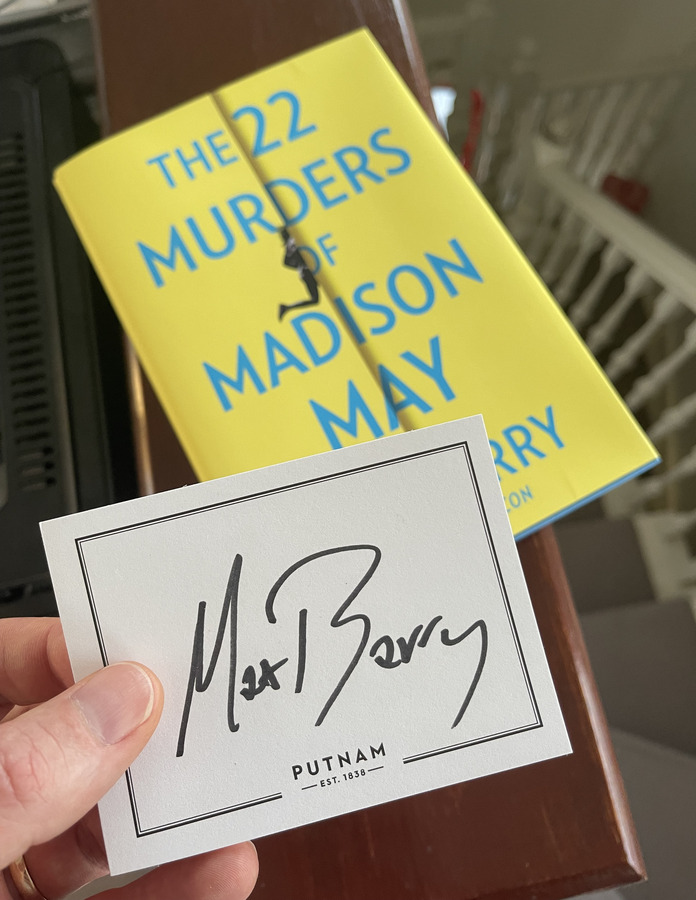 I also gently kissed each card. Not really. That wouldn't be COVID-safe. But I wanted to.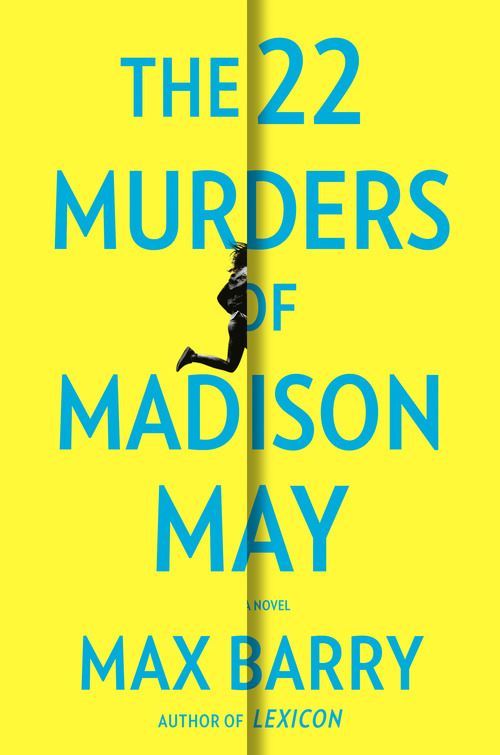 My new book, The 22 Murders of Madison May, is out next week in most of the world, and today in Australia and New Zealand. Now there is a TV show in development, too! This has been brewing for a while and today made it into the pages of Variety. So it's official and I'm allowed to talk about it.
This is exciting firstly because it's, you know, a TV deal, but also because it's at MGM's Orion Television, with show-runners Meredith Lavender and Marcie Ulin, who served the same role for The Flight Attendant. That was one of the more interesting new shows of last year, and lives in a smart / funny / endearing thriller space I like a lot.
What will happen next is Meredith and Marcie will go write a pilot script. Then, I can tell you, because this isn't my first rodeo, this script will bounce between a bunch of people and be rewritten until either it's good enough to get made or the studio is acquired or shut down. It is a race between those outcomes.
I've been lucky enough to have many books acquired for TV or film development (ten years ago, always for film; today, always for streaming TV), and even though it's a crapshoot as to whether they work out—there are more rights acquisitions than TV shows—the process is fascinating and thrilling. When someone adapts my work, I feel like my story gets a new baby sibling: an addition, not a replacement, and I can admire the similarities and the differences. Also, if it actually winds up being produced, I get to see sets and actors dressed like people I imagined, which is a genuinely magical experience, like finding a door at the back of my closet to a place I always suspected was real.
So I love that I get to do this again.

There's a Brian Aldiss series of novels about a planet that has 500-year-long seasons, and ahead of each great winter, people get attacked by a virus called the Fat Death, which makes them gain a ton of weight, or else die, or else first one then the other. It's actually symbiotic, because the virus allows the survivors to make it through the coming cold years, but the people don't know that, so try their best to avoid it. Each cycle, a few pockets of smart-alecs manage to stave off the virus to remain slim and healthy and smug, but if they're successful, they realize they're skinny weirdos who can't hang out with anyone.
Australia is that pocket of skinny weirdos.
It turns out that when you're very successful at keeping COVID out of your country, you don't feel a real urgency to get vaccinated. Only 4% of Australia is fully vaccinated so far, and a sizable chunk of the rest seem reluctant to be injected with something to protect them from a virus that isn't really present around here.
This is an interesting situation to me because it involves people doing good things that lead to bad outcomes. (I also like the reverse situation, when bad things will lead to good outcomes.) Plus it comes with a big dollop of human inability to assess risk, which is a fascinating topic that I've written and spoken about before (essay, video). People are terrible at risk. We're the evolutionary result of a biological system that prioritized fast decisions over correct ones, which was fine when the risk was saber-toothed tigers, but less fine when it's blood clots.
We're instinctively happier with risks that are the result of our own actions, such as swimming in a dangerous current or driving a car, than risks imposed on us by outside forces. And we especially hate risks that are new. We like to classify things into simple categories, with the result that a lot of people now believe driving to a medical center would be perfectly safe, but getting a vaccine there would be dangerous.
I'm not sure how Australia plans ever to open its borders. So long as they remain shut tight, there's a low enough risk of catching COVID that for many people, it will be treated as zero. And a vaccine that presents any risk at all, however small, will be seen as dangerous.

I haven't had a cold in 18 months. I am indestructible. I could walk through a room full of germs right now and be totally fine. You might say: But Max, you're just seeing the natural effect of everyone masking and distancing. I say: I can repel illness through sheer force of will.
Sometimes, if I feel a cold coming on, I'll go for a run. After 30 minutes of heart-pounding, lung-bursting, sweat-filled exercise, I often feel pretty okay. Maybe this is just relative to the experience of being mid-run while having cold symptoms. But even afterward, the cold seems to back off, like I showed it who's boss.
I know what you're thinking: This sounds like indisputable science. And you're right. After all, germs and whatnot are small. You can't even see them. Whereas I can see the results of my own decision-making. For example, if I run more often, and also there's a global pandemic that cuts seasonal flu rates by 95%, who can say whether the pandemic really made any difference? Whereas I definitely did run more often.
There's a thing called "locus of control," where you can be an "internal" person who believes you're in charge of your own destiny, or an "external" person who thinks you're the puppet of larger forces. Neither is supposed to be right; it's just a way to categorize your personality. Me, I believe both are wrong. To me, good things are caused by my own behavior, while bad things are the fault of other people. Otherwise it's, what, my fault that I'm not winning Olympic medals in between my movie roles? That doesn't sound right. And all the good things in my life, those are largely because I was lucky enough to be born in a country where I don't need to dig for water? I don't think so. I do not want to think so.