I get a Google Alert whenever my name pops up in articles, which I use to find reviews of my books, and (if they're good) link them from my website, or (if they're bad) update my list of people to turn my back on should we find ourselves some kind of post-apocalyptic scenario and they're all like, "But we need water."
That works great so long as there aren't other Max Barrys out there being notable. The last thing I want is to hear about some other Max being newsworthy. Even if the other Max is being a giant dick, sure, I can feel like, "Well, I'm doing better than that," but I don't want people wondering if I'm, for example, that duct-taped breast-touching Max Berry.
A few months ago I started getting alerts about a soccer-playing Max Barry. At first, I ignored them, because I don't care about soccer. I once went to a game in England and the Prime Minister was there and a team kicked three goals and everyone passed out with excitement. That was fun. But I have no desire to see another game. One was enough. For me, soccer is no netball.
But these Max Barry alerts kept coming. Every few days, a new email. Max scored a goal. He scored two goals. His team was setting records. I got interested despite myself. If you spam me with parts of a story, it turns out, I need to see how it ends. So finally I looked him up. He plays for Buckie Thistle Football Club in Scotland. "Scotland" is probably redundant in that sentence. But, get this, Buckie Thistle is on a massive tear. They're about to play Rothes for their 20th win in a row. Twenty wins in a row! Who are Rothes? I have no idea! But that's exciting!
Buckie could win this whole thing, whatever it is. I'm not sure if there are finals, but if there are, I want to tune in, if they broadcast games from the Highland Football League. Possibly not, because the Highland Football League is, I read, level five on the Scottish pyramid of league rankings. The best league, the Scottish Professional Football League, is level zero. That's really on the nose, in my opinion. They measure every other league by how many rungs it is below the best one. But anyway, I'm invested. I care about this now. Go Buckies. Buckies? Thistles? You go.

Once upon a time there was a queen, and the queen said, "Hey Google, who's the fairest one of all?" And her Nest Audio said, "Sorry, I didn't understand." So the queen tried again; she said: "Hey Google, who is the most attractive person in my geographic area?" and Google said, "Sorry, I don't have any information about that."
So the queen tried her phone; she said, "Hey Siri, top 10 most beautiful people in my kingdom," but Siri didn't answer, and the queen remembered she'd become annoyed and disabled Siri the night before.
The queen walked into her sitting room, where she had an Amazon Dot. "Alexa," she said, "who's the most beautiful person in the kingdom?" And Alexa said, "Sorry, I'm having trouble understanding right now," which was a problem that had been going on awhile, and the queen had googled it and tried moving the Dot away from the wall and blowing out dust but nothing had helped.
The queen sighed and returned to her bedroom and opened Instagram on her phone. The queen had over two hundred million followers so her notifications were a nightmare, but she scrolled through search. Among the snaps of donkeys and farm workers was a reel of a young woman sweeping the front porch of a cottage in the forest. Maybe it was just the light, or filters, but she looked possibly even more beautiful than the queen.
The queen's finger hovered over the clip. Normally, she would have looked up the account name, hired a hunter, and had the girl killed. But today she hesitated. She looked at the gorgeous outfits that had been laid out on the bed for the day's photo shoot. "Why do I do this to myself?" she said. "It's probably just filters." Then she cast the phone onto the bed.
That day, the queen enjoyed the shoot for herself, living in the moment, unplugged, and felt happy and satisfied, and also like she was growing as a person. But when she posted her new set, among all the likes was the comment: "so beautiful xxx also love @snowwhite you 2 should pose together sometime." The queen tapped through to see who @snowwhite was and fuck her if it wasn't the sweeping girl from that morning.
"Hey Google," said the queen, "Call Hunter."

You know, I think we've gone too far on this messaging thing. Not messaging as in sending each other messages. That's fine. The more messages, the better. Messaging as in, How do I make an idea palatable to idiots.
Obviously messaging works. If you have an idea you need to get into people's heads, you should think about messaging. People are busy. They pay no attention. When people hear an idea, they take one piece of it way out of context and form an opinion based on that, then refuse to change it until the end of time. You have more success if you tailor your message to be charming and digestible.
That's fine. But I feel like we've begun to demand good messaging for everything, even when we're not idiots. Now we think: If your messaging isn't great, I'm out already. I'm not even going to entertain your idea, because your messaging sucks. It might be a good idea, but you couldn't even get your messaging right, so forget it.
Maybe it's a natural reaction to being bombarded by marketing all the time. Every day, sounds and and colors and movements try to catch our attention, most of which we manage to fend off. It's wearying, so maybe it's a relief to encounter some messy, confusing messaging that allows you to dismiss it right away, with no further brain-power required.
But this means abdicating responsibility to the messengers. It allows messaging, rather than the thing being messaged, to determine what we think about it. I don't love the situation where we're all so busy and distracted that there could be a, oh, I don't know, a global pandemic and a free vaccine, and a valid argument against taking it would be, But the messaging was terrible.

Everything has voices, now, but you can't listen to them before you buy. All the online stores, they list this spec and that spec, they have video of the thing whirring around, circumnavigating the dog, but they don't show you its voice.
I want to know what a talking robot sounds like before I let it into my house. Because some are better than others. Google, I can listen to all day. I'm happy with Google hanging around, chiming in about things. Google is a real positive spirit. Siri, to me, sounds slightly disappointed, like she wants to know why I couldn't have looked this up myself.
I bought a set of Sony bluetooth headphones, and whenever I turn them on, a breathless teenager squeals "Power! On!" in my ears. I just want to listen to music. She chirps "Pairing!" like we just got married. It might be some Japanese cultural thing. When I turn them off, she says, "Bye-bye senpai… for now!" and sounds a little sad, so that I actually got reluctant to turn her off, and started just putting her down on the desk. Then I came back and she was on 2% battery, and said, "I don't feel good," and started to cry. I put her in a drawer and haven't opened it since.
My new robot vacuum cleaner, it's not so much the voice, but the attitude. I told it to clean the kitchen, and it said, "I'll do it later." So I pressed the clean button again and it said, "Will you get off my back, God," and gave this big sigh. I phoned the store, actually got a person on the line, which, you know, is not easy, and the guy said no-one had asked about the voice before. I'm always contacting stores about things and being told nobody mentioned that before. The guy said maybe there would be a software update to change the voice in the future. And I said it wasn't the voice so much as the attitude, and he asked if I wanted to swap it for a different one, and I said no, because I didn't know what the other robot voices were like.
I complained about this to Jen, because she wanted to know why the floors were still dirty, but she said it's good people can't preview voices. "That's life," she said. She was only half paying attention because we had people coming over and she had to bake. If we could preview voices, Jen said, everyone would choose perfect ones, and everything would be the same. "Learn to love the quirks," she said, and I was like, sure, but in the meantime, I'm stuck with a surly vacuum cleaner. And Jen said, Me, too, and I was like, Yeah, that's what I'm saying, then I realized how she was looking at me, and I was like, oh.

I'm an ideas man. Person. I'm a person of ideas. Not good ideas. I'm just willing to shake bad ideas for long enough that sometimes interesting things fall out. But the internet is tough for ideas people. I had an idea for a TV show where CEOs try to open their own packaging, but then I Googled "tv show where ceos open their own packaging," and screw me, there's a stupid Reddit post with the exact same idea.
Pre-internet, I would have happily regaled you with my entertaining CEO humiliation TV idea, never knowing that someone else had had the same thought. A bunch of people, probably. I would have suspected. But I wouldn't have known.
Now I know, and it's not just ruining great ideas for panel shows with a surprise redemption arc: You can't think of anything without a quick search revealing that someone else thought of it first. By now every half-baked thought anyone ever had has been fingered into a phone, and the search algorithms are good enough to find it.
I have therefore decided never to research anything again. The internet is too consumptive anyway. Consumptive. I'm not sure that's a word. But I'm won't check. I'm just going to assume I created something brilliant and on point there. So here is my next idea, which I also will not research: We should fine companies for litter. I know what you're thinking: Why do all Max's ideas start with, "Fine companies?" Because inequality, that's why. That's beside the point. We should fine them for litter. Not littering. Fines for littering is already a thing. We need to fine them for having their logo wind up in a gutter, no matter how it got there. For example, if I wander through the city with a meal, discarding Coke cans and McDonald's wrappers, we should fine Coke and McDonald's.
You might be thinking this sounds a little unfair. Like, what did Coke and McDonald's do wrong here, exactly. I'll tell you: They failed to take accountability for the total footprint of their business. They made an external detrimentality. External detrimentalities are when a business finds a way to make someone else pick up the tab for some of their product's cost, e.g. by dumping factory waste in a river, or pretending nicotine is good for you, or passing down catastrophic climate change to the next generation. They're also how to tell the difference between economist rationalists and corporate shills, because economists want to eliminate external detrimentalities, while people who have been subsumed into the corporate overmind think they're a smart way to make money.
There you go. An app to send snaps of discarded golden arches to a central authority, which issues fines, which incentivizes McDonald's to stop people strewing trash all over my street. That's a solid idea, which no-one has ever thought of. Or they have, and it was trialed in some city somewhere, and it went terribly, possibly because people were deliberately dropping litter to get companies fined. But those are just details. I'm not going to figure out every last little thing. I'm an ideas man. Person.

In high school, I was on the debate team. I was third speaker, the last one, whose job is to listen to the opposing side's arguments, then stand up and make them sound stupid. It's intense, because you go in without much of a prepared speech, and while others are talking, you're furiously scribbling down ideas for counters.
This was where I discovered you can learn to get better at persuading people. That was a new idea to me, because previously I thought people made up their minds based on facts. Sure, you can lie, but that's just making up facts; facts are still involved. The new idea was that facts were a jumping-off point: People could also be persuaded by how confidently I spoke, or whether I connected my argument to some other thing they already liked or disliked.
Since then, there has been a wild explosion of disinformation. A lot of persuasion techniques I'd only ever seen used in small, niche ways, mostly because they were so shameless, came right out into the open. I don't want to get into who was doing what, but there has been so much persuasion going on, it's hard to tell what's real. Which is the exciting thing about persuasion: When it really gets going, it can dig into your soul and uproot everything.
Not your soul, of course. You are a wise dispassionate observer of reality with a keen bullshit detector. I mean all those other people, who also think they are wise dispassionate observers of reality, but are totally wrong. Those people are a real concern.
So anyway I wrote a comedy about disinformation getting out of control. It's an audiobook and you can listen to it right now: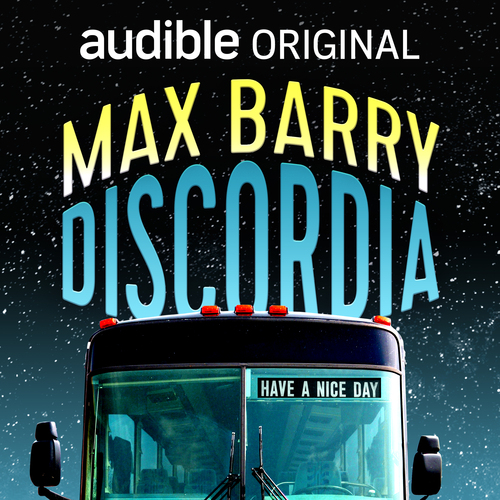 He's a part-time gardener and car thief. She's a murderous nun on a holy mission of vengeance. Together, they might be able to save the world.
The unearthing of a mysterious box (with HE LIES etched across the lid) precipitates the arrival of a compelling stranger prophesying that the world will end in two weeks. Simultaneously, the government locks down for war. The enemy is… unclear. They may even be us. One thing's for sure: Diego can't trust anyone anymore. He can only trust himself.
This is an Audible Original, so you can listen for free as a subscriber, or sign up for a free trial and still listen to it for free! Or you can just buy it. That's also an option.