You can find people doing anything on the internet if you want, but you probably don't. We all find our boundaries, I think, beyond which we're fine with not knowing the details. But we know it's out there—there's nothing we'd be surprised to hear you can find on the internet, because of course you can.
Still, I'd like to present an online service in which Amazon.com pays women to lick plastic ears.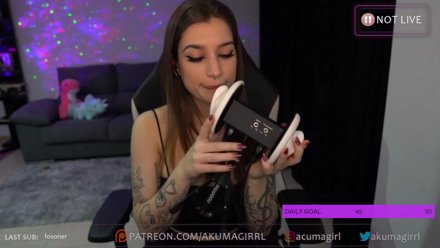 An earlicker at work.
Some earlickers gentle and sweet, as if the plastic ears might be ticklish. Others you'd think are trying to extract the last bit of jam from a deep jar. Each earlicker has her own style. Most break up the earlicking with light conversation, but a few advertise NO TALK, if you prefer your earlickers just to focus on the ears, please.
It's important to note that Amazon.com doesn't want earlickers. Amazon did not, I'm pretty sure, set out to create an earlicking market, and it would probably like them to go away. Nor do the earlickers themselves particularly want to be earlicking—these aren't earlickers from way back, who finally found a commercial platform to do what they love. Oh no. This is one of those situations that came about despite everyone's best intentions.
At its core—right down in the canal, if you like—this is a language problem. The earlickers exist because it's hard to say what you mean.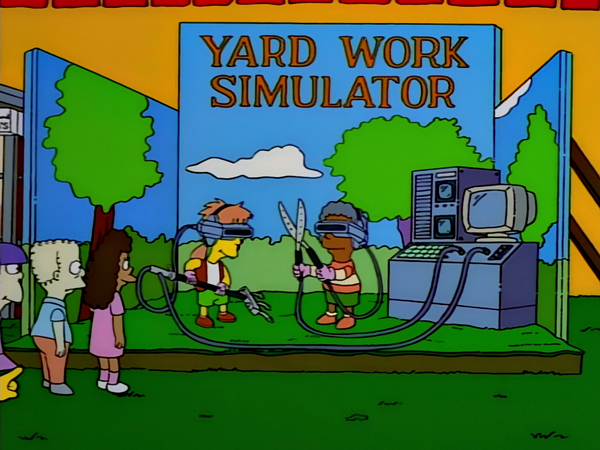 Amazon.com owns Twitch, which you might have heard of: It's a streaming platform for watching other people play video games rather than playing them yourself… although that's an old-school way of describing it, laced with the same condescension with which my parents viewed us 80s & 90s kids who'd do anything if it was on a screen.
Amazon wants Twitch to keep doing what it's doing: attract a mainstream audience where mainstream companies can advertise their mainstream products. But since anyone can become a Twitch streamer with a phone and some spare time, the site needs content rules. There's no end of streamers to choose from, you see, and the audience skews young and male. It's a viewers' market, and the viewers quite like boobs.
So Twitch bans sexually suggestive content. See? It says it right here. No sexually suggestive content.

But that's a bit vague, if you're a streamer. If your income depends on staying on the right side of the rules, you want to know exactly where the lines are—whether you risk being deplatformed for doing a dance, for example, or going for a swim. Or licking plastic ears.
And Twitch—wanting to be transparent and helpful and not get pitchforked by a social media mob every time a popular streamer is or is not banned for crossing or not crossing the line—has obliged by writing policy docs to cover as many specific situations as possible. "Gestures directed towards breasts" are prohibited, for example, while "cleavage is unrestricted as long as coverage requirements are met." (This is why streams are hosted by women with grand decolletage who don't talk about it.)
You want details? Twitch has details. Twitch has precise rules for every scenario you can think of:
For streams dedicated to body art, full chest coverage is not required, but those who present as women must completely cover their nipples & areola with a layer of non-transparent clothing or a paint & latex combination (artist-grade pasties, tape, latex or similar alternatives are acceptable).
Or rather, almost every scenario. Because you can't think of everything. Even if you cover everything that's happening now, you can't anticipate what people will come up with next.
The plastic ears with which the earlickers ply their trade are special microphones. They're not cheap. You need to make a capital invesment to become an earlicker—which implies the existence of earlickers who sunk their savings into a 3Dio Free Space but never managed to made a living from it, and now the ears sit in a corner of their room, the lobes gathering dust, a symbol of regret.
But these microphones are the best (I assume) at capturing wet, intimate earlicking sounds, which, in the viewer's headphones, create the auditory illusion that they are having their own ears licked. This experience can range from erotic to irritating, but it's clearly, clearly sexually suggestive.
However, earlicking is not specifically mentioned in Twitch's ruleset. And there's a thin, artist-grade pasties veneer of credibility because earlicking is similar to ASMR, i.e. meditation via crinkly sounds. It's difficult to find the words to express objectively how one is different from the other.
As someone who runs their own site of user-generated content, I've hit this paradox myself, where the more specific I make the site rules, the weirder behavior it seems to encourage. While the ruleset relies on broad, sweeping language—we may not be able to define it, but we know it when we see it—it's relatively easy for site moderators to maintain consistent, common-sense standards. But the more specific and objective the wording becomes—which users want; they crave detail—the more bizarre corner cases pop up, which aren't quite covered by the language, and which explode in popularity because now they're the most boundary-pushing-yet-allowable examples of the type.
That's how you get earlickers.
You can find the earlickers of Twitch here. (Warning: sexually suggestive.)