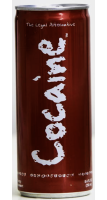 A reader named Richard e-mailed me about the new energy drink "Cocaine." He did this when it was still quite topical, but I've been falling behind on my e-mail again, so I only just found out. In a few weeks time I'm planning to find out how those mid-term elections are shaping up.
Anyway, my thought today isn't about Cocaine specifically, because everything about that product turns out to be exactly as you'd expect:
The inventor came up with the name at 1 a.m.
The name offended a bunch of people, who complained, which generated a lot of publicity, which helped sales
It's anyone's guess what it tastes like, because the articles about it and even the product's own website consider that an irrelevant side detail
The complaints, of course, were that the product glamorizes and legitimizes the illegal drug cocaine. Just as obviously, the manufacturers were shocked that anyone could imply there was some kind of connection between the drug cocaine and their product, Cocaine. They wrote:
Well, we think that kids today are neither ignorant, nor uninformed. As a matter of fact, we think that you are the brightest and most informed generation in the history of the world. How else would you be able to navigate your way to our MySpace?
I was intrigued by how impressed these guys are with their customers. I mean, they really think they're clever. That seemed like an odd conclusion to reach about people who buy sodas just because they have a funny name. And it occurred to me that whenever I hear a company telling their customers how smart they are, it seems they're selling a stupid product.
Take cigarettes. I'm not saying you have to be stupid to smoke. But it certainly helps if you have a poorly developed ability to anticipate logical consequences. Yet it's hard to find an industry more deeply moved by their customers' intellectual powers than tobacco. If you ask Altria,* smokers aren't just customers, they're proud warriors for freedom of choice, fighting against nanny-government interference in our personal lives. In fact, you probably don't realize it, but many people smoke even though they hate it, just to express their refusal to bow to the military-industrial complex.
Similar, sometimes companies implore you to "make up your own mind." Their argument seems to be that if you're smart, you'll ignore the overwhelming body of evidence that says their product is dangerous, and instead reach an independent conclusion based on their promotional web site.
To test the apparent correlation between how smart companies tell you they think you are and how stupid their product is, I plugged the phrase "our customers are intelligent" into Google and noted the top product categories to come up. If companies tended to say that because they really did have smart customers, you might expect to see telescopes and pocket protectors. If, on the other hand, companies tended to tell their customers they were smart as a piece of transparent marketing, you might see:
Shoes
Diamond engagement rings
Domain name hosting
Web site design
…which is what came up. That seems about right to me: two products that are sold for an order of magnitude more than they cost to manufacture, a service that offers the exact same thing as two thousand other companies, and a web site design company that claims, "When Microsoft begged us to help them with their website we were far too busy with other projects and had to turn them down." Although, to be fair, companies offering domain name hosting and web site design come up no matter what you put into Google. They're just part of the landscape, like insects, or Paris Hilton.
(* "Altria" used to be called Phillip Morris. According to its web site, the company changed its name "to better clarify its identity as the owner of food and tobacco companies that manage some of the world's most successful brands." That's good to know. I'd thought they did it just so people wouldn't realize they were the same pack of lying, murderous bastards.)