Max Blog
Displaying blogs about Max. View all blogs

I don't want to brag, but I coach a kids' sports team. I can't post a picture, because, I have learned, when you coach a kids' sports team, not all the parents want you posting pictures of their children on the internet. This is just one of the many insights I have gained, as coach of a kids' sports team.
The kids are all girls aged under 11, and the sport is netball. You might not have heard of netball, if you live in one of those non-netball-playing nations, such as all of them except for a handful of ex-British colonies. It's like basketball, except instead of dribbling the ball, as soon as you catch it, you have to come to a dead stop and try not to blow out your kneecap.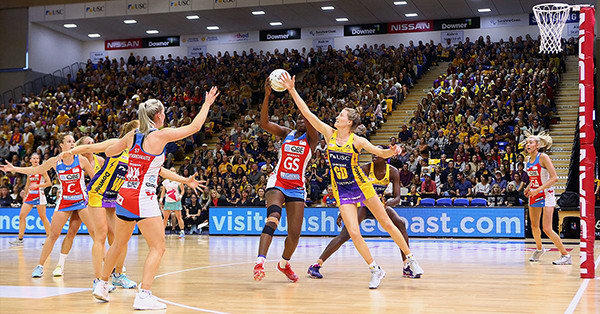 Imagine my netball team like this, but with players a quarter of the size, and some looking in the wrong direction.
Also the players are restricted to particular zones. This makes netball very tactical. One thing that makes it less tactical is when the players are under 11 years old. But it's super-engrossing to a person like me, who loves closed systems where you set up a bunch of agents with instructions and let them loose and see what happens. It's like writing novels, and programming, but with real little humans.
Another similarity I noticed between writing and coaching a kids' sports team is that delusion is helpful. It's best to be heavily deluded while writing, to avoid the awareness that your first draft is garbage. You need to think it's fantastic right up until it's time to rewrite it, so that you actually get there. Coaching kids' sports is the same: There's really no place for objectivity. I'm not there to tell a ten-year-old what her weaknesses are; I'm there to make her feel good about the time she made a smart pass, so she'll want to do it again. In both cases, there is a lot of wilful blindness to incompetence while seizing on hints of gold.
It's way more fun than I expected when I answered the netball club's call for volunteer coaches, no experience, expertise, or prior knowledge necessary. One thing I love about sport is how it creates a tension-soaked contest that is 100% artificial, with no real-life consequences. You can watch a game of something and get happy or sad and then go right back to whatever you were doing. This works even with kids' sports, apparently, because I care a lot about what happens on the court each Saturday morning, and it also doesn't matter at all.
I value things like this, because I have a habit of turning my hobbies into jobs, and then a thing I was doing just for fun becomes work. Not real work. Not the kind most people do, with bosses. But it's fun and invigorating to do something new that doesn't overlap with anything else.
Having said that, I did build a website to generate netball rosters, since it gets complicated when you have eight or nine players and seven positions and four quarters and at the last minute Stephanie can't play Wing Attack because she hurt her foot chasing a butterfly. It runs a mutating genetic algorithm to sift through tens of thousands of combinations and find the most efficient one. It's free and public, so you can use it for your kids' sports team, too.

From March:
But we are kind of all in it together. I have to say, of all the terrible crises to be facing, I do like how this one puts all of humanity on the same side. It's not people against people, for once. We get to face this one as a species.
WOW is that the most naive thing I ever wrote or what. I mean, probably not; I started this blog when I was 26. But still, that is some real pie-eyed thinking. Yeah, sure, Max, people are going to forget their differences and pull together just because there's a global health emergency. YOU IDIOT.
I don't want to overreact, but I do wonder if this proves we're doomed as a species. I remember sitting in university lectures on how to deceive people for money, i.e. psychology for marketing majors, and wondering where that would end, like what would happen if professional persuasion theory, which deliberately attacks our ability to perceive objective reality, continued to develop. Now I know: people refusing to wear masks in a pandemic as a political statement.
This is my real problem with satire at the moment: I can't figure out how to make a more extreme version of current reality that's also kind of fun. Or if not fun, then at least slightly absurd in a way that doesn't leave you deeply terrified about the future. You don't want an all-too-believable satire that's incredibly depressing, is what I'm trying to say. You want a dystopia that's thought-provoking but also lets you get a good night's sleep.
For example, if I were writing this situation as a novel, my next step is people start boasting about being infected. As a sign they stood up for their politics, you see. Then they encourage other people to get infected, to prove themselves, and I guess then they go around deliberately trying to spread it. They reposition having the virus as a good thing. Maybe they could have a cool name.
But this is not a fun idea. No no no.

Well let me ask you, Anonymous: y U no post? I mean, I don't know you. But I'm guessing you haven't blogged in a while. Why is that? Is it because you decided the world doesn't actually need your random thoughts inserted into it on a semi-weekly basis? I'm just spit-balling. But that sounds right to me. I mean, there are a lot of human beings out there, Anonymous. A lot. And they can't all be the chosen one sent to save humanity with the power of their opinions.
I know, I know; you used to feel that way. You used to be young, Anonymous. You were filled up with the righteous clarity and passionate delusion of youth that other people need to hear what you have to say. And there's nothing wrong with that. That's a good thing for young people. But you're not 23 any more, are you?
And opinions have become so digestible. You were raised in an age of op-ed pieces, I bet, where people thought about what they wanted to say, spent some time composing it into robust form, and delivered it in meal-sized portions. Today you wouldn't be halfway through that process before the social media maelstrom had eaten, judged, and moved on, all in punctuation-free one-liners. That's okay; that's an evolution of sorts; but it's not exactly your sweet spot, is it? If you're delivering 500-word blogs (blogs!) a day after the fact, you're kind of constantly late to the party, right?
But I do think you should start posting, Anonymous. Like for me, I had a really terrific year creatively in 2018; one of my most enjoyable. I didn't post about it, though, for a few reasons, a big one being that the moment I say out loud something about the writing going well, I can already feel the thousand demons of writers' Hell winging their way toward me. But then a few people started to think I had been killed in that fake balcony fall where Wikipedia says I broke my arm,* or abducted by winged writers' demons, so I felt a little guilty about that.
And when you do post, Anonymous, you often get reminded that there are people out there who do like to know that you are still alive, and not consumed by demons, and some of those people you've been connected to for a really long time. And that's nice. That's really nice. So I do want you to give it a shot, Anonymous. Get back out there. Share your irrelevant thoughts, because that's what people do. The second you have a book deal.

Hey Max. First, thanks for making NationStates. Second, did you really find a sock full of pennies? If so where?
Red
I did not really find a sock full of pennies. That was a humorous fiction. But everything else on this site is true. Some people think I make up stuff for it, like I'm inventing the "Ask Max" questions, but that's wrong. I'm actually a little shocked anyone would think that. The truth is that by the time I finish working on my novel each day, I'm fictionally tapped out. I don't have enough creativity left to make up anything. It would be a good interrogation technique: If you have a terrorist, make them write fiction for eight hours, then ask them where the bomb is. By then he has no lies left, I guarantee it.
But I have been tardy about answering Ask Max questions, which I feel bad about. Here are some more:
How do you become a banana for a week?
Thatguy
You start by becoming a banana for a minute and work your way up.
Do you even look at these?
Anonymous
Yes.
Have you met an Alien?
TheENugget
No. But I'm a little concerned by your capitalization of "Alien." I feel like your next question is: "Would you like to?"
Does this site cover the complete list of all your works, or only a certain genre?
Skankhunt42
Holy God. So, what, I'm maintaining a stable of websites, one devoted to my mainstream fiction, one to my series of romances, another to my erotic swords-and-sandals fantasies, and so on? I think you're saying I don't publish enough, Skankhunt42. Okay. Message received.
What time is bed time?
Greg
I go to bed about 4am Pacific Time. This is 10pm in my local timezone.
What do you put on the census when it asks what your job is? Do you think it is creative that I put penguin tamer?
Greg
No I don't, Greg. I think that's irresponsible. The census is no joke. It's used to make informed public spending decisions, like where to put schools, and which populations need suppressing because they're too close to the truth. I put down "Writer," which is technically true for anyone who is in the process of filling out their census.
Have you heard about these creepy clown sightings in the Southern and Eastern US?
Austin
It's nerds with too much time on their hands, right? I mean, I don't know anything about it. But it sounds like something I would have thought was an awesome idea when I was about 19: Dress up as a weird clown. Now it sounds like a good way to get punched in the face. People don't like weird clowns.
How are you? Do you still live in Australia? Is there a lot of spiders? I'd love to come to your country, but bugs and spiders scare the sh.t out of me…
Kenza
I'll be honest with you, Kenza, there are basically no spiders here. We just like to perpetuate that idea because it makes us seem tough and fearless. Well I mean there are some spiders. I did just catch a spider in the living room yesterday and move it to the back yard. But only because its thick furry body was blocking the light. I could hardly see a thing in there.
what is your net worth
buzz
I am worth several hundred nets.
If there was one word you could use to describe Emily from Lexicon, what would it be?
Olivia
"Emily."

Would you eat a brick if I told you it would cure the cancer of anyone afflicted?
Krualstiken
Of course. That would be the most effective cancer treatment in the world. We're currently shooting people full of poison and it doesn't even work most of the time. Brick-eating would be a major technological breakthrough. You would win the Nobel Prize for discovering a treatment method as relatively simple and painless as brick-eating.
I would also kill an innocent person with a brick if that would cure cancer worldwide. I mean, I wouldn't enjoy it. But cancer is the worst. In fact, I would let you kill me with a brick.
I knew someone who worked on The X-Files during its original run and when they were shutting down after nine seasons, she said, "It's not like we were curing cancer." Because occasionally in the arts & entertainment industry you can stop and realize that you're making up stories while other people are doing important things like saving lives or growing food or building houses. I said, sure, but the people who are have probably been watching The X-Files. I hope that is true.

Hey Max, why do you hate Windows?
No one you ever heard of
I'M GLAD YOU ASKED. From the last time I whined about Windows:
But what really bothers me is the feeling that you must constantly fight for control of your own computer, because your aims are apparently in conflict with those of Microsoft and half of everyone else who writes Windows software. They want your computer to report information about you, keep ongoing watch over what you're doing in case you turn pirate (activation, registration, and validation?), show you ads, and lock you out of protected media. If you lose this battle, six months later you find yourself with a computer so clogged with malware that the only way to make it usable again is to reinstall the operating system and begin the fight again.
Written in 2007. Windows today is that times a thousand.
At least Apple is up-front about how you'll shut up and take what it gives you. I appreciate that honesty. On my phone, I'm happy for it. I don't want to configure my phone. I just want to read email and look at photos. You make that happen, Apple.
But Windows! Windows is sneaky. Windows is the shady salesperson telling me it's my decision but if I don't want to upgrade it's going to keep asking and then just go ahead and do it and say it was my choice.
I use Ubuntu Linux, which is part of an open source ecosystem where people make good software just because. That used to be only mildly notable, but the digital world has become so hard-nosed that whenever I switch to Windows, I'm a naive farm boy who just arrived in the big city: 15 minutes later, I'm bankrupt, naked, and everyone has my email address.
Oh, and the Start button. THE START BUTTON. The perfect symbol of everything that's wrong with Windows. Well not everything. But a lot. Every edition of Windows for the last 20 years has breathlessly pushed one of two selling points:
We added a Start button

We removed the Start button
YOU'RE ADDING AND REMOVING THE SAME THING. How can your main feature of Windows 10 be something you introduced in 1995? Why is nobody talking about that? "Oh yes, I think Windows 10 is actually a significant improvement; it brings back the Start button." That's like someone was punching you in the face for a while, then stopped, and now you think things are better than ever! And it's just a button! While you're dreaming up new features, how about the one where you don't need to reboot the entire freaking machine every time it wants to update?
So it's mainly that: the sneakiness, and the sales campaign stuck on a loop.