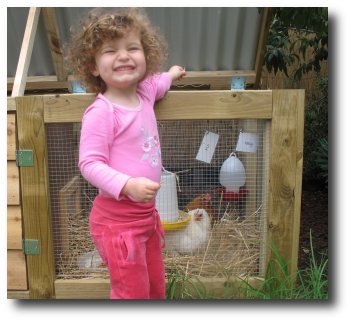 I am renting some chickens. They're out there right now, scratching in the grass outside my study window. You might not have known you can rent chickens—I didn't, until Jen came home one day with shining eyes and said, "Let's rent some chickens!" But you can. In fact, there is hot competition in the chicken rental industry, with BookAChook.com.au, RentAChook.com.au, and CityChicks.com.au competing in my local area alone.
I wasn't so sure about renting chickens, but Jen said, "If it doesn't work out, we'll just send them back." That was when I realized how ingenious the scheme is. You can't say no to rental chickens. It's a risk-free investment. And so one night a nice lady drove to our house with a chicken coop, a bag of feed, some hay, and Patsy and Flo.
We didn't name the chickens. They came with little cards with their names and pictures on them, like baseball stars. They're basically celebrity chickens, on tour. I could tell they were VICs because Deb, the BookAChook lady, didn't really want to hand them over. As she went through the list of rules (do not feed meat to chickens, do not feed eggs to chickens unless they have been well-disguised, on hot days chickens enjoy settling in with a chilled ice bottle), I could sense her judging me, evaluating whether I was chicken-worthy.
We've had them a few weeks now, and I have to say, I'm impressed. They are very low-maintenance: you let them out of their coop in the morning, you lock them up again when they wander back in at night, but except for chilling the odd ice bottle, that's pretty much all you have to do. They don't make much noise, although they have begun giving quiet, hopeful squawks every time I come out the door, just in case I have a plate of strawberries. That's quite nice, to arouse a hopeful feeling in another creature, even if it's just because of strawberries. I think it was definitely time I got a pet. And on current form, I can recommend you try the chicken.