Jennifer Government Blog
Displaying blogs about Jennifer Government. View all Max's blogs

It's hard to know what to expect from a President-Elect who's promised a lot of things he can't possibly have meant. On the one hand, maybe he did mean them, in which case, dear God. But on the other, surely not. This leaves a lot of middle ground for wild speculation, which I now intend to provide.
Also this election has reminded me that however far-fetched I think I'm being, it's not far enough. So here are four possible Trumps.
Benevolent Dictator Trump

Beholden to no-one, President Trump dispenses with political bickering, cuts away swathes of bureaucracy and red tape, and replaces it with simple, direct, effective solutions that no-one tried before because they were so caught up in politics or not wanting to offend anyone or reading books or something. I think that's right.

Trump crafts an unpredictable yet nimble, energetic, and effective administration, unafraid to make unpopular decisions so long as they're right. It is happy times for everyone who agrees with Trump's version of right, which is everyone, by decree of a new federal law. Protesters and other unpatriotic unAmericans are taken to the desert to toil to build a statue of Trump so high it can blot out the sun.

Term limits are abolished. In his eleventh year of rule, a small band of protestors vandalize the statue by blasting off the toupée and are shot on live national television, their remains displayed outside the city gates. God-Emperor Trump dies peacefully in his sleep in his twenty-third year of rule, surrounded by concubines. After a week of national mourning, the nation descends into bloody civil war as various full- and half-blooded Trump offspring lead armies in a battle for control of their father's empire. Dragons return. Ivanka rides one.

Robber Baron Trump

By the time he waves goodbye from the chopper, Trump has vacuumed so much money from the American public that he and his family are the wealthiest people in modern history, richer even than he claims to be today. A drip-feed of revelations of fraud, embezzlement, and cronyism on an unprecedented scale hound him, along with persistent talk of federal prosecution, but none of it goes anywhere, dissipating like waves against the rocky shore of Trump's now-impenetrable empire of lawyers, cash, and paid-up influence.

Weakened by pillaging, the welfare system faces a short-term credit crunch, leading to riots among the poor and unemployed. This is held up by Republicans as proof of the fundamental non-viability of the welfare state and the need to abolish it altogether, a view supported by low-skilled male white voters who are shortly to become unemployed themselves as the shock of decreased government spending rolls through the economy. California and Texas secede and close their borders. Nevada falls to roaming biker gangs. The Trump family acquires Manhattan at market-bottom prices and builds a wall around it, a real one, not just a fence.

Capitalizt Trump

With a businessperson's win/lose perspective on the economy, Trump abolishes regulatory authorities, slashes taxes, eliminates labor laws, privatizes public bodies, and ushers in an ultra-capitalist paradise in which corporations are free to do whatever the hell they feel like. It is a rich, refreshing new world for the already-wealthy, who find an ever-expanding array of services aimed at them, while the poor die of easily-preventable diseases or in back alleys after muggings gone bad on their way home from one of their three-dollar-an-hour jobs.

Employment becomes so critical to survival that people revert to the ancient practice of calling each other by their occupation rather than their surname. A shoe company deliberately incites a violent riot to promote a new brand of sneakers. A plucky government agent… ah, you know what, just read the book.

By mortgaging its future, the US is temporarily awash with cash, creating a false dawn that ushers in a second Trump term. He exits office just as the economy begins to run off the cliff. Via a running commentary of tweets, he blames his successor for the ensuring collapse, depression, and takeover by Chinese real estate speculators, labeling all of the above "sad!"

Commander-in-Chief Trump

Trump has always been a big believer in the "speak loudly and carry a big stick" approach. To date, his sticks have been lawyers, but starting January 20, 2017, they are stealth bombers and 7,100 nuclear warheads. Carrying his philosophy into office, Trump rattles a few sabers before going ahead and invading someone. It's an irresistible dynamic: The benefits of military action are largely personal (status, pleasure of defeating an opponent) while the costs are born by an American public and purse he's only borrowing and is allowed to hand back in any condition.

Military adventures in Asia, the Middle East, and Alaska breed a host of new enemies for America, ensuring the need for ever-more defense spending and a twitchy, paranoid, nationalistic voting public. Trump exits office calling his military record his proudest achievement, despite the loss of several million citizens on the east coast after an incident that looked a lot like a biological attack but officially was just a bad flu season. Via a running commentary of tweets, he blasts the new President for weakness as she attempts reconciliation with foreign powers. Much of the Western hemisphere is annihilated in a nuclear exchange started by a relatively small rogue nation that nobody was paying much attention to. Trump relocates to Australia and begins to hoard water, leading to a Mad Max scenario where he is killed in a car chase after the escape of one of his breeders.
That's what I've got for now. I mean, there are other possibilities. But these feel the most likely.

Is Jennifer Government a young adult novel?
Zoe
Oh I don't know, is the MARGARET ALEXANDER EDWARDS ALEX AWARD for young adult novels?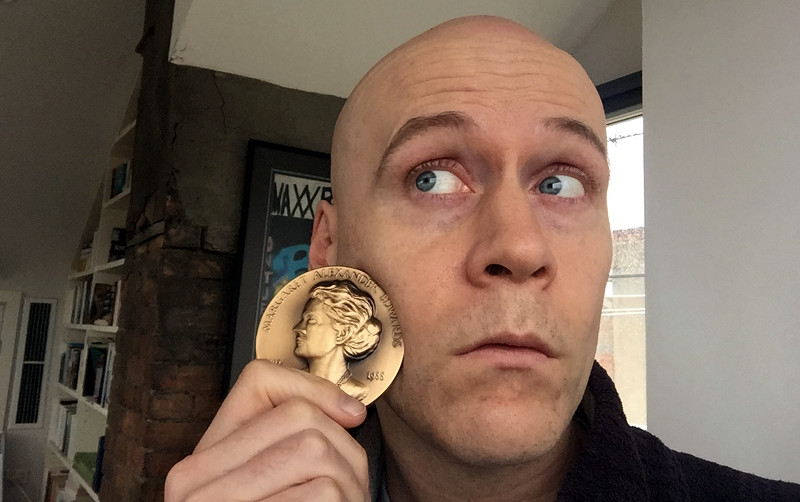 It is. That's the answer to that question. Well, kind of. It is the American Library Association prize for "adult books with special appeal to teen readers." Which I guess isn't quite the same thing. Probably a true young adult novel primarily appeals to teen readers, like features them as main characters. I think that's right.
I just asked Jen for the definition of a a young adult novel. She is a school teacher-librarian. She said, "It depends what you mean by young adult." I feel like there isn't a really hard line here.
Anyway, Jennifer Government is a book I would have liked to read in high school. So there you go.
P.S. Hahaha, I totally misled you. Lexicon won the Alex Award, not Jennifer Government. And Lexicon has sex and death and horror and is quite a lot less goofy than JG, which just goes to show those things don't disqualify a novel from appealing to teens, at least in the eyes of librarians. The opposite, if anything. Librarians are amazing like that. They will hand you a book they know will make your eyes bug out because they know that is the point of novels, not to satisfy but to surprise.

Why is the Turkish edition of Jennifer Government named "Ironi?"
Gee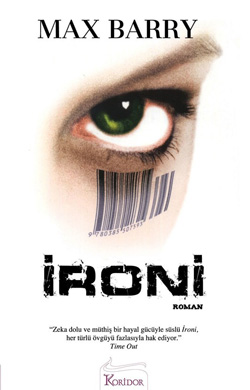 Because it's, like, you know, ironic. Actually no. Not at all. A Turkish speaker tells me it means "iron-y," as in, having the properties of iron. My best guess is that this refers to the character Jennifer Government, who is unbending in her pursuit of justice, and has a high melting temperature.
But I may be completely misinterpreting it. Which would be ironic. Well it wouldn't. But it feels like it should be.

Have you or have you considered writing comics or graphic novels?
Eric Adams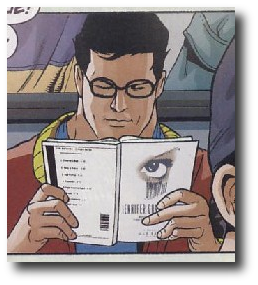 I once pitched a story to DC Comics where LexCorp tries to sponsor Superman. They make a mockup of his supersuit covered in ads, like a racing car driver. Also they infect their own employees via the water coolers, creating an army of flaming-handed psychopaths. Lois Lane is one of those because she's working undercover on a story. Then it turns out it's not Lex Luthor behind all this but LexCorp itself, the corporation, which gained self-awareness and wants to literally consume human resources. So Superman and Lex have to trust each other to stop it. DC didn't pick this up for some reason.
This came about because legendary comic book writer Kurt Busiek decided to have Clark Kent read one of my novels in Action Comics #838. Which is still a major life highlight, by the way. We swapped a few emails and Kurt asked if I was interested in writing for comics and of course I said, WHO WOULDN'T BE INTERESTED IN THAT, KURT, TELL ME, and he hooked me up for the pitch.
So I was sad that didn't work out. As well as loving comics, I like the idea of some really talented artist having to draw what I want. Like, I might say, "I'm kind of thinking a guy who's half-human, half-corporation," and they think, "Arrghh, what does that even mean," and then they figure it out. Because they're talented. So then I'm looking at an awesome drawing of my idea and I'm like, "I came up with that."

Who do I have to hug to get a Jennifer Government movie made, that's what I want to know. It's been like seven years. Yeah, yeah, it's hard to make a story work in 100 minutes when you've got six major characters and nine interconnected plots. Boo hoo. You know what that sounds like? "I'm a crappy screenwriter."
In the meantime, here's something almost as good: a wallpaper! I stumbled across this a year ago but it took that long to track down the original artist: it started as a sketch by Patrick Shettlesworth that had nothing to do with Jennifer Government until lordkelvos of deviantART reworked it and added a barcode tattoo, which I stuck in front of a background designed by Michael J. Windsor. That's three different people who can now sue me for copyright infringement. But at least two of them said it was okay so here you go: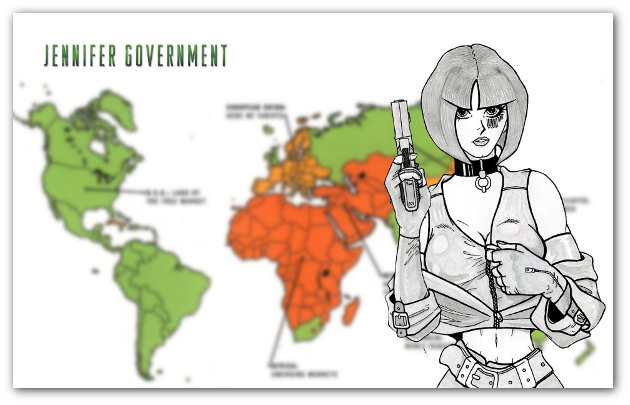 It may help you enjoy this image if you imagine you're a teenage boy. I don't need to do that. But you might. Here it is in different sizes: 1920x1200 (widescreen), 1280x800 (widescreen), 1440x900 (widescreen), 1600x1200, 1024x768.

The other day I was digging through my Junk folder when I found an e-mail from the United Nations. I know what you're thinking: "Wow! That is one politically astute mail filter." But pretty much all email to my public address without the word "duck" in the subject, as per my contact page, gets flagged as spam, and the UN chose not to do that. Apparently arbitrary yet effective protocols for ensuring open communication aren't something the UN wants anything to do with. Or maybe they have something against ducks. I don't know. Whatever the reason, they went with the subject, "Notice of cease and desist."
Naturally, it was about NationStates. It's always about NationStates. I have Nike shooting teenagers and Coke marketing Fukk, that's no problem. But one player says something mean to another in my web game and they're going to sue me into oblivion. Anyway, what upset the United Nations was that I put them into NationStates. It's the place where players come together to debate and pass international law; in the five years the game has been running, they've implemented privacy safeguards, promoted religious tolerance, passed a universal bill of rights, and outlawed child labor, amongst 240 other resolutions.
Clearly this wasn't anything the real UN wanted to be associated with:
Dear Mr. Barry,

It has come to our attention that you are operating an online game called "NationStates", www.nationstates.net, and that this game uses the UN name and emblem, without authorization…

We therefore demand that you immediately cease and desist from using the United Nations name and emblem in the above-referenced online game, and that in the future you refrain from using or making any reference to them in connection with your activities.

[ Full Letter ]
My first reaction was pride. Receiving a threatening letter from the United Nations; I finally felt like I'd done something with my life. Also, there is something inherently amusing about UN threats. I mean, I think the UN does a lot of great work, but let's face it, they tend to specialize in demands backed by the threat of further, even more stridently voiced demands. Frankly, "You are hereby ordered to cease and desist" was a lot scarier before I got to "says the UN."
But they did have a point. In 2002, I whacked the United Nations into my game, complete with copyrighted emblem, not so much in parody as to say, "Hey, look, this is just like the real UN." I can't remember ever thinking about the legal consequences; I probably assumed that even if the UN noticed, they'd have plenty of blood-thirsty dictators and international war crimes to prosecute before me. But what with Saddam behind bars and all that world peace you've been hearing so much about, I guess they worked their way down to me.
I wondered whether it was worth fighting. It would probably be eight years before they got inspections organized, and by then I could keep moving my UN references around where they wouldn't find them. And it could be great fun. I could represent myself and wear cheap suits and tell the court that it was on trial. But for that to work, I would need an opponent who might actually be embarrassed by the expense and public profile involved in a petty IP lawsuit, and I just wasn't confident the UN falls into that category. That the single biggest label on the front page of the UN web site is "Copyright, United Nations, 2008" struck me as an ill omen. Also, I do support the UN. I mean, sure, it's about as functional as a cat with 192 heads, and a lot of those heads are corrupt. But at least they're trying. At least the heads have to look at each other. I feel like if I'm going into legal battle with somebody, it probably shouldn't be an organization whose foremost goal is world peace.
Plus I got a lawyer's opinion, and he said I was blatantly in the wrong. So I decided to cave.
So now I have to rename my UN. I was tempted to go with something a little insulting, like "Discordant Nations," or "Ridiculously Petty Bureaucracy of Nations Who Should Have Better Things To Do." But no, that would be sinking to their level. NationStates now has a "World Assembly."