Jennifer Government Blog
Displaying blogs about Jennifer Government. View all Max's blogs

By now four thousand people have told me about the shooting at the Playstation 3 launch. Well, all right, it wasn't four thousand. It was sixteen. Fifteen, if you don't count the guy who thought it was over an XBox. (I love it when people remember everything about a marketing promotion except the product. Just knowing that some marketing executive signed off on a million-dollar campaign only to boost his competition gives me a warm feeling inside.)
Not that I'm saying Sony deliberately engineered a stock shortage and then hired an assassin to shoot someone in the stampede in order to build up the hype. That would be unspeakably immoral. To rip off the opening of Jennifer Government so blatantly, I mean.
I'm thinking about creating a special section on this site: "Stuff that happened in real life that's kind of like one of Max's books." That way I won't feel the need to salute each individual event: I can just add it to the list. Then on cold, quiet nights when I'm feeling insecure, I can browse that list and feel good about myself again. The best part is there need never be a list of "Things that were predicted in one of Max's books and, boy, was he off-base." Those things just haven't come true yet.
Of course, it's not that hard to predict advances in marketing. You just imagine what you'd do if you wanted to sell something and had absolutely no morals, self-respect, or dignity. Wait six months, and bing! There it is.

Now you know I hate blowing my own trumpet every time something happens in the real world that's straight out of one of my books. Well, maybe "hate" is too strong a word. I mean, "enjoy on a deep, almost sexual level." Yeah. That's more like it.
Anyway, I think this one is worth mentioning because it's at the more extreme end: it's that thing in Jennifer Government where everyone takes their surname from their employer. John Nike. Billy NRA. Violet ExxonMobil. And so on.
There's a historical precedent for this: in centuries past, John Smith was the town blacksmith, Tim Baker really was a baker, and Geoff Wang was… well, let's not think. In the Jennifer Government world, where a person's job is the most important thing about them, returning to that concept made sense to me. Also, when I worked in sales, I'd get a call from "Michael Jamieson" or whoever, and frantically think, "Jamieson, Jamieson… who the hell is that?" It would have been so much simpler if he was "Michael McDonald's."
Now, we've already seen people selling their surnames to corporations, and even a particularly disturbing case of parents auctioning naming rights to their baby. But does it really count as a fulfilled prophesy when the people doing the fulfilling are missing some essential part of their brain? I dunno. I think that's a little like saying, "I foresee a day when people will smack themselves in the face with hammers for fun," and then claiming it came true because of my cousin Donny. Poor Donny. Well, you pity his parents, mostly. But back to the issue. For me to feel like I really nailed this one, it has to be done in all seriousness. Nobody should even see anything wrong with it.
So here we are. Lately companies have been stampeding into Second Life, a virtual reality of the kind that everyone thought the internet would be, before discovering it was just typing and clicking on links. In Second Life, you create an avatar—a little person to be—and run around… um, doing stuff. You know, like walking around… or going shopping… or building a house. But without having to stand up.
So. The news agency Reuters just opened an office there and assigned reporter Adam Pasick to the beat. So now there's an avatar that looks like Adam in Second Life, reporting on news. Only what's his name? Adam Reuters.
Oh yes. Innocuous. That's how it starts.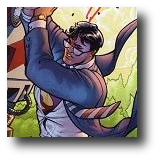 Okay, this is too funny not to mention. I offered to send some signed books to Kurt Busiek—the writer who put Jennifer Government in Clark Kent's hands in Action Comics #838—and he kindly sent me some of his stuff in return.
Included in the stack of goodies that arrived on my doorstop was a signed copy of that issue—with this modified cover.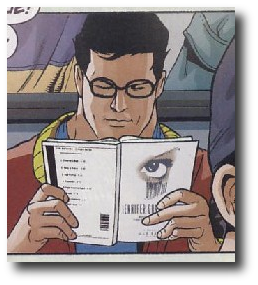 Okay, let me just get my breath. All right. The other day—no, wait, I need another minute.
Okay. Okay. I'm just going to say it: in the latest issue of Action Comics, Clark Kent is reading Jennifer Government.
Action Comics is the series that introduced Superman in 1938. And now he's reading my book.
This is possibly the greatest moment of my life.
Just before I left Australia, I noticed I had a couple of emails with odd subject lines, like "Superman reads Jennifer Government." But I had a plane to catch and didn't get around to reading these for a couple of weeks. Then I was sure that it couldn't be true, that maybe Clark was reading a book that just looked a bit like one of mine if you turned the page upside down and squinted, because… well, it just couldn't be. But if that was happening, a lot of people seemed to be doing it.
So I emailed DC Comics, pausing only briefly to wipe the drool from my keyboard, and soon had not only confirmation that this extraordinary event had actually come to pass, but a fascinating (and flattering) explanation as to how:
I'm glad you enjoyed the bit — I'm Kurt Busiek, co-writer of that issue, and the guy who violated copyright on your book cover for my own nefarious purposes. The idea, mostly, was that in the past, whenever Clark mentions reading anything, he almost invariably mentions Dickens or Austen or some other long-dead writer that the audience knows from being forced to read them in high school lit class. Since Clark's supposed to be in his early thirties, I want him to come across like a reasonably young guy, not like your college professor's dad (and I say that as a big Jane Austen fan; it ain't the quality, it's the image). So I wanted Clark to be reading something current, interesting and smart. Something that made him look like he's part of this century and knows what's good.
I'm not ashamed to admit that this made me giggle like a schoolgirl who just found the penis pictures in her biology textbook.
My new goal is to land a poster-sized copy, so I can frame it and hang it somewhere conspicuous, like on the front of my house. I mean, Superman! Superman!


My local delivery guy is very impressed with my parcels. When he comes to deliver a box, he says, "It's from New York," his eyes filled with awe, as if New York is a magical, mythical place, floating above the rest of the world on the back of a giant turtle and inhabited by knights and princesses, none of whom send packages. And this guy is an international courier. He must be exhausted when he gets home at nights, after reading all those thrilling exotic addresses.
But my latest box was exciting, because it had some foreign editions of Jennifer Government fresh off the presses from Spain and Brazil. The Spanish one was especially cool, because I didn't know it was being published there. But, unless this is some kind of elaborate hoax, I guess it is.
Foreign editions usually come as a surprise to me, because the chain of people required to pass along the news is longer than two, which I've worked out tends to be the practical limit. For example, I discovered that there's a truly amazing Swedish edition courtesy of site member Kalle, who posted the details in the comments here. Kalle was even better than my publisher would have been, supplying a translation of the blurb:
Jennifer Staten is a hard and breathtakingly funny thriller. The government agent Jennifer is struggling against baby-sitter problems in the same time as she has too save the world from aggressive marketing methods like torture, mass murder and strategic nukes… A satire from the wonderful world of the big companies, not too unlike from our own…

The 32-year old bestseller author Max Barry is probably the worst that has happened to the big companies since Michael Moore.

He is definitely the best that has happened too SF-satire since George Orwell.
They say "definitely," so you know it's true. Unlike the references to torture and strategic nukes, which I'm pretty sure aren't in any book I ever wrote. That's a pretty interesting way to entice readers: advertise parts of it that don't exist. I don't know if that's a sound way to build repeat readers. I'm also curious about their apparent targeting of people who are smart enough to know George Orwell, but gullible enough to believe I'm the best writer in 50 years. And as for that cover… well, at least that would seem to guarantee that very few people will be getting to the end of Jennifer Staten only to wonder, "Hey, where were the tactical nukes?"
I also found out about a forthcoming Chinese version from the translator, a guy called Wayne Fan. I (eventually) wrote back to thank him for letting me know, and then, because I couldn't resist, said:
I've always wanted my books to be translated by a Fan. (Boom boom.)
Wayne wrote back:
Thought you are too busy to return my Fan mails.
Nice. Should be a good edition, then.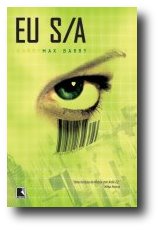 Speaking of covers (no word on what the new Company looks like yet), apparently the Brazillian version of Jennifer Government is soon to hit the shelves, and they've tweaked the design.
The title translates as something like, "Me, Inc.", which I am hoping sounds much less lame in the original Portuguese. They also made the disclaimer look like a Windows XP error dialog box, although I don't know why. And if you squint, you can see business suit-clad legs behind it. It's louco!
Update: Apparently a better translation is "U.S., Inc." That makes more sense.