Who do I have to hug to get a Jennifer Government movie made, that's what I want to know. It's been like seven years. Yeah, yeah, it's hard to make a story work in 100 minutes when you've got six major characters and nine interconnected plots. Boo hoo. You know what that sounds like? "I'm a crappy screenwriter."
In the meantime, here's something almost as good: a wallpaper! I stumbled across this a year ago but it took that long to track down the original artist: it started as a sketch by Patrick Shettlesworth that had nothing to do with Jennifer Government until lordkelvos of deviantART reworked it and added a barcode tattoo, which I stuck in front of a background designed by Michael J. Windsor. That's three different people who can now sue me for copyright infringement. But at least two of them said it was okay so here you go: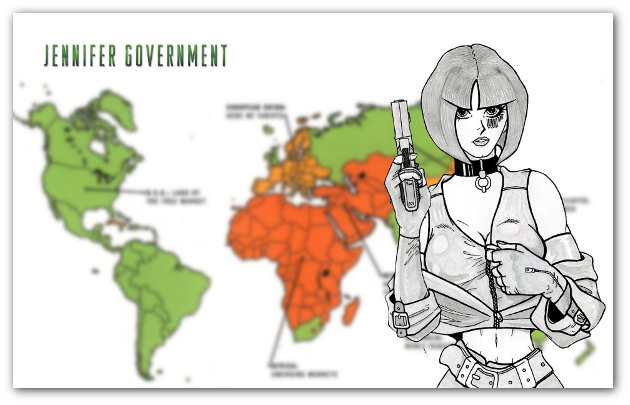 It may help you enjoy this image if you imagine you're a teenage boy. I don't need to do that. But you might. Here it is in different sizes: 1920x1200 (widescreen), 1280x800 (widescreen), 1440x900 (widescreen), 1600x1200, 1024x768.