So this AI business, huh, this is getting some traction. It's evolving so fast, just the other day I had to go back and take out all the parts in the book I'm working on that carefully establish the plausibility of competent AI in the near future. Luckily I'm familiar with topics that become exponentially more absurd while you're writing about them, because I got started in political satire.
People wonder if AI will destroy us all, and please, don't worry, because of course it will and there's nothing you can do about it. Honestly, people are asking the wrong question with AI. The question isn't whether it will destroy us but how.
And people have the wrong idea about that, too, from sci-fi stories and Terminator movies where it's humans versus machines. You wish. That would be great. Imagine the solidarity in a noble fight for the future of the species.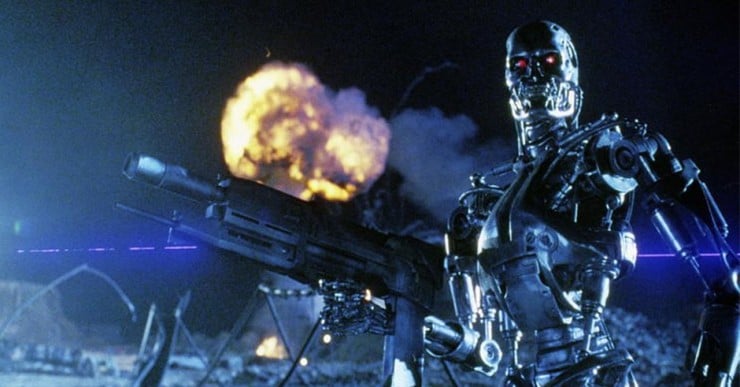 But no, no, it will be more like Elon Musk has a Terminator, and Apple has ten Terminators, and the US Government has some Terminators but they don't work properly and are under investigation. Also Democrats have their own Terminators and so do the Republicans and Rupert Murdoch and everyone, basically, with money to spend and influence to accumulate.
You don't have a Terminator. You can, like, rent five percent of a Terminator to help do your taxes.
But everyone else, everyone up there, has Terminators. And they fight, but not each other, because that's risky: a Terminator going head to head with another Terminator. You don't do that unless you're sure your Terminator will win. Smarter is deploying your Terminator to acquire more power and wealth from people who don't have Terminators. Then you can afford more Terminators.
So this is scams run by Terminators, right, you see how filled up the world has become with scams, well, imagine those scams but now they're created by something smarter than you. They look and sound authentic, they know how persuasion works better than you do, and now there are masses of people sending money and voting based on something that isn't even real. I mean, that's today, right, so add Terminators and multiply.
We've connected the world and opened windows to its every corner and you know what, people are still people, jammed full of flaws, believing anything that tickles the cortex. We have good people at the top, but also people who don't give a damn about anyone outside their own inner circle, who have been richly rewarded for this personality trait, and now they can afford Terminators. You can see how AI will destroy us because it's already happening; it's this, amplified, so that the next time someone wants to entrench some poverty, or kick a trillion-dollar bill to the next generation, a Terminator helps them do it.
With money we will get Terminators, Caesar said, and with Terminators we will get money; that's how it happens. I'm not afraid of AI; AI will allow us to unlock wonders. But I'm afraid of your AI.