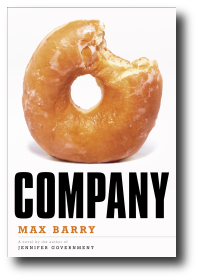 Oh, it's a red-letter day in the Barry household. My third novel, Company, goes on sale today. It's also my 13th wedding anniversary. (Yep, teen bridegroom. What? It's not so weird. It is not.) And—and—my baby girl just rolled from her back onto her front! Yes! Big achievements all round!
Somewhat scarily, the first week or two will largely determine whether Company is a sales success or not. If it starts strong, bookstores will leave it placed up the front of the store, or include it in special deals. But otherwise, it's a quick one-way trip to the jungles of General Fiction. You don't have long to establish yourself as a winner on those New Fiction shelves, no sir, and there's a long line of up-and-comers ready to steal your shoes. So good luck, little Company.
I found three new reviews today: a nice capsule from People Magazine ("biting, hilarious") and two rippers from Entertainment Weekly and Forbes. What I especially love is that both decline to give away the book's big twist, something I thought no reviewer would be able to resist. But EW says:
To disclose what occurs after page 80 would rob any enjoyment from the book. It's that twist that saves Barry's third novel from becoming as drab as the office he describes and establishes him as one of the keenest and shrewdest minds in corporate satire. Utterly original… A-.
while Forbes pumps me right up:
Barry's accomplished an impossible feat—he's written three books without succumbing to a sophomore slump. Insightful and devlish… if you're reading a management book right now, any management book, put it down and get this instead.
I'm building a collection of links to reviews that don't contain big spoilers in the Company Reviews section.
And for those who want a little taste before plumping their hard-earned, I've just posted an extract from Chapter One. Enjoy! (I hope.)