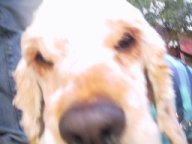 My friend Fleur has gone on a 5-week jaunt through Asia and I'm looking after her two-year-old dog, Snow. I've never had a dog before, so the experience is teaching me a lot.
So far I've learned that:
There's a sleepy dog smell.
You don't have to be very big to snore like a foghorn.
Snow has no setting between OFF and MAXIMUM POWER.
Due to some kind of biological quirk, the phrase "Come here" cannot be detected by Snow's ears, but she can hear the opening of a door from the other end of the house through solid brick walls.
If you step backwards (at any time), you will stand on Snow.
I've also gained some insight into her thought processes. I'm pretty sure that her philosophy goes like this:
The purpose of life is to locate humans and stand as close to them as possible.
Disgusting = interesting.

Corollary A: The fouler it smells, the more it needs to be sniffed.
Corollary B: If it drips, if it stinks, if it does both at once, bring it in the house.

It is uncouth to push open a slightly ajar door in order to pass through it; rather, one should sit in front of it and whine.
When you gotta go, you gotta go.
The grass is always greener on the other side of a closed door.
The only thing more exciting than going on a walk is coming home from a walk, unless you're already home, in which case the most exciting thing is going for a walk.
If you don't know what it is, lick it.