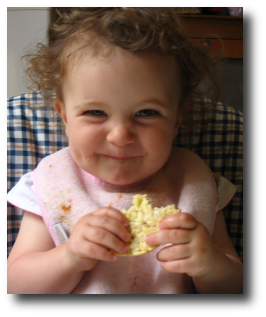 My daughter has started to want things. Until now she has only needed things. Here is the difference:
Scenario A: Fin Needs Something
Fin: "Mmmrrraaaaaa."
Me: "It must be lunch time. Let's get you some food."
Scenario B: Fin Wants Something
Fin: "Book? Book?"
Me: "No book, it's time for lunch."
Fin: "Book? Book? Book?"
Me: "No, honey."
Fin: "Book? Book? Book? Book? Book? Book? Book? Book?"
For a while now I have thought of raising Fin like a video game. You start off with fairly simple tasks to accomplish, to help you get a hang of the basic controls. Thereafter you encounter obstacles of steadily increasing difficulty.
The only real difference is that if you fail a level, you don't get to go back and try it again. Instead, all of that level's monsters follow you to the next one. Oh, and you get no power-ups.
Here are the levels I think I've completed so far:
Level 1: Don't Drop Me
Level 2: Keep Me Warm But Not Too Warm
Level 3: Guess Why I'm Crying
Level 4: I Did A Poo In My Pants
Level 5: Food
Level 6: Try To Make Me Sleep
Level 7: Guess What I Just Put In My Mouth
Level 8: I Have Noticed That You Do What I Want When I Cry
Level 9: Biting Is Fun
Level 10: Am I Sick?
Level 11: I Can Reach Your Valuables
Level 12: But I Don't Want To Wear Pants
Level 13: I Can Climb On Things To Reach Your Valuables
Level 14: No
Level 15: My Education Depends On You Signing Me Up To A Good School's Waiting List A Year Ago
Some future levels I'm expecting:
Why Don't I Have A Penis?
But Mom Said I Could
I Want A Pony
All The Other Girls Have Pierced Belly Buttons
Boys Are Cute
I Should Look Like The Girls In The Magazines
My Boyfriend Has A Car
Then of course there are the optional bonus levels, such as I've Decided To Go Backpacking Through Thailand, and Dad This Is My Life Partner Susan.
I think I need to read some more strategy guides before then. I believe they are called "parenting books."