Company Blog
Displaying blogs about Company. View all blogs

(Wow, she's an effective little time sucker. Sometime soon I am going to have to get my life back.)
First reviews! Two are in for Company ahead of the January '06 release, and they're pretty great. Kirkus Reviews gives me a starred review, which means they think the novel is "of unusual merit," which I'm assuming is a good thing. They didn't star up Syrup or Jennifer Government, so this is my first one, and, clearly, a sign that certain dunderheads in the editorial department have been fired. Kirkus says:
A raucous black comedy… enters some sublimely Kafkaesque territory
while Publisher's Weekly says:
As bitter as break-room coffee, the novel eviscerates modern management techniques
I always wanted to eviscerate something. But, perhaps oddly, even more important to me than these is an e-mail I got from a long-time reader who somehow managed to get his hands on an advanced copy. Jason says:
Just wanted to drop you a line and say that I just finished reading Company. I gotta say that at first, I was afraid you'd lost it. The spark that was there in Syrup and Jennifer Government wasn't there for me, but then, out of nowhere, you did it again. I read the book over three days (only because I had to sleep at some point). You were right, the plot isn't there from the beginning, and I think that's what got me at the beginning. In the other two, there was a hook, in this one, if you wanted to know it you have to wait. Anyway, bravo. I loved it.
It means a lot to me that I delivered for this guy. Reviews are important, and will do a lot to determine what sort of career I have, but they're written by people who read me as part of their job. The people I want to impress are the ones who found me on their own, and saw a connection. When someone thinks, "I liked his last book, I'll hope this new one is good" and shells out their hard-earned, I fervently want that person to be thrilled.

I have this novel, Company, due out in January, and the author in me wants you to read it without knowing a thing about it. Not who the characters are, not the theme, and definitely, definitely not the big plot revelation that comes about a quarter of the way through. The author wants you totally blind, so everything's a surprise, just as it should be.
The marketer in me, though, wants to tell you everything. Because if you don't know anything about it, you might not buy it, and then where am I? Selling computer systems for Hewlett-Packard, that's where. The marketer will spoil the whole plot if that's what's necessary to arouse your interest.
This wasn't such an issue with Jennifer Government, because the biggest plot development happened in the first few pages. But Company starts with a mystery, and you don't find out what the book is really about until you're a way in.
I'm resigned to the fact that practically every review of the book will give this away. It would be too hard to describe it otherwise. But here is my dilemma: do I put it on the back of the book?
(Yeah, and you always thought blurbs were written by someone else. In truth the author usually writes it, or at least tweaks it. For example, the current draft of the US hardcover flap copy currently says Company is "bitingly funny." I didn't add that bit, but I bet I could delete it. And I'm not going to.)
It's an odd transition when you go from trying to write the best story you can to trying to sell it. But around this time is when it happens. I think I need to give away my plot twist, although I'll be as vague as possible. And hope that people who have already decided they're going to buy it will avert their eyes.
(P.S. No baby yet. But it's a day-to-day proposition. Maybe next blog!)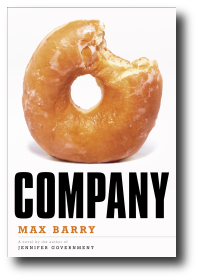 There's a new Company cover! And it's… remarkably similar to the old one. In fact, all Doubleday did is go down to the staff cafeteria, buy a donut, photograph it, and whack it on the cover in place of the stock photo. Unless you look closely, it's the same cover. If you do look closely, you might notice that Doubleday's donut is a little soggier, but that's about it.
I am not quite clear on why changing one donut for another, near-identical donut, helps anybody, but apparently it's something to do with image rights. Although that begs the question why in the first place… no, no, that way lies madness.
I also have an on-sale date, at least for the US and Canada: January 17, 2006! It'll be a hardcover with a RRP of US$22.95, although I see Amazon.com will already let you pre-order for US$15.61. What nice people.

Yesterday I got a mention in Publishers Weekly, because of the possibility of a Company film deal. Here's the snippet—although, because this is a trade mag, they give away far too much of the plot. So I'm blanking bits.
Satire may have a pretty dismal record at the box office, but at least one studio won't be dissuaded. Paramount has made an offer for Company (Doubleday, Jan. 2006) the latest corporate satire from former ad man Max Barry (ne Maxx Barry). In the novel, a new employee at a faceless conglomerate can't figure out what the company actually produces. Since he has very little to do all day, he makes it his mission to find out. He discovers that he and his co-workers are ___ ___ ____ in an __________ _____ run by _______ company ______ human behavior __ _ corporate environment—___ ______ ____ set in __ ______ park. Perhaps Paramount is mindful of another send-up of cubicle culture, 1999's Office Space. That cult favorite by Beavis and Butt-head creator Mike Judge flopped in its initial theatrical release, but went on to become a huge earner in its DVD afterlife. It still ranks as one of Fox's bestselling DVD titles of all time. Luke Janklow of Janklow & Nesbit and CAA's Brian Siberell represent Barry.

Jason Anthony, Publishers Weekly, July 11, 2005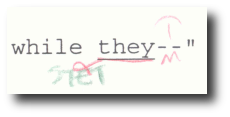 On Monday I received the copyedited manuscript of Company. This means someone at Doubleday has gone through it with a red pencil and pointed out everything I did wrong: spelling, grammar, continuity, the fact that someone takes their sunglasses off twice without putting them back on in between, and so forth. This is intimidating enough, but on top of that they do it using arcane symbols that would look more at home if Gandalf was reading them off a scroll.
Fortunately I know a little Elvish, so I can usually work out what they're saying. And they're mostly right, so I tend to leave their changes alone. But if I want, I can overrule them, with the awesome power of STET. "Stet," I discovered while editing my first novel, means, "Put everything back just the way I had it." (Accompanied, one suspects, by the subtext: "Idiot!") How good is that? When I discovered this word, it was like a gnawing, hollow place in my heart had finally been filled. Looking back, I can't work out how I ever made it through a day without it. "Max, I tidied up your desk for you." "No! Stet! STET, dammit!"
Copyediting also reminds you just how archaic the publishing process is. When I write a novel, I use a word processor, nice, proportional fonts, curly/smart quotes, etc, so it looks more or less like the final book. But for submission to my editor, I have to strip all this out, double-space it, change the font to that butt-ugly Courier, and, get this, convert the italics to underlines. This manuscript then gets scribbled on by various people (that's me in the green pencil), and finally some poor schmuck types it all back in, thus creating a document that looks near-identical to the one I had to start with.
You wondered why it takes 12 months for a book to get published, right? I used to, too.

And after I made all those little icons, too. I've just learned that my gorgeous Company cover has to change.
It all began with Google News. A while ago I discovered that Google lets you customize a News page, so you get headlines on whatever topics interest you. Naturally, I immediately created a "Max Barry" topic and stuck it right at the top. This is how I discovered the evil Todd Bunker article, and about a week ago there was a new one: the shocking revelation that Company has the exact same cover art as another book.
The other book is non-fiction, and British, but still. And what's worse, his is coming out first. I e-mailed Bill, my editor—who, sadly lacking a "Max Barry" Google News topic, had no idea. He was less than thrilled. A few days went by while Doubleday decided what to do (and, presumably, tightened up their licensing agreement with the stock photography people). Then this morning, Bill e-mailed me:
While we haven't been able to ascertain whether the American edition of that other book will use the same donut, we've decided to play it safe and shoot our own donut. Any preferences? Chocolate frosted? Apple cinnamon?

This is the silliest e-mail I've ever sent, but in keeping with the spirit of the book, eh?
It is. It's spooky. The book opens with a donut-related crisis, and now I have my own.