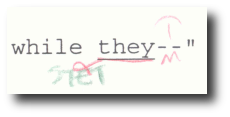 On Monday I received the copyedited manuscript of Company. This means someone at Doubleday has gone through it with a red pencil and pointed out everything I did wrong: spelling, grammar, continuity, the fact that someone takes their sunglasses off twice without putting them back on in between, and so forth. This is intimidating enough, but on top of that they do it using arcane symbols that would look more at home if Gandalf was reading them off a scroll.
Fortunately I know a little Elvish, so I can usually work out what they're saying. And they're mostly right, so I tend to leave their changes alone. But if I want, I can overrule them, with the awesome power of STET. "Stet," I discovered while editing my first novel, means, "Put everything back just the way I had it." (Accompanied, one suspects, by the subtext: "Idiot!") How good is that? When I discovered this word, it was like a gnawing, hollow place in my heart had finally been filled. Looking back, I can't work out how I ever made it through a day without it. "Max, I tidied up your desk for you." "No! Stet! STET, dammit!"
Copyediting also reminds you just how archaic the publishing process is. When I write a novel, I use a word processor, nice, proportional fonts, curly/smart quotes, etc, so it looks more or less like the final book. But for submission to my editor, I have to strip all this out, double-space it, change the font to that butt-ugly Courier, and, get this, convert the italics to underlines. This manuscript then gets scribbled on by various people (that's me in the green pencil), and finally some poor schmuck types it all back in, thus creating a document that looks near-identical to the one I had to start with.
You wondered why it takes 12 months for a book to get published, right? I used to, too.