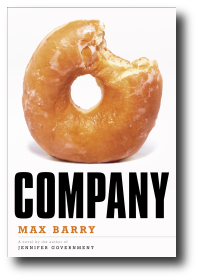 There's a new Company cover! And it's… remarkably similar to the old one. In fact, all Doubleday did is go down to the staff cafeteria, buy a donut, photograph it, and whack it on the cover in place of the stock photo. Unless you look closely, it's the same cover. If you do look closely, you might notice that Doubleday's donut is a little soggier, but that's about it.
I am not quite clear on why changing one donut for another, near-identical donut, helps anybody, but apparently it's something to do with image rights. Although that begs the question why in the first place… no, no, that way lies madness.
I also have an on-sale date, at least for the US and Canada: January 17, 2006! It'll be a hardcover with a RRP of US$22.95, although I see Amazon.com will already let you pre-order for US$15.61. What nice people.