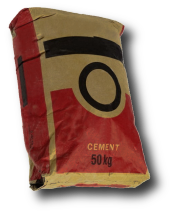 I should buy some cement, in case I need to hide a body. I don't plan on hiding a body. I have no particular body in mind. But that's the thing: if you wait until you're there with a bloodied lamp in one hand and a cooling body in the other, it's too late. You can't jump in the car and head down to the hardware store for cement at that point. You'd need to change your clothes, stash the body somewhere it won't arouse suspicion, and this is assuming you can even get to an open hardware store. It might be two in the morning. You might not have a car—or you might, but with a fender caved in around a head-sized crater, this being the reason why you need cement in the first place.
And think about how bad it would look. You have to assume the police will investigate. At best, there's a missing person, at worst, they already suspect homicide. "Where were you on the night of the 24th?" they'll ask. If your answer is, "Buying cement," you have a problem. Sure, you can lie. Say you were tucked up in bed. But that's another thing to go wrong. Did you use your credit card to buy the cement? Did you visit an ATM for cash? They'll find out. They'll track down the clerk who served you. And that clerk will say, Yes, I do remember a sweaty, frightened-looking customer in urgent need of cement. I remember very well.
Consider how much better if you can simply trot down to the basement, flick on the light, and haul out those 60-pound bags of cement you stashed there for precisely such a contingency. No need to leave the house: just get mixing. You'll have to pull up some floorboards, of course, or find a nice, quiet spot in the garden, and do quite a lot of digging. There is hard labor involved. I'm not saying it'll be a breeze, something you can knock over before catching the end of Letterman and retiring to bed with a book. My point is when the payoff is avoiding spending the rest of your life in prison, it's worth putting in some effort.
Like I said, I don't plan on killing anybody. I'm a reasonable person. But I can't say there's absolutely zero chance that one day I'll find myself with a dead body that needs hiding. I bet everyone thinks that, until it happens to them. It's like insurance: I don't really think my house will be destroyed by an earthquake, but I'm covered, just in case. Those kinds of things, I don't like leaving to chance. I'm not a gambler. A bag of fast-setting cement retails for six dollars. A team of lawyers after the fact will cost me hundreds of thousands—and probably do less to keep me out of prison than timely application of cement. I think the economics speak for themselves.
Then there's the peace of mind. You can't put a price tag on that. Right now, even though I'm just home by myself, I feel a vague sense of unease. I know that through a series of strokes of misfortune, I could find myself with a body and no way to hide it. Having bags of cement in the basement, even though I'll probably never use them, means I can relax. It'll give me a warm feeling, just knowing they're down there. Ready for a rainy day. I'm going to get some now.