Maaaaaaaaaaaaaax! Why is The Squiggle hidden away as some kind of secret page/club instead of being linked from the front? Are you ashamed of your love of AFL? Your love of Richmond (it's ok, there's dozens of you. Dozens!)? Talk about the footy some time, educate the Americans.
Bob
I have actually blogged about Australian Rules Football once before. I shouldn't have, because no-one cares, but I did. If you're not familiar with AFL, here is a summary:
What I love about sport is how pointless it is. There is literally no reason to care who wins anything. But if you do care, it's full of drama and stories. Sport for me is pure entertainment because I can stop thinking about it any time with no consequences.
Anyway, because I find this kind of thing fun, about 15 years ago I wrote a computer program to predict which team would win football games. Then I forgot about it until a few years ago when I rediscovered it on my hard drive and noticed it had performed bizarrely well in the meantime. So I made it into a chart and posted it on a football forum. I called it the "squiggle" because it has squiggly lines.
Now my website traffic looks like this: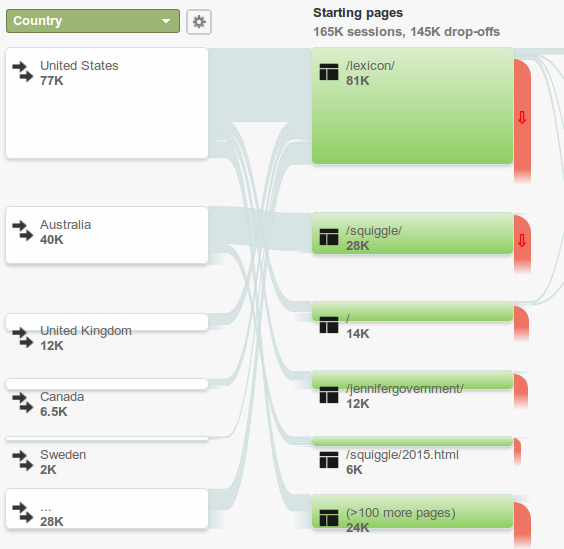 That's most of the world visiting my site because of Lexicon, while Australians don't give a stuff about my novels and head straight for the football chart.
Here is a pretty version:
But the one here on my site auto-updates, so you can check it during games and see how well your team is squiggling. This is addictive because if your team is doing well, what you most want to see is animated graphical evidence.
The Richmond Tigers are headed for finals for the third year in a row, which is awesome, because we were terrible for about twenty-nine years there. Our supporters are like those people who were kidnapped as children and kept in a basement and now we're stumbling around trying to function in adult society. We don't know how to act. It's pretty great.