Something wonderful happened the other week: my editor asked what I thought about a proposed Machine Man cover. To appreciate how wonderful this is, you need to understand the usual process of publisher-author cover consultation. It goes like this:
Publisher develops cover in secret laboratory guarded by Dobermans
Publisher emails author a JPEG, accompanied by text emphasizing how much everyone they've shown this image to loves it and believes it to be a surefire winner
Publisher puts image on the cover
You notice there are no steps where the author does anything. I have tried to insert that step in the past, first with Syrup and then Company, but without much success. (To be fair, I was wrong about Company. That is a great cover. I was right about Syrup, though.)
This time, however, my editor at Vintage was ready for discussion. I don't know why. I didn't want to ask in case that accidentally provoked him into regaining his senses. But I made a few suggestions, even mocked up prototypes of my own, and Vintage responded with even more images.
Then I became really arrogant and demanding. It was around this point I realized why publishers don't involve authors in cover discussions. Because I still wasn't really in love with any of the cover ideas we had. And the cover is so important. Not just because it helps sales (although there is that): it also colors the story within. It's the first thing you see and it stays with you as you turn the pages.
So next we brought on board indy designer Matt Roeser. This guy is incredibly talented and has somehow not been hired by anyone yet: this is potentially his first gig. Go look at his website; it's beautiful. Anyway, once Matt had done his thing, we had six potential covers. Since I was already being a prima donna, I said, "I should post this online and ask people what they think." And Vintage agreed! Like I say, it's crazy. So here we are. Behold!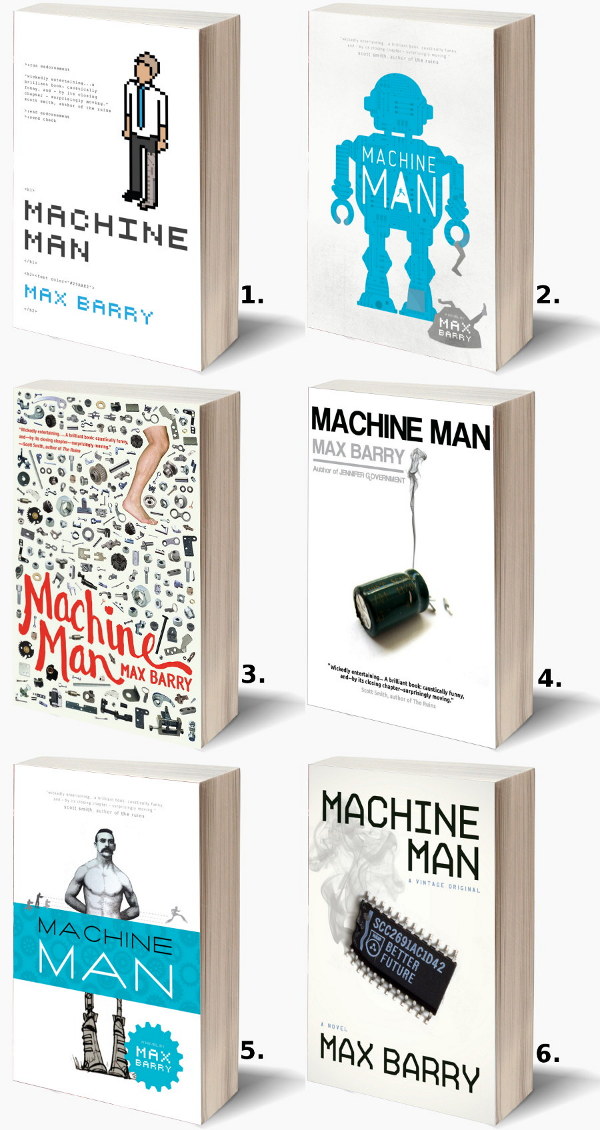 Here are larger versions of each image: 1 · 2 · 3 · 4 · 5 · 6.
Now we reach the part where you tell me which you like. There's a comment link right there. I also posted to Reddit, because that's where I drew a lot of inspiration for my main character's personality. I'm not saying the site is full of misunderstood technology-obsessed geeks who would chop off their own hands if they could replace them with something WiFi-enabled. I'm just saying it was very helpful creatively. Also, I thought it was important to get opinions from people who don't already like me. You're wonderful people, you who visit me here. But you're one hell of a sampling bias.
Please let me know what you think! Any and all feedback is much appreciated. And thank you to Vintage for being cool enough to let me do this. INSANELY COOL, if you know what I mean. I'm emphasizing INSANE. Oh. You got that? Okay.