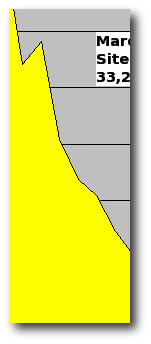 I first put up this web site in early 1999, and oh, what a beauty it was. It had a picture of the Syrup cover, and little blue bubbles, and funny hand icons next to the links, and you could only get to it via "maxxbarry.com," with the two Xs. I wish I'd kept a copy somewhere, but, alas, all that's left is this carcass courtesy of the Internet Archive project.
I was very proud of my site, because in 1999 not everyone had one. It often received as many as 8 visitors a day, spiraling up to a heady 13 visits per day in July when Syrup was released. Thirteen! Just imagine, if 13 people visited me in person each day, I'd be exhausted. Clearly this web site thing was a good idea.
I also started getting e-mails from people who liked my book—not many e-mails, but a few—which was very exciting and made me feel famous in a way that the watching my first novel sink without a trace hadn't. I decided that I would get more serious about the web for my second novel, Jennifer Government. In March 2002 I redesigned the site. In September I added pages for Jennifer Government and my bio, and got to work on an online game called NationStates (which in late 2002 looked like this).
Thanks to NationStates and the US publication of Jennifer Government, my web traffic took off: in January 2003 maxbarry.com received almost 50,000 visitors. But over the next year, it steadily dropped. If a new edition of Jennifer Government came out somewhere I would see a little blip, but clearly people weren't visiting my site so much. And why should they? I didn't post to it. It was just the same old site, week after week.
I started to worry that by the time my next book came out, nobody would remember who I was. It could be Syrup all over again: a couple of weeks on the "New Releases" shelves, then gone before anybody realized it was there. Then I would start getting e-mails from my publisher saying things like "not as well as we hoped" and I would have to crawl back to Hewlett-Packard for a real job.
I'd discovered weblogs via Wil Wheaton and thought they were a pretty cool idea. I wasn't sure how exciting my blog would be, since my day generally goes (1) Wake up (2) Type (3) Sleep, but on the other hand I did have a lot of obnoxious opinions and wasn't afraid to share them. Surely that was enough.
Apparently the first rule of blogging is… wow, have you ever Googled for "the first rule of blogging"? Seriously, there's like a hundred different first rules. So I guess the real first rule is: "Everybody's got an opinion." Or maybe: "People post all kinds of crap on blogs and nobody checks anything so you can't trust a damn thing they say." But the one I had in mind when I started this paragraph was: "You must blog every day." This sounded like a lot of work, though, so I decided I would just post whenever I thought I had something worth saying. I would create a semi-blog.
In March 2004 I rewrote the site into the sleek, attractive, standards-compliant form you see before you, and started posting to it. At first I floundered around, not really sure what to write about, but then I found my groove and discovered Newlyweds and Mary-Kate and Ashley Olsen and I was away.
I think I get three things out of blogging. First, I get to stay in touch with people who enjoy my writing, and tell them when I have a new novel out that they must immediately purchase because my cocaine habit doesn't pay for itself, you know. (Since I started blogging, site traffic has steadily risen and is now back to where it was when Jennifer Government was first published. Look, I even made a graph.) This is a two-way thing; via e-mail and comments, I also get to hear back from people, which is just about the best thing ever. Writing is a solitary business, and it's continually thrilling to hear that a novel I once printed out and mailed in a box to my publisher has become a small part of someone else's life. Without that, publishing books would feel very odd—like having a child move out of home and never hearing from him again.
Second, it's good writing practice. The more you write, the better you get at it, and when I'm working on a novel it's a nice break to write something different. Third, it's like a diary: I end up with a permanent record of what was important at this time in my life. I can look back on it in ten years time, or show it to my kids. Imagine their sweet little voices: "lol omg dad u r so 1337".