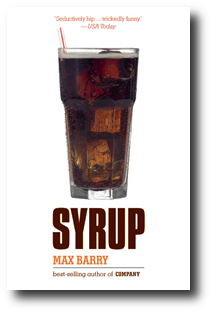 I won! Thanks to your votes, many of which probably came from outside my home state and thus were blatant moral, if not technical, violations of the competition's integrity, Company rode to joint victory as the State Library of Victoria's "Most Popular Book."
Now, some might view this as a shameful exercise in depriving a more deserving author of their rightful prize. Possibly this group includes the State Library, since they declared me "Joint Winner," implying quite the statistical event. But no, no, I have to take their word for it that there really was a genuine tie. This makes me pretty glad I voted for myself. And means that my wife—who the morning of the award ceremony said, "I was supposed to vote?"—is in big trouble.
I didn't mention this in my acceptance speech. What I did say, and would like to repeat here for those who (ahem) couldn't make it to the ceremony, is that it's continually amazing to me that people read something I wrote and care enough about it or me to send me an email, or mention it on their blog, or vote in a competition like this. I get so much personal joy out of writing, but to feel that response from people as well is truly touching, and makes what I do a privilege.
While I'm talking home town news, I'm stepping out for the launch of the new Australian Syrup edition, Wednesday 12th March, 6:30pm in the Sun Theatre foyer, 10 Ballarat St, Yarraville. They say "bookings are essential" (03 9689 0661), but I don't know about that. I mean, it's a foyer. And it's me.
By the way, I just moved house, and I'm writing this blog on dial-up. Dial-up! It's like being blind.