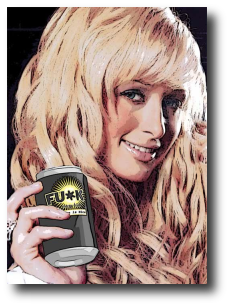 Holy crap! I thought I might get some great can designs, because, well, not to boast, but my readers tend to be smart, talented, and exceptionally good-looking. I'm sure you've noticed this. But still: holy crap! I am getting some great designs here. It is only a matter of time before Coke or Pepsi blatantly rip these off and launch them as new products. And a special mention to Lucia Suarez for coming up with the brilliant "Kinetic Beverage." You know in two years they'll all be called that.
Here are a few of the best entries so far: James F, Nataliya Lalor, Emily Elizabeth Moser, Nathan Carnes, Lucia Suarez, Karan Juneja, Kyle Huberman [1] [2], Chris Hubbard, Andrew Roff, Lori B, Sean Marks, Rod McBride, Shane Smith, Petar.
Lots of people emailed me questions about how to enter, so let me answer some of those here: you should get your entry in this week. A web-friendly JPEG is ideal for submission, but hang on to your high-res original, which we'll need if you win. And yes, the product's name is "Fu*k," asterisk and all.
Next week I'll create a gallery of all entries, for the film producers to peruse. You'll be able to do that, too. If you submitted a design but don't want me to post it or put your name on it, please let me know.
Update: The Fu*k Gallery is now online.
Update 2: Congratulations Mat! Chosen as the best submission from an excellent bunch. When the cans get mocked up, I'll post a pic. Thanks again to everyone who worked on a design.