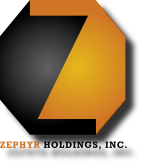 Doubleday has made up some Company coffee cups and Mission Statement posters and I'm allowed to give five away. This is fantastic, because usually this stuff goes to uninterested magazine editors already drowning in book-related collateral, and not to fans, who would stab their own mothers for it.
It's like this: Company is set within a fictional corporation named Zephyr Holdings, and Doubleday's cups and Mission Statements have Zephyr logos on them. There's no mention of me or the novel, which seems a little odd for promotional merchandise, but then it does make them even more cool and obscure.
If you'd like to win a coffee cup and Mission Statement poster, all you need to do is get yourself on my mailing list. You can uncheck the relevant boxes so you don't get my blogs by e-mail, if you want: the important thing is that you be on that list, and have followed the instructions to validate your email address. Don't join multiple times, or I'll disqualify you.
On Monday January 9th, 2006, I'll randomly select five people from the mailing list and e-mail them. If I don't get a reply or at least a vacation autoreply within a few days, I'll draw somebody else.
Thanks to Doubleday for making this possible! It's very cool of them.
(Note: I know from experience that a bunch of you are going to write in saying how much you'd love a Company coffee cup and you once had a Snoopy coffee cup but it got broken and through some process I can't quite follow only a Company cup will make your life whole again so can I please just slip you one on the side. But I'm sorry, I can't: I only have five to give away.)
Update: To clarify, yes, naturally everyone already on the list is automatically eligible.