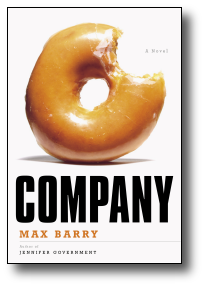 This morning Doubleday shocked the hell out of me by sending me the book cover for Company. I didn't even know they'd started work on it, which was crafty of them. If I had, I would have been all over them, raising concerns and highlighting issues. Because I'm helpful like that. Instead: bang! Here it is.
And I like it! The majority of novel covers, in my humble opinion, blow like crazy, so I'm hugely relieved to get one that's clean and cool and kind of intriguing. The design is by Michael Windsor, the same guy who did the Jennifer Government cover, so if you noticed a certain similarity of style, well done you.
Now I know what you're thinking. "Well, Max, that looks all right, I guess, but… I dunno, what's the donut for?" To which I am happy to tell you: oh, you'll find out.