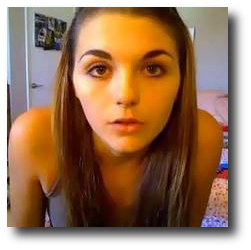 So lonelygirl15 turns out to be a fake. What looked like the intimate video diary of a 16-year-old girl named Bree is actually "a new art form," courtesy of three L.A. filmmakers. And Bree is really a 19-year-old actress from New Zealand named Jessica Rose.
Some of the thousands of fans who followed her videos on YouTube are upset. Some are angry—very angry. Some don't see the problem. Some think the videos are more interesting now that they know they're made up, and some feel like they lost a friend.
Me, I'm voting this a neat piece of marketing.
True, they're not selling anything. That's the good news: this didn't turn out to be an ad for acne cream or a movie. The creators say:
We want you to know that we aren't a big corporation. We are just like you. A few people who love good stories. We hope that you will join us in the continuing story of Lonelygirl15, and help us usher in an era of interactive storytelling where the line between "fan" and "star" has been removed, and dedicated fans like yourselves are paid for their efforts. This is an incredible time for the creator inside all of us.
It's funny that people who created something so interesting could write something this dumb.
lonelygirl15 didn't succeed because it told a compelling story. It succeeded because people thought it was real. Without the deception, there's nothing special. The filmmakers knew this; they went to a lot of trouble to keep up the pretense, to the extent of posting personal replies, as Bree, to people who wrote in. They built fake relationships with fans. And now some of those fans feel like pauldonald:
the reason why im annoyed is because people are going to use this website to try to boost there acting career so now you cant trust anyone on youtube and i do wish bree was real because i fell in love with the character. im not sure if i like jessica rose coz from the pics i have seen she seems like the total opposite of lonelygirl coz she seems like a easy party girl but even though this is fake im not mad at the person who made this even though it was a bit of a spit in the face.
This is what makes it marketing, not storytelling. Storytelling doesn't abuse its audience. Without the bit at the start that says, "This is made up," it's not storytelling; it's just lying.
Every fiction writer in history has probably been annoyed by how much more power a "true story" seems to have. But that's the deal we make: we admit up front that our tale isn't true, then we desperately try to make it as authentic as possible. Doing it the other way around—claiming to have a true story and filling it with fiction—that just pisses me off. Storytelling? A new art form? Give me a break. When you agree to the deal, then you can be storytellers. Until then, you're marketers.