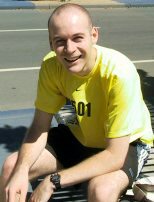 I know you're dying to know whether I made it around that 10km/6mi course without medical assistance, so: yes! This pic is of me just after the race, and if you're wondering about that smile on my face, it's due to the endorphins—I declined to test the benefits of Vaseline. My time was 1 hour 1 minute and 19 seconds, which I was very happy with; so happy, in fact, that as soon as I'd attained it, I tried to faint. But a table was kind enough to catch me and then I realized it would be a good idea to drink some water.
I'm kind of addicted to running now, but a little worried about whether it'll get in the way of my writing. For the last few years I've had a routine of falling out of bed and into my chair in the study, where I start typing more or less whatever's in my head. This has worked better than you might expect, so I'm leery of postponing that crucial time when I start thinking about stories. But a run first thing in the morning helps me, too.
Today I decided to try something new. I got up, turned on my computer, and read over the last page or so of Company, which is what I'm currently working on. Once the scene was fresh in my mind, I laced up my shoes and headed out the door. I live on top of a hill, and have been advised that if I run down hills my knees will explode on my 40th birthday, so I did a fast walk for six or seven minutes, mulling over the novel. It was all working nicely: I was having some good thoughts, and still getting my exercise.
Then I reached the bottom of the hill and started to run. I took two steps and looked down. I wasn't wearing my sneakers. I was wearing my casual shoes.