You know how I do that thing where I take some earnest but misguided piece of marketing and make it sound ridiculous? Well, words fail: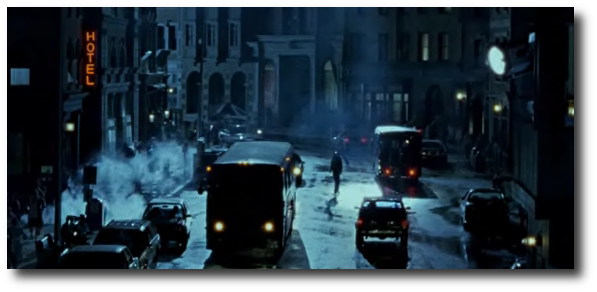 So let's see. The world is a war-torn, post-apocalyptic battleground, ruled by oppressive "corporate lords." But one guy can "restore the soul of mankind" by designing the packaging for a soda.
Because that makes too much sense, there's also an inexplicable ride with a native American guy in an elevator who seems to successfully encourage the hero to commit suicide. The hero skateboards everywhere for no reason except, I guess, that marketing people think cool people do that. Oh, and the movie is from Pepsi, for Mountain Dew, which you might have thought was a corporation, and thus a bad guy in this scenario, but… uh…
Anyway, the point is to entice you into playing the DEWmocracy online game, where you can team up with other players to "design the flavor, color, name, and graphics" of a drink. Mountain Dew will then launch a "recognizably similar" version of the most popular result in 2008.
Other online games promise battles with dragons or storm troopers, but only DEWmocracy lets you enter the heart-pounding virtual world of Mountain Dew's marketing department. I assume that missions include "Unjam The Copy Machine," "Get That Last Parking Space," or "Battle of the PowerPoint Presentations," with your character choosing a class like "Intern" or "Direct Sales Representative" and working his way up to the feared "Executive Vice-President."
If this takes off, maybe the next thrilling virtual ride could take you into a bottling factory, where you spend eight hours a day inspecting caps for defects. One thing's for sure: Mountain Dew has finally responded to all those people clamoring to work for it for no pay.
It turns out, though, that when it comes time to design your drink in DEWmocracy, all you can do is pick from a pre-selected range of options. This was getting suspicious: first they warned me evil corporations would try to stamp out my creativity, and here I was confronted with a corporation trying to reduce creativity to pick-a-box as part of a marketing effort. Aha! Clearly I was meant to reject DEWmocracy as an attempt to control the population, and go firebomb Pepsi's offices. Yes?

I just noticed that a strong candidate in the race for next President of the United States is Fred Thompson. Fred played the District Attorney on Law & Order, and has acted in movies and TV shows as a Senator, Director of the CIA, White House Chief of Staff, an admiral, and, indeed, the President.
Now, let me be clear: the US is the world's leading light when it comes to freedom and democracy. Anybody who disagrees deserves the wiretappings, slur campaigns, arrest, and/or bombings they get. But come on: Fred Thompson? Isn't that purely because people will think, "Yeah, he seems like he should be in a position of authority… for… some… reason."
I have trouble with the whole idea of actors as politicians. We're electing someone whose primary skill is pretending. Maybe it's just me, but a guy who has spent most of his life honing the ability to lie convincingly; that makes me uncomfortable. Electing that guy seems to say, "Look, we don't care what you get up to. Just make sure you look earnest about it."
I understand a little. After all, we've all got to look at whoever gets elected for the next four years. They might as well be pretty. Then there are those international conferences, where the leaders of multiple countries get together to usher in new eras of co-operation and outsourcing. Sometimes they wear funny shirts. You can't send some shy, weedy nerd to that. Well, you can. Australia does. But it's embarrassing. You know if Arnold Schwarzenegger was President, he might be a policy disaster but America would look totally rocking in the APEC group photo. And while I'm not totally sure how these international agreements get formed, physicality has to be involved to some degree. I'm not saying they decide carbon emissions targets by sealing the doors, stripping to the waist, and grappling for supremacy. There's no way Bush could have taken Schroeder. That man is huge. But maybe late in the day, when everyone's tired, having Schwarzenegger plant his ham-sized fists on France's desk could close the deal.
The ideal, then, must be job-sharing. You have a strong, good-looking President to shake hands at the UN, and a smart, ugly President to stay home and make the tough decisions. Americans have clearly figured this out already, and it explains Bush-Cheney. And why Kerry lost in 2004: he's got a face like his pet hamster just died, while his running mate, Edwards, is too good-looking. You'd worry that Edwards would be at a tanning salon while Britain and France were sniggering at mean drawings of Kerry during his speech at G8. That ticket just didn't make sense.
The more physically attractive the President, the uglier the Vice should be, to compensate. It's the Conservation of Beauty principle.
Now Harrison Ford and Alan Greenspan: that would be a hot ticket. You wouldn't even have to know their policies. You would just look at that coupling of Ford's wild charisma with a guy as old as God and something inside you would click.

Joe writes in to point out DirecTV's wonderfully creative interpretation of the Do Not Call register:
DirecTV is defending automated sales calls to Do Not Call List subscribers as "informational," and "not telemarketing." The satellite TV provider recently called customers to say: "Because you are on our Do Not Call List, we can't call you with all of our super-awesome special promotions."
This sounds eminently reasonable to me. After all, the promotions were super-awesome. If they were only slightly awesome, I can understand why some people might not want to hear about them. But super-awesome promotions—if anything, it'd be wrong not to let people know about those. Faced with that dilemma, DirecTV's only ethical choice was to have a computer dial people at home who had explicitly asked not to be bothered and play them an automated sales message.
DirecTV response is via their lawyer Rose Foley, who stresses that since the calls were "informational," they "fall outside the scope of the Telemarketing Sales Rule and related federal and state laws and regulations governing telemarketing sales practices." I have to say, I am looking forward to hearing Rose explain the precise informational nature of the phrase "super-awesome." That's going to be pure entertainment.
If I was running PR here, though, I think I would put Rose back in her cage and reach for the mea culpa. I'd issue a public apology and explain that the real problem is that here at DirecTV, we're just so gosh darned excited about our specials, we sometimes forget that not everyone feels that way.
Because the only alternative is that DirecTV knew exactly what it was doing, having being previously fined $5.3 million for telemarketing to people on the Do Not Call list, and it weighed the likely punishment versus the potential sales benefit, valued the time and goodwill of people on the receiving end of these calls as zero cost, and decided it was worth breaking the law. Of course, in this far-fetched scenario, the only reasonable response by the FTC would be to correct this economic imbalance by fining the almighty bejeezus out of them. If $5.3 million doesn't do the trick, it would have to see if ten or twenty million balances that equation. "Sorry, DirecTV," the FTC would say. "But clearly regular penalties are insufficient. The only penalties left are… super-awesome!"

Let's get this out of the way first: some parents tried to name their baby "@," which is the name of a character in Syrup. I guess it's a good month for real-life Syrup connections. Unfortunately the baby does not appear to be a blonde, slutty, backstabbing corporate villain, but still: I need to mention it because every newspaper in the world ran the story, and everyone who's read Syrup (all seventeen of you, bless you) e-mailed me about it.
Going above and beyond, however, was Andrea, who also pointed me toward TatAD ("Bring your advertising to life!"), which is a company that brings together corporations who want to get their logos branded onto human skin and people who think that sounds like a pretty good idea:
Are you ready to start making some BIG BUCKS as a TatAD promoter? All you have to do is get our logo tattooed on you! Then get ready to cash in BIG TIME!
To its credit, TatAD takes the time to address the notion that getting yourself imprinted with a logo for money is some kind of sell-out:
You are already a walking billboard for your favorite companies simply by wearing their clothes or driving their cars or smoking their cigarettes.

You are a salesman for your favorite companies without a paycheck!

In fact… YOU PAY THEM!!!

Don't look at it as the corporate world has initiated this, the people have, we had no potential sponsors when we began, only people who wanted to be sponsored.

When you look at it from that angle there is no corporate sell out, in fact it's the other way around. We have the opportunity to get something in return for once.

It's that simple, we're all walking billboards anyway so why not get paid to do it
Now, I might quibble with TatAD that there is a difference between simply telling people about a product you like, and getting paid to be branded with logos. A few differences, actually. One of which is "credibility." But that's just details. What interested me most was TatAD's supply and demand problem. Their forums are full of people people pleading to be tattooed, many being not too particular about with what, exactly. (My favorite: "Who wants my face?") It's clearly a buyers market: if you're looking to imprint your logo on some flesh, you've got yards and yards to choose from.
So naturally you'd look for prime real estate: the young, the beautiful, the admired, and the desired—as opposed to, say, the guy who has "a few spaces left on my right forearm". Sorry, dude, in advertising we call that clutter. It's the same rules as celebrity endorsement: if you're a sports star, Nike pays you to wear its products; if not, you pay Nike. But now the bar is much lower. You don't need to be one of the best tennis players in the world; you can earn a little sponsorship money just by being kind of awesome.
Ideally you're gorgeous, of course. That's the kind of awesomeness that everyone understands. But I bet an admired DJ can make a few bucks from logo tattoos, no matter what he looks like. Or a college high jump star. Anyone who's kind of awesome, even on a relatively small scale, I think can look forward to a bright future of ever-increasing options for turning their awesomeness into cash. A certain amount of shamelessness will be required, of course. But that's a small price to pay for being able to make a career out of being awesome. After all, you were going to do that anyway.

I was going to let this slide, because calls for schools to chase the corporate dollar are nothing new. And I like to reserve my outrage for really odious new forms of marketing. Not just whacking ads on anything that moves, but the truly insidious slime you don't really notice until it's smiling you in the face. Like the "charm offensive" aimed at making the French more polite to tourists: now that gives me the heebie-jeebies. Polite French people? That's just wrong. I like my French arrogant. If I ever step off a French airplane and hear, "Missing you already!," I will take that as a sign of the Apocalypse.
But to schools. This particular push for big business to step in to educate young minds comes from Professor Brian Caldwell, who calls the public funding model "outdated thinking":
He says partnerships with business could be valuable for both parties, for example in areas of science and technology.

"With a company like Rolls Royce you're getting not only cash support but you're also getting the opportunity of having top engineers work side by side with your teachers and your students and who also can provide marvellous work experience so yes there is self interest but it's a self interest that matches the public interest," he said.
Phew, that's lucky. For a minute I was worried that the public interest in delivering quality education to children might not completely overlap with Rolls-Royce's interest in stuffing great wads of cash into the pockets of its shareholders. Actually, I had thought that if we were brainstorming for large organizations with scads of money and an interest in public education, we might have thought of, you know, the frickin' government. I mean, I don't want to blow their cover, but government does occasionally provide services for the national good. Roads, bombing things, education; there's a whole package.
What really bothers me here is the persistent idea that you can get money from companies for nothing:
Professor Caldwell doesn't believe there is danger of too much interference, such as for example fast food companies influencing students' diets.
Corporations are the most ruthlessly rational economic entities on the planet. They have to be, because if they aren't, they die. They are subject to intense competitive pressure, and the evolutionary effect is that today's corporate giants are the sharpest, most efficient wealth-generators in history. Anything they do, it's because there's a return.
I'm fine with that. But I'm not letting one loose in a school without asking: What does it get out of this? Or put another way: What are we selling?
Advertising is so pervasive is because everyone thinks it's money for nothing: you put up some ads, you get paid, what's the harm? The non-monetary side of the transaction can't be measured. What's the undivided attention of a twelve-year old worth? What's the real cost of making our police dependent on ad revenue? What's the final invoice on installing corporate patriotism in our kids?
I don't know. But I bet it ends with smiling French people.

Regular site defacer Shahab writes:
We need Max's comments about the iPhone launch!
I think if I was writing Jennifer Government today, it would be phones, not sneakers.

You can buy paper made from elephant feces. It's called Poo Poo Paper. I know this because I saw it mentioned in DailyCandy, which is "the ultimate insider's guide to what's hot, new, and undiscovered." At first I thought DailyCandy might be scraping the bottom of the hot, new, and undiscovered barrel when they reached for the Poo Poo paper, but then I read more and discovered a profound insight into modern consumerism. Here:
Kid 1: Wow. Look at that elephant. He really thinks his sh*t don't stink.

Kid 2: Actually, it doesn't always smell bad. Just yesterday I was trying out my new Crayolas on paper made from elephant poop.

Kid 1: Cootie alert.

Kid 2: No, no. It's totally clean.

Kid 1: Keep talking.

Kid 2: So these people collect the dung, dry it out, and wash it, leaving fibers from the grass, bamboo, and fruits the little guy's ingested.

Kid 1: Grody. To the max.

Kid 2: I'm not done yet. Then they boil the fibers so they're super clean, add banana tree and pineapple fibers to thicken the paper, and dry it in the sun. You'd never even know it was made from caca.

Kid 1: Okay. Kinda rad.
You see the genius. Regular non-hot, un-new, and already-discovered people might think that paper made from elephant crap is kind of disgusting. But for that very reason, ultimate insiders find it hot. The selling point is the repulsiveness.
I think marketers worldwide will find this a pleasing development. Until now, they've been hamstrung by the need to make their products useful, or at least non-awful. But if leading-edge shoppers are willing to buy the opposite—and not just willing; already eagerly seeking such products out—then the doors are wide open. For example:
Consumer 1: Hey look, shoes made of razor blades. They actually inflict injury on you while you walk. What a stupid idea.

Consumer 2: Actually, some of the hippest Hollywood celebs are wearing these now.

Consumer 1: Keep talking.

Consumer 2: According to Variety magazine, there's nothing hotter than leaving a little trail of blood spots from your mangled feet. The pain is what makes it outrageous.

Consumer 1: Okay. Kinda rad.
Incidentally, I noticed the slogan on the Poo Poo Paper web site: "WE TAKE THE 'OO' OUT OF POO!". Following that is: "TM". Someone actually came up with that phrase, then thought: "Gee, that's some gold right there. I'd better officially register that before anyone steals it."

A while ago I watched The Biggest Loser. This is a TV show in which fat, unhappy people turn themselves into thin, self-satisfied assholes. Well, some of the contestants are assholes to begin with. They either stay the same, or turn into different kinds of assholes. The nice ones, though, it's like watching Annakin Skywalker become Darth Vader: by the end they look cooler, but will destroy planets to get what they want.
Why is this? I suppose skinny people might be innately more evil than fat ones. But I don't know. I mean, Mother Theresa. Or maybe it's that attractive people are more evil. That sounds about right. (Again, Mother Theresa.) I've always been suspicious of very good-looking people. I think they should be microchipped and tracked, so we can keep an eye on what they're up to. I would feel a lot better if I knew beautiful people were being monitored to make sure they weren't skipping lines, getting out of speeding tickets, and having impromptu sex with flight attendants. If I can't do those things, nobody should be allowed to.
But I can't blame the Biggest Loser people for becoming pricks. If I abruptly became a lot hotter, I'd develop a huge ego and poorly-concealed contempt for my fellow man, too. I mean, even more so than now. That's just the natural consequence of being able to look at yourself in the mirror and think, "Wow… I'm amazing."
I keep hearing about the importance of self-esteem, but I'm not convinced. I think we may be underestimating the value of crippling self-doubt and insecurity. If you go to the beach, you'll see a hairy, fat man in his 50s strolling by in a thong, while nearby a 20-year-old with the body of a movie star tugs at her skirt to make sure it's covering thighs she thinks are too large or pale or freckled or god knows what. I don't think it's coincidence that human beings are afflicted with chronic lack of confidence just as they begin to scale the peak of their physical attractiveness: I think that's the only thing stopping young people from taking over the world. Imagine how horrendous it would be if that 20-year-old had the self-confidence of the 50-year-old. No, not because of the thong. The thong would be fine, obviously. The problem would be that once she realized how vastly superior she looked compared to the rest of us, she and her young, beautiful friends would round the rest of us up and lock us in labor camps, where they wouldn't have to look at us.
And we would let them, because they're beautiful.