I'm trying this thing where I wake up very early, like 5am, or, not quite on purpose, 3:43am this morning, make a coffee, and head straight to work. It's a good feeling, being up and productive that early, once I've stopped feeling like I need to throw up. It's a quiet, distraction-free time; just me, my words, and my pounding Scott & Brendo tunes. The only downside is that after lunch my brain doesn't work at all. But I use that time for non-creative work like email and writing blogs, so that doesn't matter so much.
This year is all downhill for me. It has to be, because in 2013 I had a new book come out that was almost universally unhated, plus a real film based on my first novel. I practically feel like retiring after that. Like maybe I could go make snowboards. I don't know anything about snowboards. I don't know much about snow, either. I'm in Australia. But I'm sure there's a craft there, hiking out to find just the right tree, cutting it down, then, like, sandpapering it into the right shape or something. Actually, now that's sounding like a lot of work. Forget that. I don't even like snowboards. My point is that 2013 was a big year.
Lexicon gets a paperback release in… holy hell. Four days!? How did that happen? Last I checked it was coming out at the end of May. Okay. So I just discovered the UK publisher moved up their Lexicon paperback release date, so it was ahead of the US, then the US publisher was like, THE HELL, and moved up theirs by two months. They did actually tell me they were doing that. I just skimmed over the "by two months" part.
So I should have been a lot more active on social media lately. Anyway: Lexicon comes out in beautiful paperback on April 1 in the US & Canada, and April 10 in the UK, Australia, New Zealand, and South Africa.
And it has my favorite cover ever!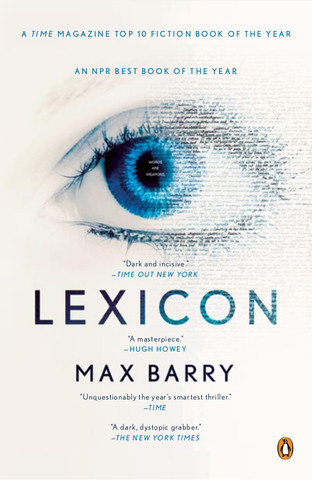 See, the eye is made from little words. I like it because it looks like a sci-fi movie poster, plus people are saying I'm awesome on it. Those are two big ticks. Also it's reminiscent of Jennifer Government, which was super-stylish.
Lexicon made some "Best" lists over the last few months, which I'm required to mention. I don't like doing this. But you're a busy person; you might not have noticed. And I need to make a living. So here are some of them:
Time Magazine Top 10 Fiction Books 2013
Kirkus Best Fiction of 2013
Chicago Tribune Page-Turner of the Year
NPR Best Books of 2013
Goodreads Best Books of 2013
2014 Alex Award Winner
iBookstore Best of 2013
Amazon.co.uk Best Books of the Year
Aurealis Award Finalist
The Aurealis one makes me especially happy because that's the first magazine to which I ever seriously submitted fiction. I only sent them that one piece and was outraged by their rejection, despite it being totally deserved, because I was 24 and the story wasn't that good. But I vowed revenge, i.e. becoming skilled enough at writing to get a story accepted by Aurealis. Then I got more into novels and kind of forgot about it. But look! I still have my Aurealis rejection letter from 1997: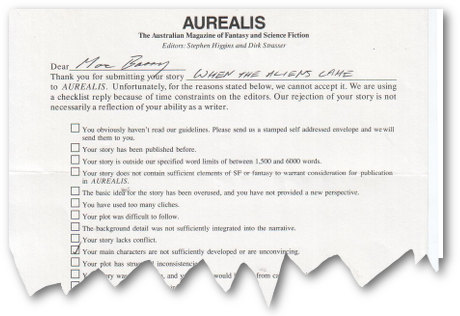 And I still have the story! As Aurealis noted, it is very short, so you can read it in about one minute. It was never published anywhere, for reasons that may become obvious.
Read: "When the Aliens Came" by Max Barry (PDF)
The brevity might be a selling-point in these days of Twitter novels and flash fiction. But 1997 was a different time, a slower time, when people expected their stories to last longer than a cup of coffee.
Incidentally, I've been thinking about publishing more short fiction on this blog. I'm not saying it will happen. Because it's easier to think about than do. But it's an idea.