Official Syrup Website • Trailer • Watch on iTunes (US) • Cable On Demand (US) • Early Theater Screenings (US) • Clip Where Max Tries to Act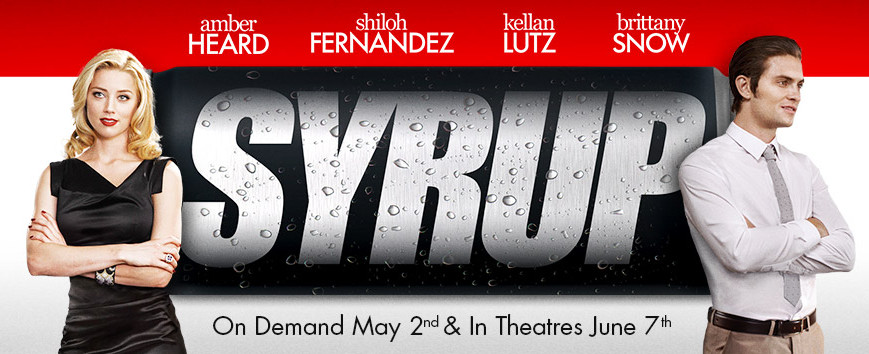 People are about to watch my movie. Seriously. This is happening. Until now, I've been able to say, "Oh yes, I have a movie," and no-one could say, "Yeah, I thought that SUCKED." Because no-one had seen it. That time is over.
Today, May 2, 2013, Syrup launches as a "sneak" on Video on Demand, which is something I had no idea about until very recently, but I have since learned is how you release an indie movie to generate buzz ahead of its theatrical release. If you live in the US, you can rent it right now from iTunes. Also, if you have some kind of premium digital cable thing, you can use that. I'm not sure of the details there. I don't live in the US. But it's something like that.
The dream here is that Syrup breaks into the Top 10 Movie Rentals on iTunes. That would be huge. So if you are in the US and want to help push it up the list, today is the day.
But back to me. Over the last few years I've thought a lot about what happens if, like, the movie turns out to be so bad that they write newspaper articles about it and people come to my house asking why I would visit such an abomination upon the earth. Also, what if it becomes the breakout hit of the year and they write newspaper articles about it and people come to my house asking can I help them sleep with Kellan Lutz.
Because movies get seen by a lot of people. And those people have strong opinions. That's a little daunting. Also, some people who read the novel have been amazingly supportive of my career over 10 or 15 years, and I don't want them to be disappointed. Yet that's kind of unavoidable, when adapting a book, since a film can never match what's in your head.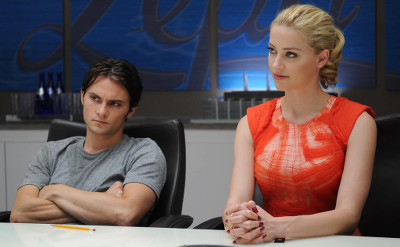 On top of this, I still haven't seen the movie. A while back, I decided to wait until I could see it in a theater, since it's kind of a big moment for me. But I didn't anticipate this on-demand sneak thing. I'm in Australia, where the film isn't released until November, and now I have this slightly awkward scenario where a lot of people will see it before me.
So the movie is suddenly here and I don't know what people will think. Before I have a book published, I've at least seen some early reviews, and the publisher has completed a print run (thrillingly high or alarmingly small), which gives me a general idea of what to expect. But today: nope. Which is kind of scary.
But I am going to try not to become lost in that, and remember to enjoy how awesome it is to, you know, have a freaking movie. I've seen authors do this: they dream of being published, but when it finally happens, they're so preoccupied with whether it will be a hit that they don't seem to actually enjoy the moment.
The reality is most books and movies aren't breakout hits: they are read or seen by some people, and some of those people love it and some don't. And that's it. This isn't very romantic, not the kind of thing you imagine about when you dream of being an author or actor or filmmaker. But it's still pretty great.
One of my favorite moments as an author is an email I received from a 14-year-old who said Jennifer Government was the best book he'd read in his life. It was so cute. I mean, obviously he hadn't read that many books. But no-one could be more gushingly, genuinely enthusiastic than this kid. I will never get a more delighted email, no matter how many books I write, or how many people read them. As far as creating something that connects with people, that's as good as it gets.
This movie process has been awesome all the way through. I got to write scripts, swap ideas with the director, hang out on set, and try not to strangle Amber Heard with a necklace. These are all amazing moments that I would have killed for as a 23-year-old, writing the novel in my car during lunch breaks from my sales job. And today is another one.