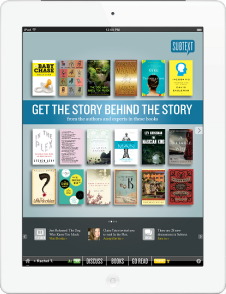 Now there's this app, Subtext, that lets you read books and share your comments about them in real-time with other people reading the same book. Little speech bubbles in the margins pop up: you tap them, you get to read what other people are saying about a particular plot twist, or character death, or whatever.
In some cases, the author has gone through and made a bunch of those comments him or herself, and these read a little like a DVD commentary track.
I mention this because I'm one of those authors: Machine Man is one of their launch titles. So, if, you know, you feel I've been too secretive about the creative process behind Machine Man so far, now is your chance for some insight.
At first I thought you would have to turn those comments off when reading a Subtext book, at least the first time through, because otherwise that would be really distracting. But I have found that this is impossible. You know the comments are lurking there, and it's too much to resist turning them back on when you're wondering, "Does anyone else think this story just completely went off the rails?"
So that's pretty cool. Not from an author's perspective. From an author's perspective, it's horrible. I want you to sit there and read what I've damn well written for you. But as another example of users seizing control over their own entertainment experiences, it seems significant.
Movie news! I just changed the subject. That's what happened there. Mark Heyman, the scriptwriter of Black Swan, who's been busy working on what I have to say is a freaking fantastic Machine Man script, I know I'm not allowed to tell anyone, Mandalay, BUT IT IS AWESOME, has sold his "Facebook thriller" script XOXO, with Darren Aronofsky producing. So it's all going pretty nicely in Heyman-land. Syrup is deep in post-production and I still haven't seen it, not that I'm thinking about it every ten minutes or anything. And the leads are busy: Amber Heard is doing interviews for The Rum Diary, and Shiloh Fernandez is becoming an eco-terrorist.