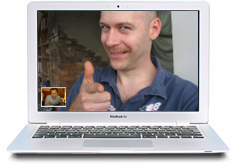 Also: win an original manuscript. I wasn't sure which to go with as the blog title. Which do you think is more alluring? It's the manuscript, isn't it? Well, it's too late for that now. Stop going on about it.
So two new promotions today. PROMOTION #1: WIN A MACHINE MAN MANUSCRIPT! This is a mid-2010 working draft of the novel that I scribbled notes over. It's 413 pages. I don't know how I'm supposed to mail that. The postage will ruin me. Anyway, you can win that, and magnets and books, if you enter before August 9 and live in the US or Canada. Yes, this one is a North American promotion. Don't look at me like that. I don't control the global publishing industry.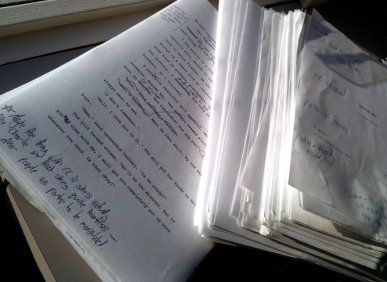 PROMOTION #2: SKYPE WITH MAX! Since I'm not doing a book tour, I decided to Skype myself around. That sounds kind of dirty. But the idea is you get the joy of my virtual presence with none of the body odor. It's win-win. Basically I'll call you and you have ten minutes to ask questions or show me your cats or whatever you like. Well. Not whatever. Keep your clothes on. But you get the idea.
To qualify for this, you buy three books. I had to pick a number that was low enough to be reasonable, yet high enough to prevent me spending the rest of my life delivering this promotion. So I chose three.
For this you can live anywhere in the world. You see, when it's up to me, I remember my friends in far-off corners of the world, like England. I remember you.
P.S. I haven't received my magnets yet, but when I do I'll give some of those away to people outside of North America, too.