Members
There are
5,360
subscribers to MaxBarry.com
Random Member of the Moment
Kandace Mavrick
Member # 5672
Location:
Perth, Australia
Quote:
"Of course I'm crazy, but that doesn't mean I'm wrong. I'm MAD but not ILL. — Robert Anton Wilson"
Skype! With! Max!*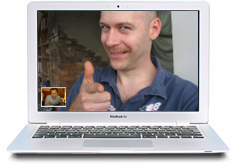 Book tours are my only opportunity to associate with other human beings between long periods of isolation writing books. They're critical to preserving the dwindling social skills I still have.
Since my publisher isn't running a book tour this time, what with traditional bookselling sliding into the sea and everything, I have decided to SKYPE MYSELF AROUND THE WORLD.
How It Works
Buy three (3) copies of Machine Man. It makes an excellent gift, you know.
Choose a timeslot from the available list below. If you have a precise time you'd like within that, let me know; you can have it if it's available.
Email me some kind of evidence, like a receipt or a picture of you holding three books, plus your Skype username.
I'll then get back to you with confirmation.
During the call, you can ask questions or chat about whatever you like. We have ten minutes to get to know each other. Hopefully this will leave no emotional scars on either party.
Timeslots
The Skype tour runs August 17-19.
Slot #1: Possibly best for Asia and Australia and New Zealand.
Slot #2: Possibly best for North America.
Slot #3: Possibly best for Europe.
Note: I am figuring this up as I go along, so please excuse any glitches!
* While stocks last.