I woke at 3:35am and couldn't find sleep so decided to get up and walk 30 or 40 blocks to location. At dawn, Manhattan was astonishingly still. City That Never Sleeps? I thought. More like City That Never Gets Up. This seemed funny because it was my fifth day in a row with less than four hours sleep. I'm basically only functional thanks to to the adrenaline of having my book turned into a movie. I walked through the Flower District, which is what I assume that street with nothing but flower shops is called, and Madison Square Park, where I once saw an outdoor film, and, without warning, found myself in Union Square, staring at the bookstore where I gave my first ever book reading from Syrup in July 1999.
(Edit: I am mixing up my locations. In the comments, Nic Woolf informs me that my first reading was at Astor Place, not Union Square. I think this is right. Union Square was where my first agent, Todd Keithley, had his office when he sold Syrup to a publisher.)
Today began in pure joy, with no trepidation about what to expect. I knew it was going to be awesome and just felt happy to be exactly where I was.
In the morning, we shot some footage of Scat being dragged into a corporate office: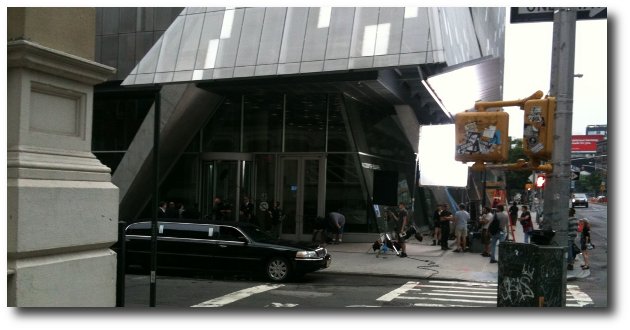 I then had my costume fitting for my cameo role on Tuesday. But I am skipping right over that because I want to talk about what happened in the afternoon. And please forgive for indulging in detail, but I want to get this all down, because it is so very important to me.
The afternoon was Amber Heard's first scene. I hadn't had the opportunity to see Amber in anything much before, and what I did see, she was not very 6-like. Aram, the director, had sworn to me that she was perfect for this role, but I was still anxious, because, like I mentioned yesterday, 6 is special to me. I was bracing myself for the inevitable realization that she was not going to be portrayed just like I had imagined.
We were shooting at the top of the Met-Life building, where thick mist turned what should have been a glorious vista over Central Park into an otherworldly diffuse light that was actually far more interesting.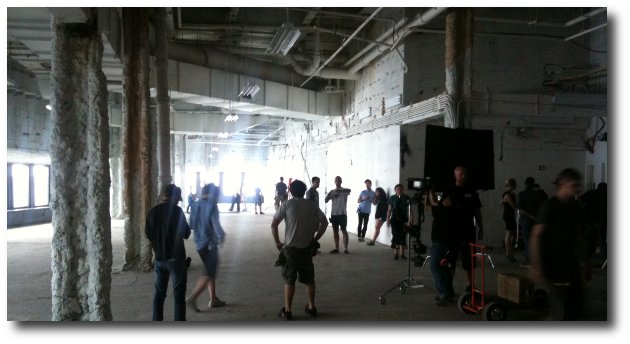 I didn't know what the hell we were doing here, because when I wrote this scene it was set in an office corridor.
In it, 6 is fuming about a character trying to usurp her (named @ in the book, Three in the movie). 6 fumes a lot in Syrup. It is a core part of her. And what I was most afraid of was an actress interpreting this as a weakness. A flavor of helpless frustration, instead of honest anger. This is important to me not only because it goes to the heart of who 6 is, but also because the way women are demeaned in the workplace for showing emotion drives me fucking insane. (Latest example: here.) 6's dismissal of male expectations of female behavior is one of her best qualities.
So anyway. Amber Heard turns up. She is blond. I struggle a little with that. But I'm prepared to go with it. It's a very severe blonde. Then they set up the scene and Amber starts pacing. She radiates fury and is fearsome and so, so 6.
Then she and Scat exchange a series of lines that I first wrote in the book and reworked into their current form over five drafts and four years. Writing those drafts involved more bullshit than I can possibly describe. For a long time I wrote all day and ate dinner then went back and wrote more, seeing my family for a grand total of about thirty minutes a day, in the service of those drafts. And after enough of this, I decided it was all for nothing, because it was probably never going to be produced.
This scene looks astonishingly beautiful, because instead of the simple office corridor I imagined, it's taking place in this striking corporate-industrial cavern. And watching this, where everything was either exactly as I imagined or else better, which I had given up hope of seeing, just broke me. I cried. Later, when I went out to call Jen and tell her what had happened, how all that shit hadn't been for nothing, I cried again.
I'm sleep-deprived. I'm a little weepy about everything. But I will never forget this day.