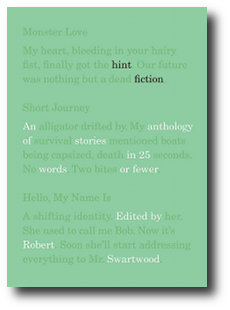 The New Yorker published one of my short stories in full without even asking. That's a gross copyright violation. I'm thinking of suing. Admittedly, the story is only 25 words long. But still. They broke the ten percent rule. Two and a half words would have been okay. "She walks i." I'd have no problem with that.
So now The New Yorker has stolen my livelihood, there's no reason for you to buy the book it's published in, Hint Fiction. Unless you would like to read 150 or so stories by the other contributors. I guess that's a good reason. The deal is they are all hints: 25 words or fewer, not self-contained stories but rather suggestions of larger tales. There are some more examples, by which I mean copyright violations, in The New Yorker article, and you can pick up the book, published today in the US & Canada, here or here.
If you are in Australia, I'm on TV tonight, talking about Ayn Rand's Atlas Shrugged. Actually, I'm doing that no matter where you are. You can't affect it. I'm also discussing Freedom by Jonathan Franzen. I mention the Rand book first because it's the one people will send me emails about.
Here's the thing with Atlas Shrugged. It's eleven hundred pages of brilliant, beautiful, go-getter industrialists talking to stupid, grasping, corrupt collectivists, set in a world where only half the laws of economics apply. The character names change but nothing else. Otherwise, it's not bad. No, I lie. Even setting that aside, it's terrible. I felt like Ayn Rand cornered me at a party, and three minutes in I found my first objection to what she was saying, but she kept talking without interruption for ten more days.
It's not a novel so much as a manifesto, and, I think, impossible to enjoy unless you're at least a little on board for the philosophy, and it's hard to be on board for the philosophy if you understand economics or see a moral problem with starving poor people. I realize many believe fervently in the philosophy. They email me. And I don't think it's one hundred percent bogus. But it demands that you choose between no government or total government, and I think all such extremes have similarly extreme problems.
Freedom is good, though.