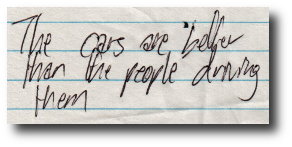 So I finished Machine Man. And I want to stay all cool and authory about it, but honestly, I feel a little heartbroken. I think because when I tap out THE END on a regular novel first draft, it means I finally have something I can show people. But Machine Man wasn't a regular first draft: it was an experience, me posting one page at a time and checking the next morning to see what people thought. That was freaking wonderful—terrifyingly wonderful—and now it's over, I already miss it.
I think I will need to do this again. This, or something like it.
But my next step is turning the serial into a novel. Every first draft can be better; my first drafts can be a lot better. If you read this serial—even if you only read some of it—I would love to know what you thought. I usually distribute my first drafts to ten or twelve early readers. This time there are 600 of you, another three or four thousand in the free feeds. As a feedback junkie, this makes me trembly and excited.
If you've got an opinion, please let me hear it. I want nothing more than to make my stories as strong as they can be, and I need to figure out how this book reads to someone who hasn't written it. So please help me: post a comment. Or, if you'd prefer to keep it private, email me.
I tell all my early readers: I'm after what you felt. Please don't think you need to be a literary critic. Don't try to imagine what other people might like. Above all, don't hold back because you can't think how to justify what the book made you feel. Figuring out why you had a particular reaction and what to do about it, that's my job. I can do that. What I can't do is read my own book for the first time. The closest I can get is hearing you describe how you felt when you read it.
Please do tell me what you liked and what you didn't. I'm looking for flaws, but part of figuring out what to improve is understanding where its heart is. Also, I tend to assume that anything an early reader doesn't mention she didn't care terribly much about, so it's a candidate for the ax. If you stopped reading at some point, please tell me where. If you're partway through, please share your thoughts so far. If you don't know what the hell I'm talking about with feelings versus literary criticism and all that, please comment anyway. One-sentence thoughts are fine. I can't get too much feedback. Please. Tell me.