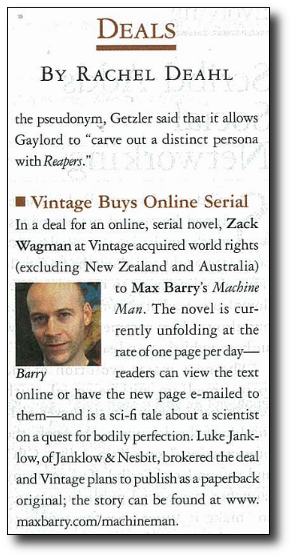 As reported in Publisher's Weekly, Vintage Books will bring Machine Man to life in print form in the US & Canada, most likely in 2011. This will be a rewritten version of what's currently going up online—since I think the two mediums have very different requirements, plus I haven't yet seen a first draft I didn't want to rewrite. Or any draft, actually. But that's my personal issue. So anyway, once I finish the serial, probably later this year, I will start trying to figure out how the hell I do that.
The particularly cool part is that Vintage (like Scribe in Australia & New Zealand) is happy for me to keep the serial online. Which may sound obvious to you, but that idea caused some publishing industry minds to EXPLODE. Their natural inclination is to scrub the internet free of any potentially competing versions whilst locking down e-books so tightly they don't work on your device. That's possibly just my bitter experience talking. But this is a significant step for a publisher, and I'm really happy Vintage took it. I didn't want to take down my online serial. That would be like leading my child into a forest and abandoning her there. Then, I guess, going home and building a new child based on the first one. And offering her in print form. Wait. This analogy may have gotten away from me.
What we'll have, then, is the original, unedited serial online, and a more polished (I was going to just say "polished," but that could be a stretch) novel based on it. Given my track record of rewriting books until they cry, it will probably differ quite a lot from the serial. But on the other hand, it won't have reader comments. Which is a shame, because those are awesome. It's like book club five days a week.
This all makes a pretty amazing outcome for a project I started just because a reader bugged me. It's been successful in a whole lot of ways. So thank you.
P.S. I can't believe that Publisher's Weekly's "Deals" section, by Rachel Deahl, isn't called "Deahls." That's a no-brainer.
P.P.S. My favorite sci-fi site just posted an article about this entitled "Max Barry Jams In Public, Creates A New Publishing Model, Slices Your Legs Off." Ahh, bless your nerdy hearts.