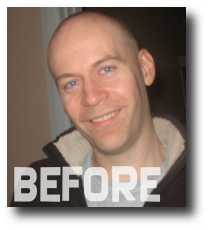 "I'm growing a moustache," I told Jen.
"No you're not."
"It's for Movember. You know about Movember?"
"I know Movember," she said. "But no. You're not growing a moustache. They're creepy."
"Jen! This isn't about the moustache. It's for a good cause. It's about raising awareness. You think I want to grow a moustache? Do you? Like, what, as if I've always secretly wanted to, but until now been denied by social pressure? Honestly!"
She eyed me. "You don't actually know what the cause is, do you?"
"Of course I do," I said, offended. "Frankly, it's that kind of attitude that makes it so hard to get this particular cause taken as seriously as, obviously, this particular cause demands."
Jen sighed.
"I believe it's something to do with prostate cancer," I said. "But I have a whole plan. I'll announce it on my web site, see, and people can sponsor me."
"Sponsor your moustache."
"Right! Yes! They can sponsor my moustache."
"It's not just prostate cancer," Jen said. "It's men's health issues in general, including depression."
"Well, there you go. You can't say no to that."
She sighed again. "You'd better get some donations."