Joe writes in to point out DirecTV's wonderfully creative interpretation of the Do Not Call register:
DirecTV is defending automated sales calls to Do Not Call List subscribers as "informational," and "not telemarketing." The satellite TV provider recently called customers to say: "Because you are on our Do Not Call List, we can't call you with all of our super-awesome special promotions."
This sounds eminently reasonable to me. After all, the promotions were super-awesome. If they were only slightly awesome, I can understand why some people might not want to hear about them. But super-awesome promotions—if anything, it'd be wrong not to let people know about those. Faced with that dilemma, DirecTV's only ethical choice was to have a computer dial people at home who had explicitly asked not to be bothered and play them an automated sales message.
DirecTV response is via their lawyer Rose Foley, who stresses that since the calls were "informational," they "fall outside the scope of the Telemarketing Sales Rule and related federal and state laws and regulations governing telemarketing sales practices." I have to say, I am looking forward to hearing Rose explain the precise informational nature of the phrase "super-awesome." That's going to be pure entertainment.
If I was running PR here, though, I think I would put Rose back in her cage and reach for the mea culpa. I'd issue a public apology and explain that the real problem is that here at DirecTV, we're just so gosh darned excited about our specials, we sometimes forget that not everyone feels that way.
Because the only alternative is that DirecTV knew exactly what it was doing, having being previously fined $5.3 million for telemarketing to people on the Do Not Call list, and it weighed the likely punishment versus the potential sales benefit, valued the time and goodwill of people on the receiving end of these calls as zero cost, and decided it was worth breaking the law. Of course, in this far-fetched scenario, the only reasonable response by the FTC would be to correct this economic imbalance by fining the almighty bejeezus out of them. If $5.3 million doesn't do the trick, it would have to see if ten or twenty million balances that equation. "Sorry, DirecTV," the FTC would say. "But clearly regular penalties are insufficient. The only penalties left are… super-awesome!"

An anonymous reader writes in with a Company-related conundrum:
I read this book and promptly gave it to some of my work colleagues—I'm sure you hear this all the time. I wanted to buy a case to keep under my desk to hand out to people who came in my office.

Now my manager and some others have read it and they want me to come to their book club to lead a discussion! If you have any ideas to lead me into this land of discussing this with upper management who just happen to be members of this book club please let me know. I need to keep my job!
Hmm. Tough one. Perhaps, "What I got out of this book was a deep, abiding relief that our company is nothing like this. That's why I hand it out to people at work; everyone enjoys stories that have nothing to do with their own lives. It's pure escapism!"
One of the interesting things about corporate workplaces is that they turn otherwise decent human beings into… well, management. They're not like that because they're petty, deceitful scumbags. I mean, obviously that helps. But it's the environment that encourages those personality traits. This could be a cry for help from your boss, who in a flash of self-discovery has thought, "My God, what have I become?" Your job at this book club, then, is clearly to reassure him/her that it's only the other managers who are like that, and gather information that will be politically useful at your next performance evaluation.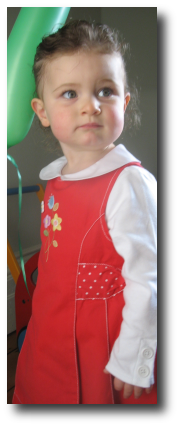 In the morning, with Fin nestled between us in the bed, Jen and I discussed plans for the day ahead. "You could go to the B-E-A-C-H," I suggested. It's like with dogs: you don't want to get their hopes up.
"Beach?" Fin said.
Probably coincidence. And, I have to admit, the sequence of letters B-E-A-C-H does sound a bit like "beach."
That night, Fin wanted to read "Farm." This is a book with pictures of things you find on farms, labeled accordingly. It's not much in the plot department, and forget about character development, but she likes it.
She pointed at the first letter of the title and said, "Green F."
She's just turned two. Sometimes I get frightened at her growing power. Today she can spell. Tomorrow she may shoot lasers from her eyes. The day after that, she may leave me.

And sorry to abuse your email inbox, but I've just signed on with the good people at ChuckPalahniuk.net to run an online writing workshop based around novel-writing. Places are limited, so if you want in, clicky clicky:
Yes, they photoshopped me into a suit.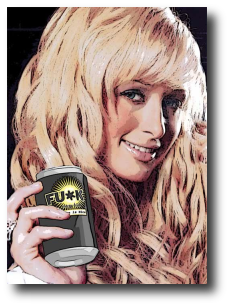 Holy crap! I thought I might get some great can designs, because, well, not to boast, but my readers tend to be smart, talented, and exceptionally good-looking. I'm sure you've noticed this. But still: holy crap! I am getting some great designs here. It is only a matter of time before Coke or Pepsi blatantly rip these off and launch them as new products. And a special mention to Lucia Suarez for coming up with the brilliant "Kinetic Beverage." You know in two years they'll all be called that.
Here are a few of the best entries so far: James F, Nataliya Lalor, Emily Elizabeth Moser, Nathan Carnes, Lucia Suarez, Karan Juneja, Kyle Huberman [1] [2], Chris Hubbard, Andrew Roff, Lori B, Sean Marks, Rod McBride, Shane Smith, Petar.
Lots of people emailed me questions about how to enter, so let me answer some of those here: you should get your entry in this week. A web-friendly JPEG is ideal for submission, but hang on to your high-res original, which we'll need if you win. And yes, the product's name is "Fu*k," asterisk and all.
Next week I'll create a gallery of all entries, for the film producers to peruse. You'll be able to do that, too. If you submitted a design but don't want me to post it or put your name on it, please let me know.
Update: The Fu*k Gallery is now online.
Update 2: Congratulations Mat! Chosen as the best submission from an excellent bunch. When the cans get mocked up, I'll post a pic. Thanks again to everyone who worked on a design.