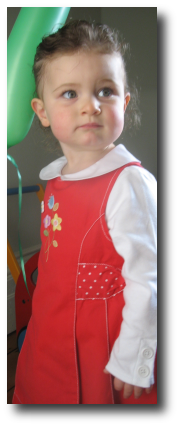 In the morning, with Fin nestled between us in the bed, Jen and I discussed plans for the day ahead. "You could go to the B-E-A-C-H," I suggested. It's like with dogs: you don't want to get their hopes up.
"Beach?" Fin said.
Probably coincidence. And, I have to admit, the sequence of letters B-E-A-C-H does sound a bit like "beach."
That night, Fin wanted to read "Farm." This is a book with pictures of things you find on farms, labeled accordingly. It's not much in the plot department, and forget about character development, but she likes it.
She pointed at the first letter of the title and said, "Green F."
She's just turned two. Sometimes I get frightened at her growing power. Today she can spell. Tomorrow she may shoot lasers from her eyes. The day after that, she may leave me.