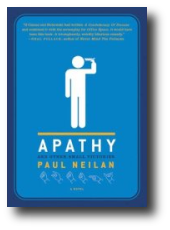 For the first time on this site, I'm about to plug a book that isn't mine. I know! I feel like I'm growing as a person. Here's what happened: I got sent this book pre-publication to see if I'd be interested in providing a quote for the back of the book. Apparently the theory is that if people see a quote by some author they've never heard of, they think, "Hmm… someone that obscure must know what he's talking about."
I get sent quite a few books this way, which is good, because I don't have to pay for them, and bad, because I don't get to choose them, and they tend to suck. So I end up on the backs of very few books. (If anyone has seen a book with "Meh, it kind of sucked. —Max Barry, author of Company" on it, though, please let me know.)
Then I got sent a book that was so good I thought they must have confused me with someone much more popular. Like maybe Jesus. This book rocked. It was the funniest novel I'd ever read. It was so good that when I finished reading it, I immediately read it again. And then a third time. It's currently my favorite novel.
The book is Apathy and Other Small Victories, by Paul Neilan. It's out in the US today. If you like my stuff, I seriously recommend that you get this. And if you don't mind Chuck Palahniuk, either, a gaping hole in your life that you never knew existed is about to be filled. Go buy it. Now.
(Disclosure: I met Paul earlier this year, after I'd read his book. But he didn't promise any sexual favors in exchange for me pumping up his book. Really, he wouldn't be moved on that.)
Update: Paul has a blog!