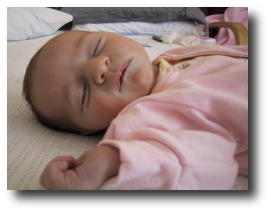 Back from the hospital for a few minutes to do some vital jobs, like announce that I am (at last) Daddy to a heartbreakingly beautiful baby girl, Finlay Jo Barry.
Here are her vital statistics: she is 3.36kg (7lb 7oz), was born at 9:19AM on August 27th, has the sweetest, most intoxicating smell ever, and likes it when you stroke her hair.
I am, genuinely, the luckiest guy in the world. I get to go back to her now.

BabyWatch 2005: Still nothing! It's incredible. It's like waiting for a toaster to pop. Of course, the second I stop staring at Jen's belly, she'll have the kid.
Of blurbs and blogs: You're right. You're right! I shouldn't give away Company's first plot twist on the back of the book. I've written a new blurb that doesn't, and I think it's a big improvement. If it gets through the publisher, I'll post it here. Thanks for the feedback. I think this is the first time I've altered a book based on what you guys told me. So it's an occasion! Soon I'll be putting up polls to choose between plots, and then it's a short stop to accepting anonymous contributions and stapling them together while I sip margaritas on the deck of a Pacific cruise ship.
Syrup: I finished my Syrup screenplay draft! I think it rocks. Not that I'm biased or anything. I don't know what the producers think yet.
A Chat with Max: There's an interview with me up on GreatWriting.co.uk. Possibly of interest if you're a writer, or I take my eyes off Jen's belly and end up spending all my time feeding, bathing, and entertaining a newborn instead of posting new blogs.

I have this novel, Company, due out in January, and the author in me wants you to read it without knowing a thing about it. Not who the characters are, not the theme, and definitely, definitely not the big plot revelation that comes about a quarter of the way through. The author wants you totally blind, so everything's a surprise, just as it should be.
The marketer in me, though, wants to tell you everything. Because if you don't know anything about it, you might not buy it, and then where am I? Selling computer systems for Hewlett-Packard, that's where. The marketer will spoil the whole plot if that's what's necessary to arouse your interest.
This wasn't such an issue with Jennifer Government, because the biggest plot development happened in the first few pages. But Company starts with a mystery, and you don't find out what the book is really about until you're a way in.
I'm resigned to the fact that practically every review of the book will give this away. It would be too hard to describe it otherwise. But here is my dilemma: do I put it on the back of the book?
(Yeah, and you always thought blurbs were written by someone else. In truth the author usually writes it, or at least tweaks it. For example, the current draft of the US hardcover flap copy currently says Company is "bitingly funny." I didn't add that bit, but I bet I could delete it. And I'm not going to.)
It's an odd transition when you go from trying to write the best story you can to trying to sell it. But around this time is when it happens. I think I need to give away my plot twist, although I'll be as vague as possible. And hope that people who have already decided they're going to buy it will avert their eyes.
(P.S. No baby yet. But it's a day-to-day proposition. Maybe next blog!)

Apparently I write like a girl. Someone from the Internet Writing Workshop sent me a link to the Gender Genie, where you paste in a section of text and it uses an algorithm to detect whether the author is male or female. Or, if you're an author, you can tell whether you're really nailing your opposite-sex characters. I mean, nailing their dialog. Portraying it accurately. Okay. Better.
I was up for the challenge, so I pasted in a bunch of lines that belonged to 6, my main female character from Syrup. Bing! Female it was! So at this point I was feeling pretty clever. Then I tried a collection of Scat's lines. Female. I tried that A Shade Less Perfect short story. Female. More short pieces: female, female, female.
But maybe that was just my fiction voice. Surely, I thought, my blogs would positively drip with manly essence. By which I mean machismo. But no: female, female—wait! Talking about basketball, the business of film options, and Mary-Kate Olsen's stomach scored me my first "male". My drive-by Todd Bunker blogging: also male. So too were finding interesting things to do while standing in the shower and comparing Linux to Microsoft Windows.
That was a relief. I'm at least partly in touch with my masculine side. I can live with that.
Ah, crap. I just tested this blog. Female.

So I'm almost finished writing the first draft of the Syrup screenplay. I did mention I was working on that, right? No? Oh. That's weird. I thought I did. Maybe you just forgot I told you. Yeah, I bet that's it.
Actually what happened is I was waiting until there was a signed deal before I announced it—since until there's a bit of paper, there's always the chance that an agreement will fall apart. But that took so long to get finalized that I just started writing. Now I have 90% of a first draft, and the bit of paper is on its way from Fortress to me.
Working on the script has been an amazing experience. I wrote Syrup (the novel) in 1997, and eight years later I get to go back and fix the parts I wish I'd done differently. I still feel very close to the two main characters, Scat and 6, and I love being able to play with them again. Then there's the challenge of deciding which parts of the story should make it to the screen and which should be left on paper. I've never had to confront that before, and it's been fascinating.
I also have a hard deadline, in the shape of Jen's ballooning belly. Once those contractions hit I don't expect to touch a keyboard for a couple of weeks, so my draft had better be finished by then. I've been working pretty intensely for a while now, which is probably why these blogs have been a little less frequent than usual. (You noticed, right? Come on.)
I wish I could post some of my script here, because, well, I'm damn excited about it. But I'm not allowed to. So I guess you'll just have to take my word for it: it's going really well, and I'm loving it.