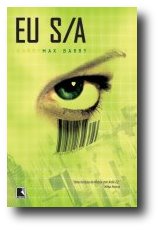 Speaking of covers (no word on what the new Company looks like yet), apparently the Brazillian version of Jennifer Government is soon to hit the shelves, and they've tweaked the design.
The title translates as something like, "Me, Inc.", which I am hoping sounds much less lame in the original Portuguese. They also made the disclaimer look like a Windows XP error dialog box, although I don't know why. And if you squint, you can see business suit-clad legs behind it. It's louco!
Update: Apparently a better translation is "U.S., Inc." That makes more sense.