Machine Man Blog
Displaying blogs about Machine Man. View all blogs

Machine Man the novel is out August 9, unless you live in one of those countries that hates me, like the UK. Seriously, UK. What have I ever done to you? Aside from those Bedford blogs. Those were totally justified. Bedford is horrible.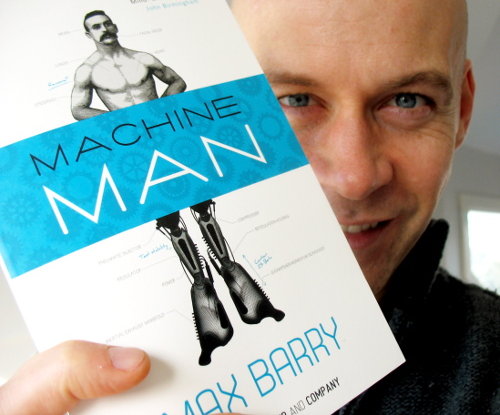 Anyway, the point is: look at me with this actual book! The publishers have started printing. A couple days ago I was asked whether I'd miss the sensation of holding a physical copy of my book, since I allegedly believe ebooks are destined to take over from print. And as much as I wanted to say no, because, hey, bring on the electrons, the answer was yes. I do find it incredibly rewarding to hold my book, made real. I mean made physical. Ebooks are real. I never said otherwise. But a thing, a touchable, material thing, does validate the book's existence in a straightforward and undeniable way. When I dreamed of being a published writer, I was mostly imagining a shelf full of physical objects. Those objects may not be important, in the long run. They may be the medium and nothing more. But boy, they are something.
Some promotional stuff is brewing. First, if you're in Australia, Scribe is doing a very cool thing whereby you can buy the print version and get a Booki.sh e-copy for free. See here under "ebook bundle". If you're not in Australia, and can get to San Diego for Comic-Con 2011, Vintage will be giving away Advanced Reader Copies* and more importantly AWESOME MAGNETS. Look at these things. You can mix and match human and artificial parts. You know you want that more than life itself. That isn't just me.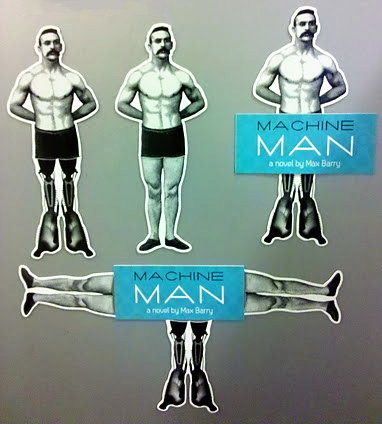 If you can't get to San Diego, you can win magnets and possibly something else via a competition I haven't invented yet. The important thing is I promise there will be access to magnets. Stay tuned. And suggest some competition ideas. Because seriously, I need to think of something.
Finally: US book tour. There isn't one. Or at least, not a physical one. This is mainly because flying an author thousands of miles to sell three dozen copies of a book is not very cost-effective. Especially when that author tends to order a lot of room service and make long international phone calls. But also because I have an idea for a virtual book tour, which is cheaper and appropriate for the novel and solves the problem of people complaining I'm visiting every city in the world except their one. Details to come on that, too. I just wanted to let you know early so you're not hanging around postponing your vacation in case I come to Tallahassee that precise weekend. Go ahead. Book the flight. You deserve it.
---
(* Advanced Reader Copies are early versions given out to reviewers and bloggers and, for some reason, Comic-Con 2011 attendees. Sometimes these wind up on ebay and people like you wonder if they should buy them. I think they make neat collectibles, but they're inferior to the final book in three ways: the text is uncorrected, meaning it contains typos and things I changed at the last minute, the cover and front/back matter is different, and the production quality of the book itself is lower. Also I don't get paid for ARCs. So that's four ways.)