This is what happens when I try to post a link to my website on Facebook: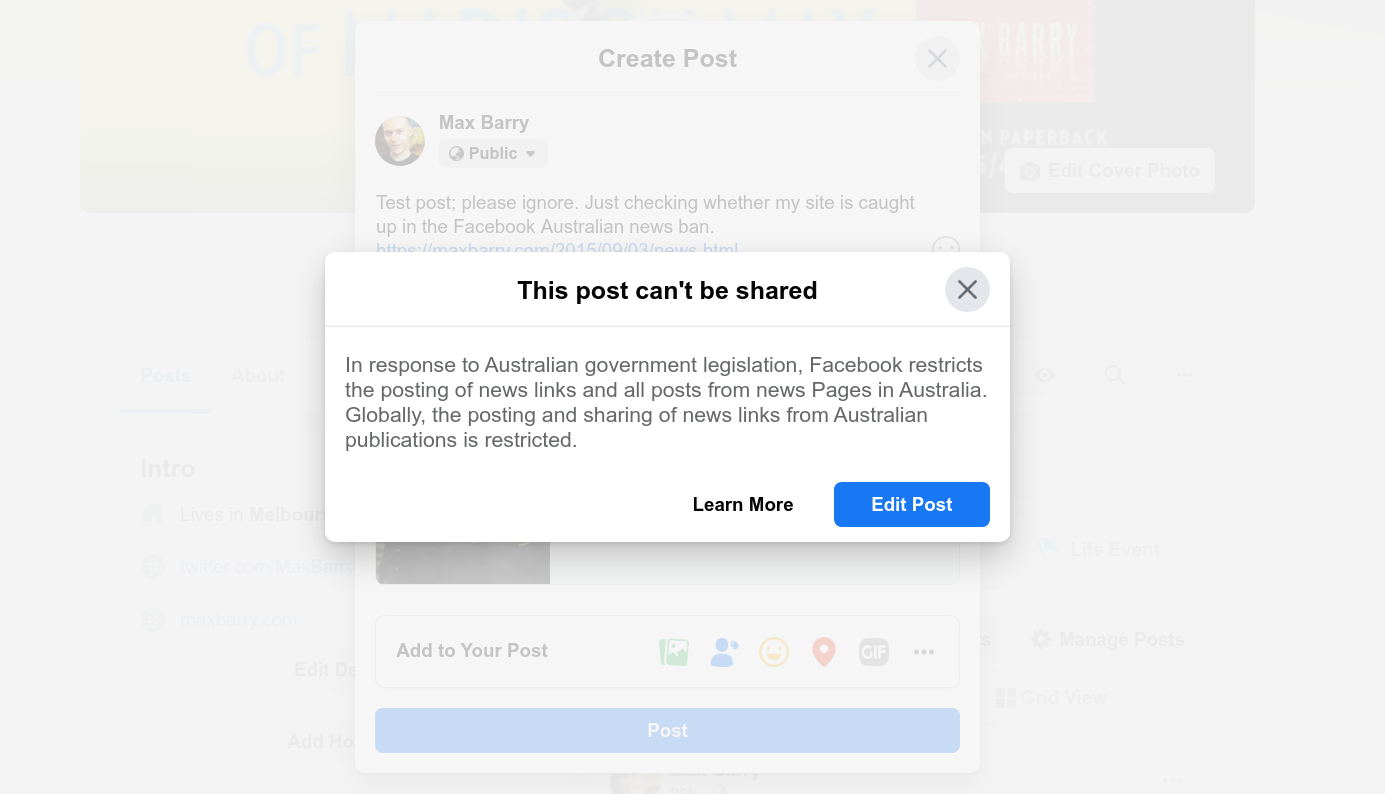 First, I'd like to say how gratifying it is to finally be taken seriously as a news publication. But the interesting part is how Facebook has responded to an Australian law it doesn't like by nuking users. Here is the story so far:
News companies got sad because it's harder and harder to make money, even though what they do is arguably more important than ever, and their products are at the heart of a lot of online activity, generating ad revenue for social media companies.
The larger Australian media companies had the idea that Google and Facebook should have to pay them for this privilege, and the Australian government, always happy to help out a major media company, so long as it's supportive, went right ahead and drew up legislation.
Google launched a PR and lobbying campaign to argue why this was a terrible idea. Facebook was all silent and mysterious and then yesterday just dropped the hammer on every single site that looked Australian, instantly wiping out the Facebook presence of hospitals, charities, newspapers, bald novelists, and everything in between.
The ban is also retrospective, so while all those home-grown 5G conspiracy theory posts are still up, any posts that debunked them by linking to a news site are gone.
I assume this situation is temporary and either Facebook or (more likely) the Australian government will back down. But it's a fun reminder that there are now basically three companies in the world who control what everyone hears: Facebook, Google, Apple. When they choose to, as Facebook did, they can excise a big chunk of what would otherwise reach your attention, and it's just gone.
What happened to antitrust? That's what I want to know. I'm pretty sure we used to be a lot more interested in breaking companies into smaller parts before they reached Godzilla proportions and couldn't be stopped from doing whatever they liked. I feel like we should have kept doing that.
But I'm glad I've maintained this site, even as we all gave up visiting a list of favorite bookmarked sites and switched over to reading whatever the algorithms told us to. If I'd relied on a Facebook page, everything I'd ever posted would be gone.