Do you think the world is doomed in the near future?
Rose
Only in the sense that it will be a nightmarish hellhole by our standards. I'm sure it'll be fine to the people who live in it. I base this on how young people seem happy all the time while old people complain that the world has gone to hell.
In fifty years, the world could be a desert scorched by permanent war between rival corporate city-states and people would still be like, "I would hate to live in 2017, when people got colds and just had to live with male pattern baldness." You value the stuff you have and don't miss what you don't have, is what I'm getting at.
Also ethics are super malleable. I feel they misled us about this in school. Back then, I definitely had the idea that the future would be filled with difficult ethical decisions about which technologies we would pursue and which we would reject in favor of human decency and dignity. But in practice, what's happened is anything gets to exist if it works and people like it. Like Uber. Before Uber, cities had all these rules about who could drive a cab and how, and for the most part they were eminently reasonable attempts to keep people safe and not ripped off. Then Uber came along like, "What if we DON'T have those rules," and people liked it, so now we have that.
So the world is doomed in that way. But also full of promise, in that it will have things that I will personally dislike and not understand but which would have defined my life if they'd been invented when I was eight years old.
I'm optimistic that we will avoid destroying ourselves with nuclear weapons or runaway artificial intelligence. Not for any good reason. Logically, I can totally see that happening. But I have a good feeling.

What's your opinion on net neutrality?
Anonymous
I'm against it. I just think it's hypocritical to say we should live in a world where corporations are free to shape laws and pay no tax but not screw the internet. That seems unfair to me.
Don't get me wrong: You definitely want to keep ISPs' hands off the net as much as you can. ISPs are like water utilities that realized they should come right into your home and decide what kind of showers you can have, since it's their water. You don't want a bunch of water engineers trying to sell you eight-minute shower bundles. No-one wants that.
But I'm not comfortable with the portrayal of Net Neutrality as a fight between good companies and bad companies. That dynamic always gives me the heebie-jeebies. There's just something about people praising the kindness and decency of an amoral profit-making machine that doesn't sit well with me. I mean, I'm glad some companies are better than others. I appreciate that they're not all dumping oil in the oceans and poisoning children and telling employees they're family right before they fire them. It's definitely a good thing that companies who get financially punished if they have a bad public image are compelled to act nicer than ones who don't.
I just don't like pretending they're champions of freedom. Last time I checked, Apple and Google and Facebook and Netflix and all the rest were super-interested in sealing everybody into their own sections of the internet for money. Well, not so much Google. Google is still pretty great. But as a rule, they are big fans of the principle of removing user choice in exchange for cash. In this particular case, abolishing Net Neutrality means they might have to pay cash to ISPs, so they're against that. But they're all still busy working on their own forms of user lock-in.
The other thing is that this keeps happening. How many times has the battle for Net Neutrality been won? Four times? And each time the ISPs go away and sulk with their paid-for politicians and wait for everyone to stop cheering about how they saved the internet, and then they return with a new version that tries to do the same thing. So I would like to dispel the illusion that we're actually accomplishing anything substantial here, and instead take a look at the system that allows a thousand things like this to pass a year, only more quietly because they're not opposed by major corporations, steadily entrenching inequality, selling out the future for the short-term gain of a powerful few.
But since we're not doing that, Net Neutrality is okay, I guess.

Why is Lexicon told out of chronological order? Is this entirely for the sake of suspense?
Aaron
Good question! There was more to it but I removed the HUGE SPOILERS since this is a public site.
So a linear structure is simple and powerful because as a reader you want to know what happens next. That's the main reason you're here. What happened before can be interesting, and well-told, and add layers to the story, but it's always at least a little irritating to be pulled out of a story thread you're following and sent somewhere else. (Unless you're getting back to a previous story thread that you were enjoying more than this one. Which is often the case with stories that flip between multiple points of view. I mean, you're going to have a favorite. So inevitably you'll feel like you wish the story had more of that person and less of everyone else. Multiple narratives are deceptively slippery.)
Linear is a solid default. But you can do a lot more as a writer when you free yourself to leap around in time, since now you can reach forward and backward to include anything that impacts on the part of the story you want to tell. Our lives would be a lot more dramatic if we could do this in real life. Every small triumph or disappointment, imagine if you could build up to it with scenes from your past that illustrate just how significant and poignant it is. Stories are events arranged as to give meaning, and that's easier to do when the events don't need to occur in lockstep.
Most novels have some of each, of course; even the most linear story has, if not flashbacks, then reminisces of the she-had-been-here-once-before-five-years-ago variety. But Lexicon has . I think it's accurate to say this is "entirely for the sake of suspense," for a broad definition of suspense, since suspense is a fundamental pre-requisite for any novel, or almost any scene, in my opinion; if there's no gap between what's happening now and what might happen next, there's no actual story. Almost everything I do on the macro level is for the sake of suspense.
But a key element to the opening of Lexicon is that there's something unfolding and for quite a long time you don't know what. So it makes sense for readers to stay with Wil and Emily as they're each going through that learning state. It would be annoying to follow one of them on that journey and then have to go through it again with someone else. I mean, you just couldn't do that.
I also think Emily's early story is more interesting because Wil's story is simultaneously revealing the darker side of the world she's entering. Without that, it's really just a girl going to school. Similarly, hers adds some solidity and meaning to his, which would otherwise be (more) chaotic and confusing. There would be a way to do it differently, but an awful lot would have to be different. To straighten out the whole book, I think it would break so hard in so many places, it would need to become a different book altogether.
Really, though, the answer is that this is the way I found into the story. I write tens of thousands of words trying to find a story that might be hidden inside an idea, and for Lexicon that process generated two pieces I liked: the eyeball thing and the street hustler. So I explored those more, and delayed figuring out how they would connect until later.
When I'm writing, I make the icing before the cake. So the cake is all that fundamental story stuff about who's trying to do what. It's the structure and plot. It's the bulk of what will make the book succeed or fail. When it's done, it's what everyone will say the book is about. But the magic part is the icing: all the subtleties of tone and dialogue and a hundred tiny indefinable things that may even escape notice.
For example, if I have a scene with two people talking, and I love the way they're interacting, I feel like I might be able to write a book with those two people doing whatever. I'm very interested in thinking about how they might have gotten here and where they might be going. Whereas if I have an actual story idea, like a secret society of poets, that's good, but there are a billion ways to write that story, and I might never find one that works.
This is a bit of an exaggeration; I do usually start with some kind of story idea. But I don't then try to build it from the ground up, layering on structure and plot. I go straight to the icing. Obviously a lot of both the cake and the icing will evolve simultaneously. And in the end, both need to be delicious. But I feel more confident in my ability to figure out a delicious cake to go under some great icing than the other way around.
This may not be a smart way to work, by the way. This analogy is very apt in the sense that if you imagine me making a cake by spreading the icing first and then trying to build a cake underneath it, that's exactly how I work. There's cake everywhere, is what I'm saying. Tens and tens of thousands of words of cake. But it's more interesting, and more enjoyable, and ultimately the only way I can reach that moment where belief sparks and I can see it's a real thing.

Could you give some tips on query letter writing, as in what's worked for you and what hasn't? I'm about 40,000 words into my novel and the idea that six months or more from now i'll have to condense it all down into a page both scares and confuses me.
Sam
A page! No-one reads a whole page synopsis. You get two or three paragraphs.
But you are right to be scared and confused. It's terrible. It's like you're 40 years old and you run into someone you haven't seen since high school and they say, "So what have you been up to?"
That's your template for summarizing your novel. Skip to the highlights. You don't make high school person stand there and listen to you justify those years when you didn't really accomplish anything tangible as such but it was such an important period of personal growth and discovery. Sure, okay, without knowing about that, people can't really understand the full significance of the time you threw a pie at your ex-boyfriend. Even so, the pie thing is the correct answer.
This process can feel fraudulent because of course you're so much more than a pie person. That's a small part of what you do, going around throwing pies at people. You spend a few minutes on that per day, tops. But people realize that. They understand there's a whole life going on as well as the pie-throwing thing. You're not selling yourself short by skipping to the highlights; you're just respecting the fact that high school person isn't actually asking for your entire life story right now. If they want to know more—and why wouldn't they; what made you throw pies?—sure, you can head back to a bar or whatever and start to unpack things. But for now: stick to the pie-throwing.
I'm not great at this, by the way. And I haven't done it in 15 years, not the query letter kind. You should probably look up what an agent or editor thinks, since they have actual experience reading these. But since I'm here, and I have to write blurbs sometimes, which is the same deal, here's my opinion.
I think you want to start by reducing your book down to the shortest description that makes any kind of sense. So Lexicon might be "killer poets." If you can get that into the first sentence, that's ideal. In fact, your query letter might want to have a sentence like, "It's a story about a girl who is drawn into a secret society of killer poets" before taking a step back and doing the actual synopsis, which is a more linear description.
Note down more words or phrases that are important to the texture of the story (I might want "chase" and "secret school," "love" and "betrayal") just to make sure they get used somewhere. The goal is to linger in the mindset of trying to pick out just the most essential concepts before you get bogged down in trivialities like trying to write sentences that make sense.
When it is time to write sentences that make sense, remember you're still telling a story, just a very short one. That means you care about things like creating a question in the mind of a reader and withholding the answer. Don't create something that sounds dumb to you but figure that's their fault because if they want a proper story and not a novel murdered in three paragraphs they should read your frigging book. I say this as someone who used to think like that. You should still think about change and instability; that is, your synopsis/blurb/summary should strongly suggest that things are motion, or, at least, cannot remain the same.
Some stories lend themselves very easily to this, like murder mysteries, or mysteries in general, really. (Who? Why?) Also stories where someone wants something. (Will they get it and what will it cost?) But whatever it is, what makes it a story is that it contains change or the threat of change. The reason people want to read the story is to find out how its characters will deal with that change.
Ideally you want to demonstrate that your story is funny (or horrific, or whatever) rather than merely claim it's funny, or horrific, or whatever. That mainly means matching tone. That is, you don't want to change tone from your novel and wind up with a dry academic abstract. In the same vein, don't lose sight of your story's emotion. It can be implicit, but you must convey that people are feeling things, not just doing things.
This is all a million times harder in practice than theory. Good luck.

Do you ever think about the fact that Elon Musk may have seen your movie? Let me explain:
Syrup stars Amber Heard.
Elon Musk is dating Amber Heard.
If I had a girlfriend who was a movie star, I'd watch her movies.
Therefore, Elon Musk may have watched Syrup.
Thoughts?
Someone who enjoys "Six Degrees of Kevin Bacon"
That's a really good point. I hadn't thought of that before. Because I didn't know Amber Heard is dating Elon Musk. How about that. But no, I agree with you; Elon has definitely watched Syrup and it is informing his business decisions.
Sometimes I see a thing in a TV show or movie and wonder if they got that from me. Because I take stuff from other people all the time, so I assume it works both ways. The most likely explanation is that we're both drawing from some third, much more original source. But still. I wonder.

Do you like chocolate?
Anonymous
I'm glad you asked. I feel I get misrepresented on chocolate. My position is that chocolate is fine. It tastes good. I don't mind chocolate at all. But many other people are all CHOCOLATE NOM NOM NOM WHY YOU NO EAT MORE and then they start making out like I'm some kind of chocolate hater. Like I'm a chocolate bigot, just because I only like it a bit. I'm not. I promise you, I'm no chocolate bigot. I'm pro-chocolate, like I said. I'm just not, you know, insanely, off-the-charts, everyone-should-eat-as-much-chocolate-as-possible, let's-round-up-people-who-don't-want-to-marry-chocolate-and-put-them-in-camps kind of pro-chocolate. This is the trouble with moderate positions.

Hello! Hi there!
Crazy thought, have you ever considered banging out books Heinlein style? One draft, then DONE. Launch it and go to the next, and the next, and the next. Get 10 books done in the time of 1. if 50% of people don't love it, you are still 5x better off than 100% liking that x10 draft work. And honestly? I bet 80% of the people will STILL love your work. The only person stopping you is that unfair critic glaring from your mirror. Tell him to piss off and let you write!
Yet another aspiring writer
I appreciate the support, Y.A.A.W. Thank you. But I have to say, I would rather set myself on fire. First, I think you're being very optimistic about how many people would like the pieces of crap I produce as early drafts. You may think otherwise, but remember, I've seen them and you haven't.
Second, and I offer this by way of explanation, not as excuse, I like messing around with stories by myself. That's super fun. Showing them to people is the worst part, because they stop existing as beautiful imaginative creatures full of wonder and possibility, and turn into chunks of paper with plot holes and unclear character motivations that need a lot of work. I like publishing books, and I agree I should do it more often, but it's just so tempting to sit and write drafts instead.
Do you like peanuts?
Jordan P. Johnson
They're okay. I don't dislike them. Me and peanuts have nothing to say to one another.
I did not know that! Huh. I guess I showed them. I mean, I'm not trying to take credit for bringing down the company. But, you know, they tangled with me, and now I'm here and they're not. So I basically brought down the company.
Hello, Will you be answering my question. Of course not this question. As that may become rhetorical. But the question I posted prior to the question I just end posted in this post.
Darius Trappernicus
No.
Could you write a Multi Ending Book? One that allows the reader to make choices as they read. With a range of unique outcomes.
Darius Trappernicus
Oh, wait, it's you again. Then yes, I will answer it. No.
I mean, that's almost NationStates, isn't it? That's pretty close.
Which stance did you take? Trump or Hillary? Or moderate?
Thomas Laszlo
I am perfectly moderate and the rest of the world is extreme, like everyone thinks. I think Hillary would have been a good President. You would have gotten sensible, incremental improvement with Hillary. She would have finished with historical low approval ratings because a lot of people were super aggravated by her very existence and would have beaten the drum until it drowned her out of office, but still.
Trump, on the other hand, was the kind of person I thought the US would elect in about twenty years, right before Fahrenheit 451-style parlor walls and the Apocalypse. Years ago I regularly watched The Apprentice, and each episode a team would go into the boardroom to face Donald, who would quiz them on their performance and then invent a completely unrelated reason why one person was to be fired. The logic never held from one episode to the next, so one week being cautious might get you fired and the next it would win praise. So in that sense, it was a useful allegory for the randomness and cult of personality of the business world. But also it made clear that Trump is basically a collection of amoral pathological psychoses tuned for self-aggrandizement. Which is not ideal in a President.
I do wonder if there's a more evil version of Trump, though. Because Trump isn't very calculating. A lot of the time, his main objective seems to be to feel important. Also often he seems to believe what he says and then just doesn't want to admit he was wrong later. So I wonder if you can take that bluster and shameless populism and set it in someone with more self-awareness, who does it on purpose. That would be pretty evil. Maybe Trump opens the door for that kind of person.
On the plus side, though, it's been a fantastic six months for journalism. Not long ago, everyone hated the media and journalists were hopelessly compromised click-bait merchants in a dying industry. Now they're saving democracy. I mean, they're also hopelessly compromised click-bait merchants, but as an institution, the media has been a real credit to the nation. I think there's a lot to be proud of there.
See, a more evil Trump would have wedged the media with patriotism, rather than attacking them directly. You attack the media head-on, you're injecting adrenaline directly into the veins of everyone who ever thought they might like to be a journalist. You go to war, you get attacked, then the media has to shut up and support the troops. That's what Evil Trump would do.
Australians in total need to reevaluate their leaders.
Michael
That's not a question. HEY, IT'S CALLED "ASK MAX," NOT "MICHAEL MAKES STATEMENTS."
Do you ever write funny short stories and then sit in the corner of your bedroom giggling to yourself?
Greg
Not short stories. But with novel scenes, and in my study, when I'm rereading. When I'm actually writing, I'm staring at the screen with an expression like your psychotic ex-boyfriend peering through your bedroom window. There is no giggling at that point. But reading it back, I try to put myself in the headspace of someone who's reading it for the first time, and if I do that successfully, then yes, I do admit, I sometimes giggle and guffaw at the wit of the fellow who wrote these words, whoever he is.

My favorite thing to happen this year: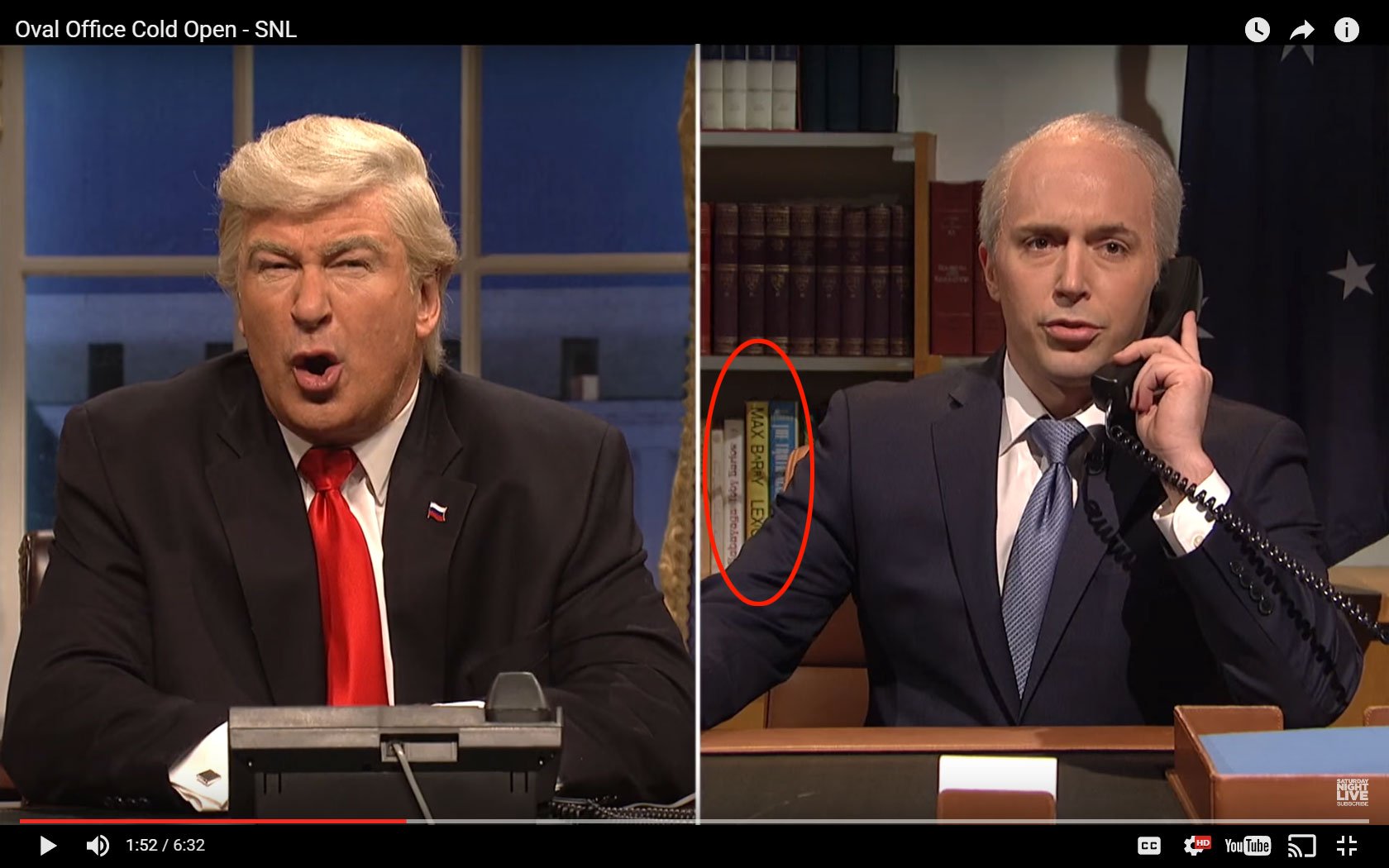 Eagle eyes by C. A. Bridges. Story here.