That row of numbers on a book's copyright page is called the printer's key and tells you whether you're holding a first edition or fourth or what. First editions look like this:
1 2 3 4 5 6 7 8 9 10
… and each time the publisher goes back to the presses for a reprinting, they delete a number. So this:
5 6 7 8 9 10
… is a fifth printing of that edition.
This isn't really a secret. I just thought that was a funny blog title. But reprintings are great, because they mean the book sold more than the publisher's worst fears. It's a constant source of joy to me that while the Syrup hardcover was such a commercial disaster that you can more easily find remaindered copies than real ones, the paperback keeps getting reprinted, fourteen years on. Last month, I flipped to a Syrup copyright page and saw this:

I don't care if they are running off eight books at a time; that's awesome. It's so sad when a book goes out of print. It's like a little death. I hope e-books will save authors from those.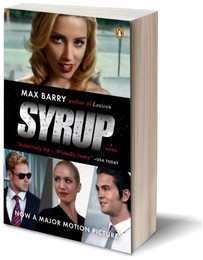 Also, Syrup just got itself a movie tie-in edition! As a reader, I've always disdained movie tie-in editions. I'm all, "If I wanted to see the movie, I would, like, see it." But as an author, it makes me stupidly happy. I mean, movie tie-in edition. Who wouldn't want one of those. And I've never really loved the existing Syrup covers. I don't hate them. But I don't love them. The US paperback in particular looks to me like an ironic comment on marketing, only without the ironic part.
Plus, these will make excellent gifts for people who have no intention of reading the book but will be impressed by the fact that it's a movie.